If you are new here or missed last week's edition, you can catch up on the past letters here. If you are reading this for the first time, I'd love you to sign up below to join the other 444 learn-it-alls.
---
Aloha fellow learn-it-all 👋
Greetings from a tacky tourist and an angel sunset surfing on Oahu, Hawaii 🌺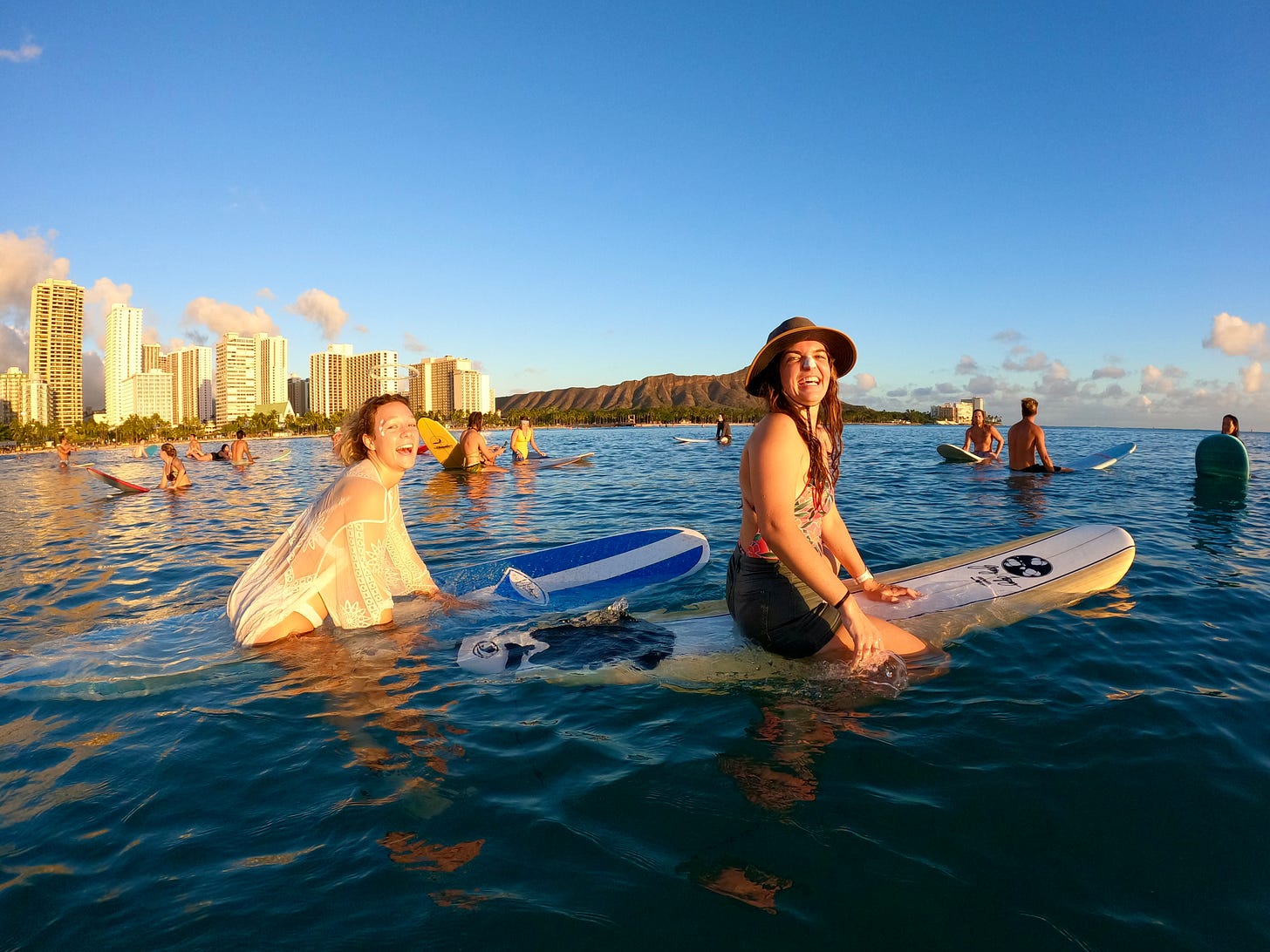 Happy November and the day after Halloween! I've got a lot of exciting things to share with you this week from my weekend, past month, and future month.
Before we get to the goods this week, I'm holding the phone. I've heard from folks that the scrolling is a bit much. As of yesterday, my idea for a scrolling minimization effort is to send these letters twice a week: one with an essay and one with links.
It'd be a one-month experiment for November with 8 newsletters from me. What's your immediate reaction to this? Love it? Hate it? Indifferent? Comment or email me. I'd absolutely love to hear from you.
Let's dive into letter 131 from a learn-it-all. Enjoy!
---
❓ Question to think about
How can I reset joy and energize my life?
🖊 Writing
On Saturday morning, I dodged around puddles of bubbles. There was horse manure, strollers with babies, palm branches, and coconuts too.
Why?
The Bubble Run.
After waking before the roosters at 5:30 am, I drove an hour to the North Shore of Oahu, Hawaii to run this 5K race. Despite my frustration that my Garmin watch said I only ran 4.3 K, the physical exercise left me feeling content for the day. I showed up and that is the hardest part. I applaud myself for that.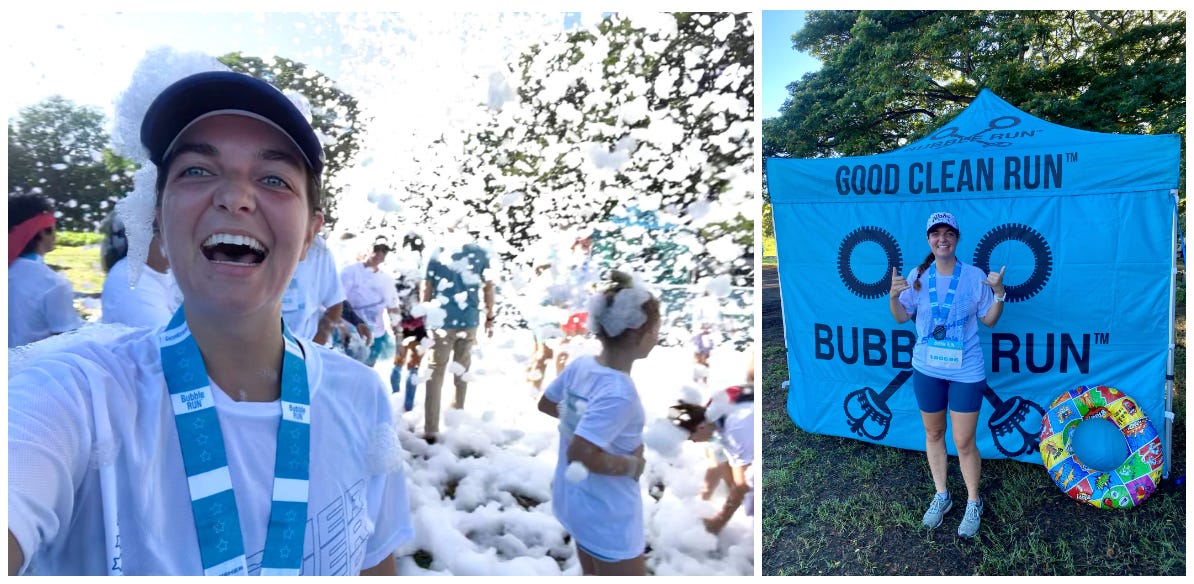 In the afternoon, I carpooled to the Hoomaluhia Botanical Gardens on the windward side. As we were a bit lost looking for the group's picnic table, Justin the driver asked "Are these our hippies?" I saw a familiar face. "Yes, these are our people. This is our sangha."
We enjoyed a full spread of delicious foods. Or as Hawaiians call them pupus, like purple Okinawan sweet potatoes and pumpkin pie. I got to chip away at some of my favorite problems in life with wiser Zen friends. Two epiphanies surfaced on my mindset and career path:
Instead of using the word to improve myself which implies I am inadequate, I will use the word develop.
The act of applying for a Master's in Educational Psychology can be a rewarding process in it itself, even if I am unsure
Sitting in a circle with folks from many different walks of life, I felt intellectually and socially enriched.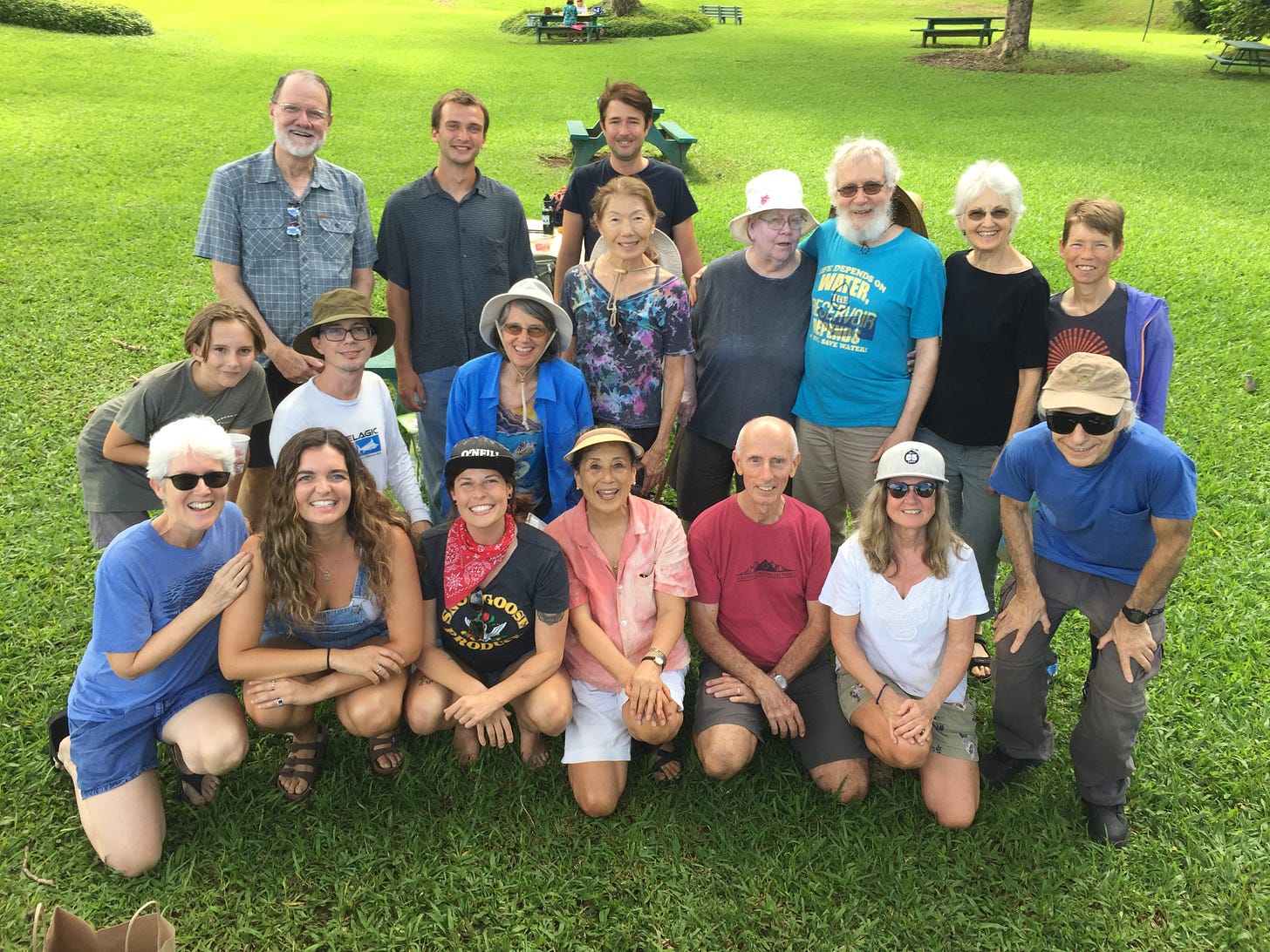 In the evening, I played dress up with my friend Hannah. I got to explore spontaneity with what to wear to the Halloween event at the Honolulu Museum of Art. I shifted away from being Rosie the Riveter to a woman in the 50s wearing a loud print. It made me feel vibrant and the most alive. Some might also call me a Hawaiian Barbie.
Keiki (children) dressed up in costumes and paraded around with dance routines and played with Legos. The bubbles of my Perrier were popping along with the ambiance of the energy in this space.
While wandering around the museum and its Europeanesque courtyards, and staring at Pointillist Impressionist art and the flower exhibit, I got lost in thought on the brevity of life.
At 8:30 pm on the dot, the docent kicked me out of the museum. The dancefloor of the bar down the street called my name. The DJ was electric. My mint mocktail tasted marvelous.
I'd been awake for 18 hours, so I called it a night and scooted my moped home. That was my full send Saturday. It was a hoot.
Before this, lately, I've felt in a rut. Much of this is the transition from my travel-filled and wedding-celebratory summer to the fall season. This is on top of the infestation of fleas in my home and the paranoia of them crawling on me in my attempts to sleep. There's already been talk from friends who are ready for a clean slate in the new year. What about the rest of this year though?
I was feeling low energy and not wanting to celebrate life until creating this full send Saturday.
Full Send Saturday as defined by Urban Dictionary is a day meant for shenanigans no sane or sober person dares attempt. But for me, it's defined differently. I turned the barometer up on my sober curious year with full sobriety. This means that my full send Saturday doesn't involve inebriation.
For me, full send Saturday means filling your day with whatever fills your internal cup with exuberance and joie de vivre.
This involved all the things I love.
Spending time with myself in the morning doing my solo run for my fitness.
An intellectual afternoon outside with acquaintances.
A joyous playful evening dressing up with a dear friend then prancing off to the museum to watch people, take in art and dance.
Saturday was one helluva day that energized the heck out of me.
I encourage you to build your own Full Send Saturday. There's plenty of energy lying around to make the most of the rest of this year.
(When you do I'd love to hear about how it goes and how you feel after :)
🤔 Reflecting
At the end of each month, I write myself a private card and ask myself 3 simple questions about love, lack, and learning. In the spirit of distillation to share a shorter length than last month's 🍃 Letter 127: Reflections on Nomadic Life & Overflowing Socialization, I am only putting three bullets under each.
What I loved
Being vulnerable. I shared one of my most scary pieces of writing on my Breakup with Booze, which is now paying major dividends because I can articulate in person so much better my decision to remain sober.
Feeling empowered from surviving the pendulum of pain and pleasure while backpacking the Kalalau Trail.
Energy from my environment online and offline. Being an active student in my 7th cohort of Write of Passage has felt like a flood of inspiration for my exciting habits. I've also had some in-person meetups and have just truly been loving the environment of being back on the island for a full month for the first time since May.
What I lacked
Seasonal Transition. Perceiving change in seasons for autumn apart from the extra rainfall is nonexistent here. Sure it's paradise here, though year-round island life is still a wonky transition from a midwest gal like myself, even after a year in.
Motivation. I felt like I was in a rut when I got back from traveling. It's been a tougher transition than I expected of balancing between doing and resting and listening to myself.
Outgoingness. I felt like I let self-doubt get back into my life. When I was solo traveling for two months of the summer, I had to approach people to get my social fix. Now that I am back home in Hawaii, I've been a turtle back into my shell but I enjoy meeting strangers. Even if that means risking rejection, it's worth it.
What I learned
A thirst for leadership. I need to get out there more to dust the cobwebs off my facilitation, public speaking, storytelling, and teaching skills. I enjoy it. Leading is a win-win of deepening current connections and opening the door to new ones.
Emotion acceptance. I can feel all of my feelings. They are all okay. I took a course that taught me some tools and I link to it below in my photo of the week.
Sleep is essential. I've known this but with camping and bug paranoia in my home, lack of sleep sucks my energy. I've been leaning into what brings me energy more and more, even if that means my triathlon training is on the back burner.
Two new habits for this month:
Gallivanting Gratitude. Mail a handwritten thoughtful note every day of November. That's 30 cards. I impulsively bought 100 stamps at Costco and have a minor problem of the amount of cards I own, so no excuses left.
Thread-vember. A Twitter thread every day of November to build the muscle of marketing my ideas in a distilled manner. I'm in a Twitter group for accountability on this. Typically, I dread threads. I'm ready to turn that around :)
🎧 Listening
Well, some say life
Will beat you down
Break your heart
Steal your crown
So I started out
For God knows where
I guess I'll know
When I get there
I'm learning to fly
Around the clouds
But what goes up
Must go down
I'm learning to fly
But I ain't got wings
This is such a bop to dance to while I was dressing up. I like how this makes sense of life and how it truly is an unrealistic expectation to always be happy or positive.
Silly side thought: I like the idea of learning to fly. Despite birds having rather small brains and thinking so much about survival, I still think that I would love to live 'a day in the life' based on how much I love the views from an airplane.
🔎 Word to define
Joie de vivre: keen or buoyant enjoyment of life
A French phrase often used in English to express a cheerful enjoyment of life, an exultation of spirit.
It can be a joy of conversation, joy of eating, joy of anything one might do… And joie de vivre may be seen as a joy of everything, a comprehensive joy, a philosophy of life, a Weltanschauung (the German word for a world view).
Someone with this radiates vitalizing energy, the zest, and gaiety of an inexhaustible life source.
Etymology: 1889, French, literally translates to "joy of living."
🌟 Quote to inspire
"What makes you different or weird— that's your strength." -Meryl Streep
📷 Photo of the Week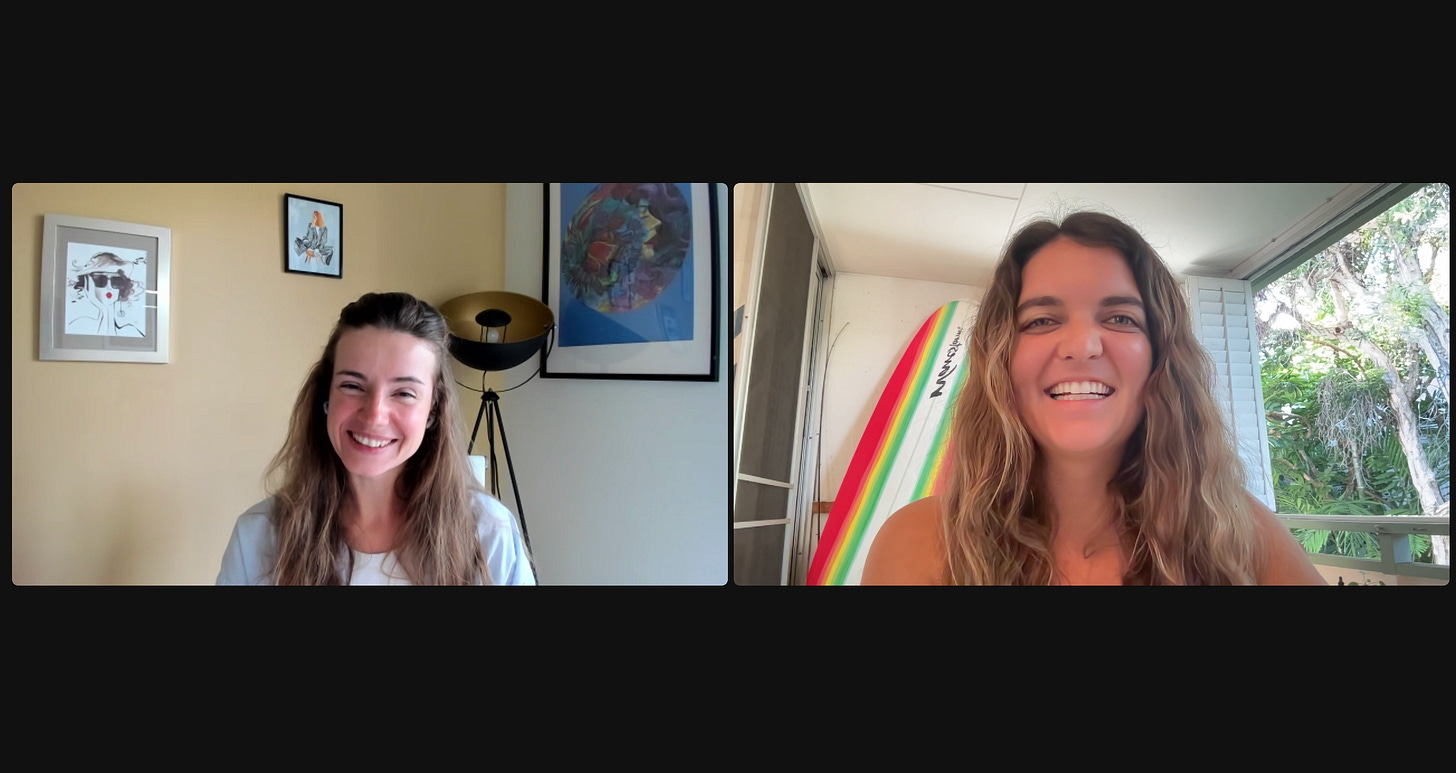 Meet astrologer Irina Mais. I stared into her eyes for four minutes straight every morning for the past week. This was part of an 8-day Connect Challenge I took led by Joe Hudson's work from the Art of Accomplishment. The eye contact exercise is one of many tools we learned to better connect with humans.
My main takeaway: I can feel all of my feelings. They are all okay.
This might be the best $37 I have spent all year on this program.
🙏 Shoutouts
To Paul Millerd for tweeting about the 12-hour walk idea last week. I am gearing up mentally to do one this week. I am a wee bit scared. I'll be up at at-em with the sun from 6 AM to 6 PM without Internet or talking and will be walking
To Josh Cadorette for nudging me to do the Tweet Thread Challenge with him and other this month.
To Alice Lemée on her two years of freelancing milestone. I remember meeting her through Write of Passage just when she was starting out. I found her story so inspiring and recommend reading it if you need some entrepreneurial inspiration.
To conversations with Write of Passage friends David, Neilda, John, Christin, and Melissa for inspiring me to take the plunge to commit to this project and getting better at self-promotion and sharing my ideas.
To Lavinia for her helpful structural feedback on my Full Send Saturday piece.
To the University of Michigan for crushing the Spartans over the weekend in football. I'll always be a wolverine at heart in my parent's house divided, despite going to neither college. (College football is kind of a big deal where I grew up.)
---
I appreciate you reading this!
If ideas resonated, I'd love you to leave a comment, reply to this email, or send me a message on Twitter @JenVermet.
Never stop learning 😁
Mahalo 🌺
Jen
If you're reading this because someone shared this newsletter with you, welcome! I'd love it if you subscribed: