Aloha fellow learn-it-all!
Greetings from Diamond Head, O'ahu, Hawai'i 🌺
I'm writing to you from a power outage. There have been a couple this past week. It definitely makes me grateful for electricity when I've got it. Thank goodness for flashlights and portable chargers, am I right? I added candles to my errand list this week. A power outage makes me realize how dependent I am on fans to sleep at night and my night lanterns to read.
If you are one of the new 8 readers or missed last week's edition, you can catch up on the past letters here. If you are reading this for the first time, I'd love you to sign up below to join the other 286 learn-it-alls:
Now, let's dive into letter 88 from a learn-it-all. Enjoy!
📖 Reading & 🤔 Reflecting on November
As December rolls in already (what?!) I started to review my journal entries from the past month. I have four weeks left in Julia Cameron's Walking in this World Creativity course, so I've been writing my three pages of morning pages each day. This culminated to 92 pages of my own chicken scratch I read.
I created a table of contents across my journal entries to synthesize all the life that had been lived. Typically each month, I skim to review but this time I did a deep dive into it.
With page number and topic names, it looked like this: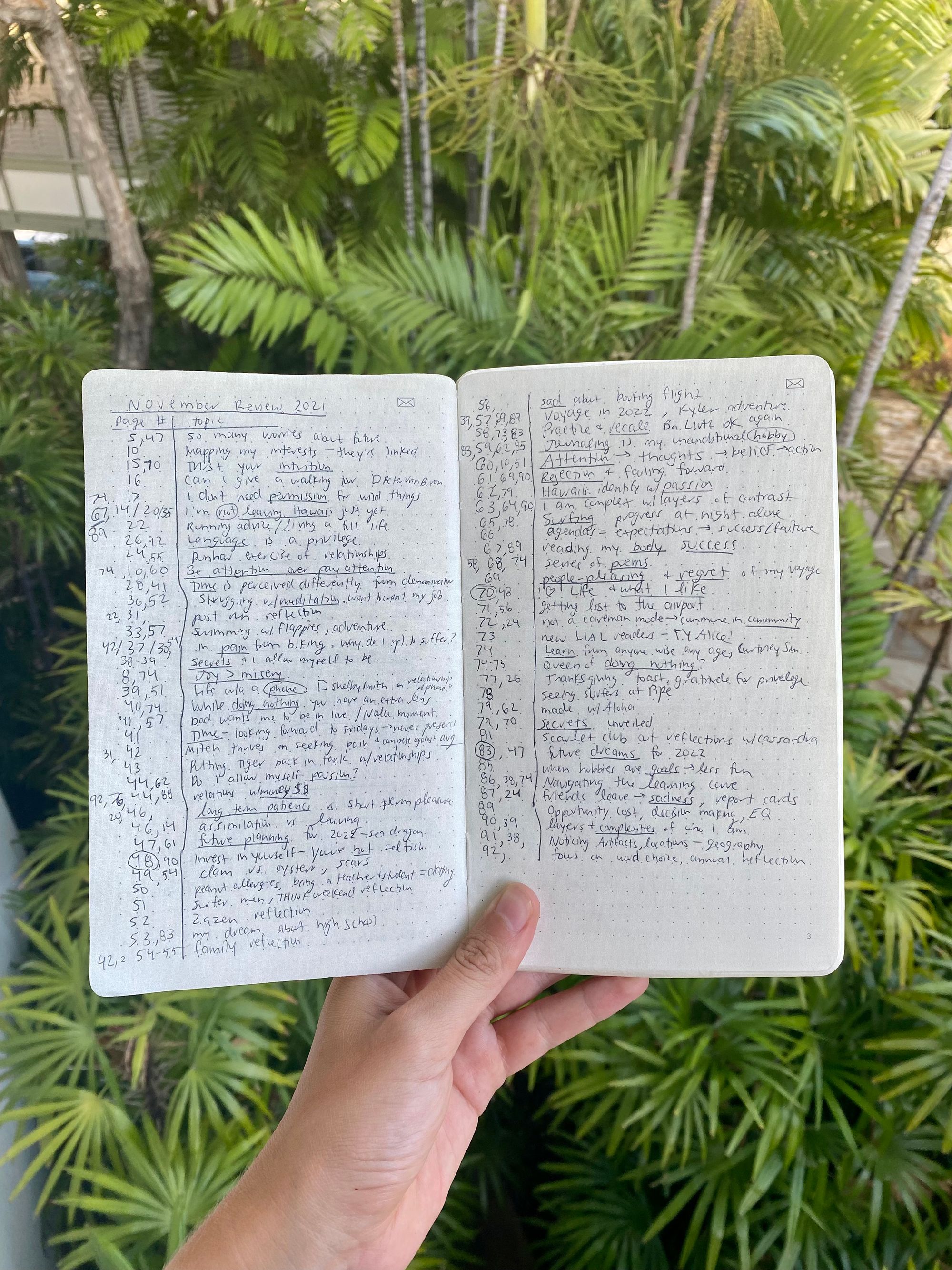 It was really groovy to spot the patterns and start to couple up pages that my mind came back to digging deeper on. As the themes came up, I thought of future pieces I want to write more crystallized thoughts on.
Five highlights with vomit drafts in the making include:
Emotions are relative for everyone and can be felt all at once
When making decisions, error on rejection rather than having regret
Navigating the balance between long-term patience with short-term pleasure
How we have multiple versions depending on the environment and audience
Whether hobbies need goals or structure
🎧 Listening
It was a timely week. My Spotify wrapped with an overview of my favorite artists came out. There's mixed feelings about the algorithms at play that create my most played song, but I'm not going to lie, it's such a lovely feeling to have an automated review of my music consumption habits.
My top genres swing on a wide pendulum from indie to pop to folk to rock. Many more as well. I'm content seeing this wide range as I wrote in my 2020 review in January about my intention to diversify my taste and I surely did.
My top artist was by far was Mike Posner. So many of his albums are ones I could listen to on repeat. I first started listening to him in middle school and then again later in college. He writes with so much soul and inspires me to strive for life experiences in my own life.
I listened to over a two hour podcast of Rich Roll interviewing Mike for the second time Your Life Is Now: Mike Posner on Walking America, Summiting Everest & Crafting Hit Music.
As I heard Mike reflect about his walk across America, I knew it'd be most suitable that I walk around my neighborhood as well. I kid you not, I got chills, goosebumps and started crying while listening to this podcast. I freaking love technology and how I can hear such intimate details about one of my favorite musical artists.
Eight of my favorite quotes:
On the meta moment of mortality after being bitten by a rattle snake in Colorado:
I'm in the back of an ambulance, it just dawned on me, this could be the end of my life... I made a decision that if indeed it is gonna be the end of my life, I'm not gonna waste it worrying about if it's the end of my life.
On integrity and commitments to yourself even when the going gets tough:
If I quit, no one will even think I'm a quitter. Like, hey, I almost died. It wasn't meant to be, whatever. But I started to realize 99 times out of 100, my reasons are just excuses wearing fancy clothes.
On what it felt like to finish the walk across America:
After walking 2,851 miles, I dove in the Pacific Ocean and I thought I'd feel accomplished. But interestingly I didn't feel accomplishment in the water. I felt possibility. It felt like the first day of my life.
On how to turn small talk with a fan into a deeper conversation:
If I pray for you, what should I pray for?
On how the communities you are in normalize your behavior:
All of a sudden by making the decision, I'm thrust into this new community of walkers and runners and in this community. I'm not special at all. In fact, it's normalized and... in that community, I was probably in touch with eight people or so that were either walking or running while I was and I was the least impressive.
On quieting the mind while on another three week retreat at a Zen Center:
That sort of feeling of peace is just there naturally, and you don't have to have your dad die or walk across America, summit Mount Everest or to be at the monastery. You just need to have a quiet mind.
On the story we tell ourselves tainted by the ego:
This ego thing, it's not even real... When I think about who I am, who is mike Posner, it's like this loose amalgamation of random memories that aren't even all the memories because I forget most of stuff that happens to me... Then some cultural archetypes characters for movies that I've mixed up, like that's me, that's my personality.
On staying humble, even after climbing to the summit of Mount Everest because it is a team effort that helped make it happen:
I don't think I could have done it. Instead of this pride, it's just some cocktail of humility, gratitude and love. And I basically hugged him, John (his coach) came up behind us and hugged me and I flopped onto the summit man. I buried my face in my hands on the ground and tears just exploded on my face
If you'd like to listen to two of my favorite songs by Mike:
🎙 Recording
I was reviewing my month of November and realized that I wanted to pick the habit back up from October of recording short episodes. I become a beta tester for the Racket app with short 99 second audio clips in October. The app is now launched here.
I've been writing more poetry and I thought a fun way to get involved in audio stories again would be recording myself reading it. I'm still uncomfortable listening to myself, but I can only get more comfortable through the practice of doing more of it.
My new habit for this month will be recording at least one of my poems each day. I will be batching a few at the end fo the week to take weekends off.
To listen to my first poem:
🖊 Writing
Per what I just mentioned above, my favorite poem I wrote is called Relentless Rain:
You fall down on me
And drench me to the bone.
he faster I rev my moped,
the faster your pellets poke my eye.
As I squint,
I feel it helps,
But it's still painful.
I just to have shelter
to be home.
You can continue in ten minutes.
I promise.
I shiver and need warmth.
The steam of a hot shower
I imagine
And that helps me get home.
I heard you start coming down
Mid zazen session outside the Sangha
But now that sound is beginningless.
All I care about
Is when you it will end.
There came no rainbow,
Despite my dreams of one.
The clouds were too unwavering
To allow sun to-peak-a-boo.
Perhaps next time.
For now,
I am grateful to be dry.
🌊 Banzai Pipeline
This past week I went to go see Banzai Pipeline for the first time, also known as Pipe. It is the world's most filmed and photographed wave. I had to take part and add to its popularity myself.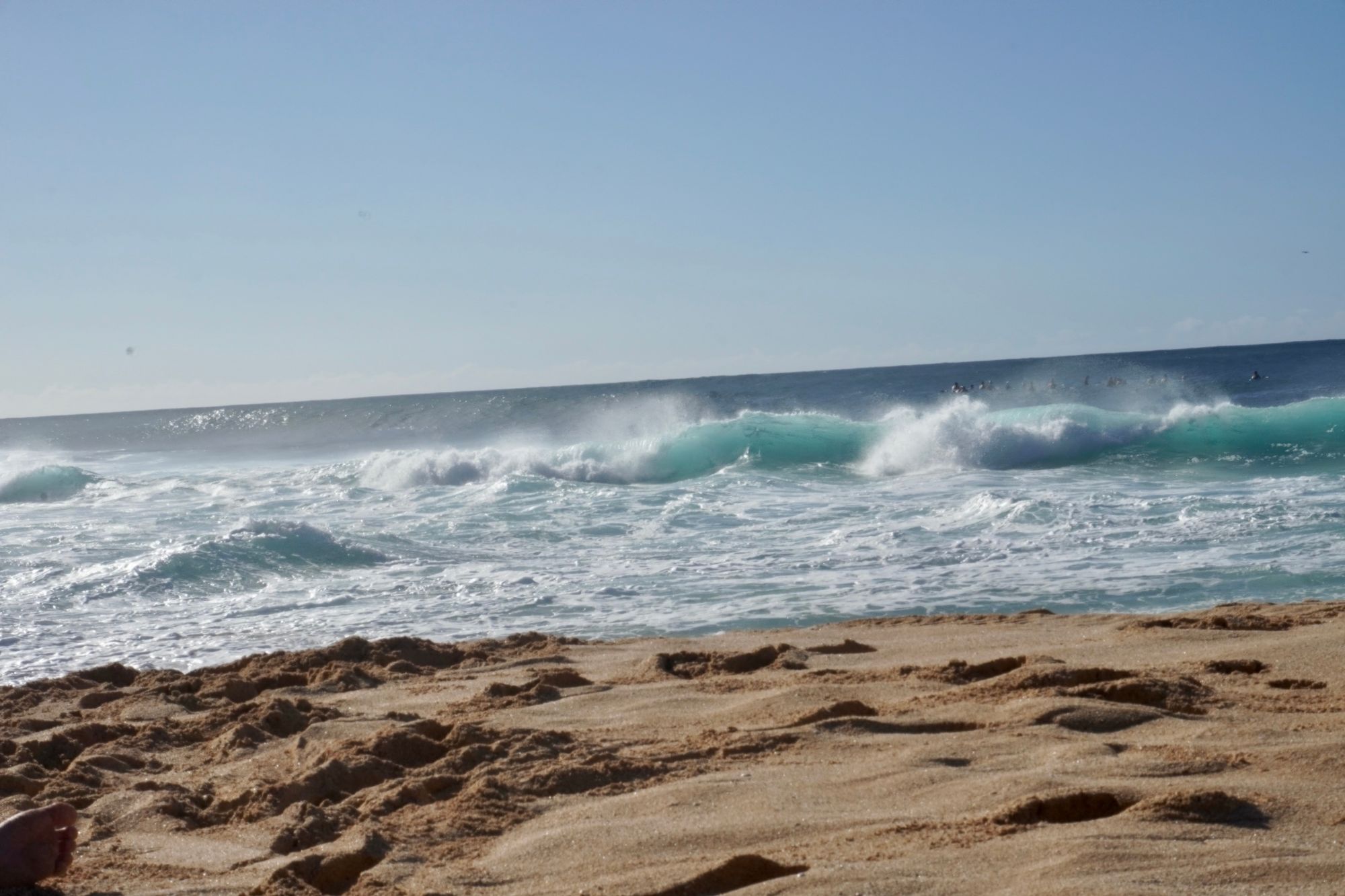 It was a pretty small swell of about 8-10 foot waves the day I went. As a long boarder, this is a challenge I'm stepping down from ever even attempting to surf here. I've been scared of this wave ever since one of my favorite surf movies while growing up, Blue Crush.
Even watching from some binoculars the wipeouts was enough for me. Gratefully, I read here that since the 1960's, there have only been 14 deaths at Pipe (I thought the number would be much higher.)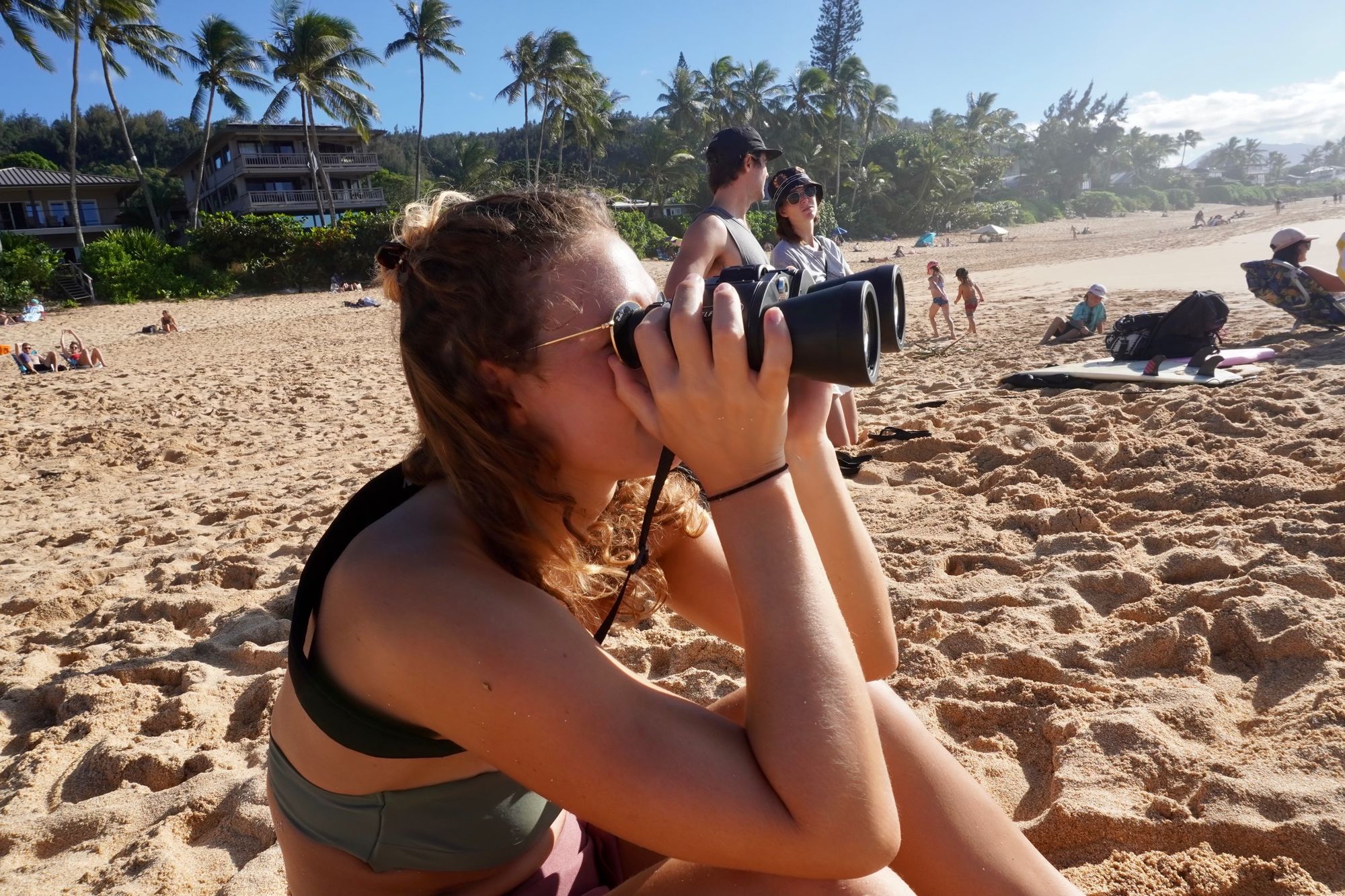 Grateful to still have my board together in one piece unlike this fellow.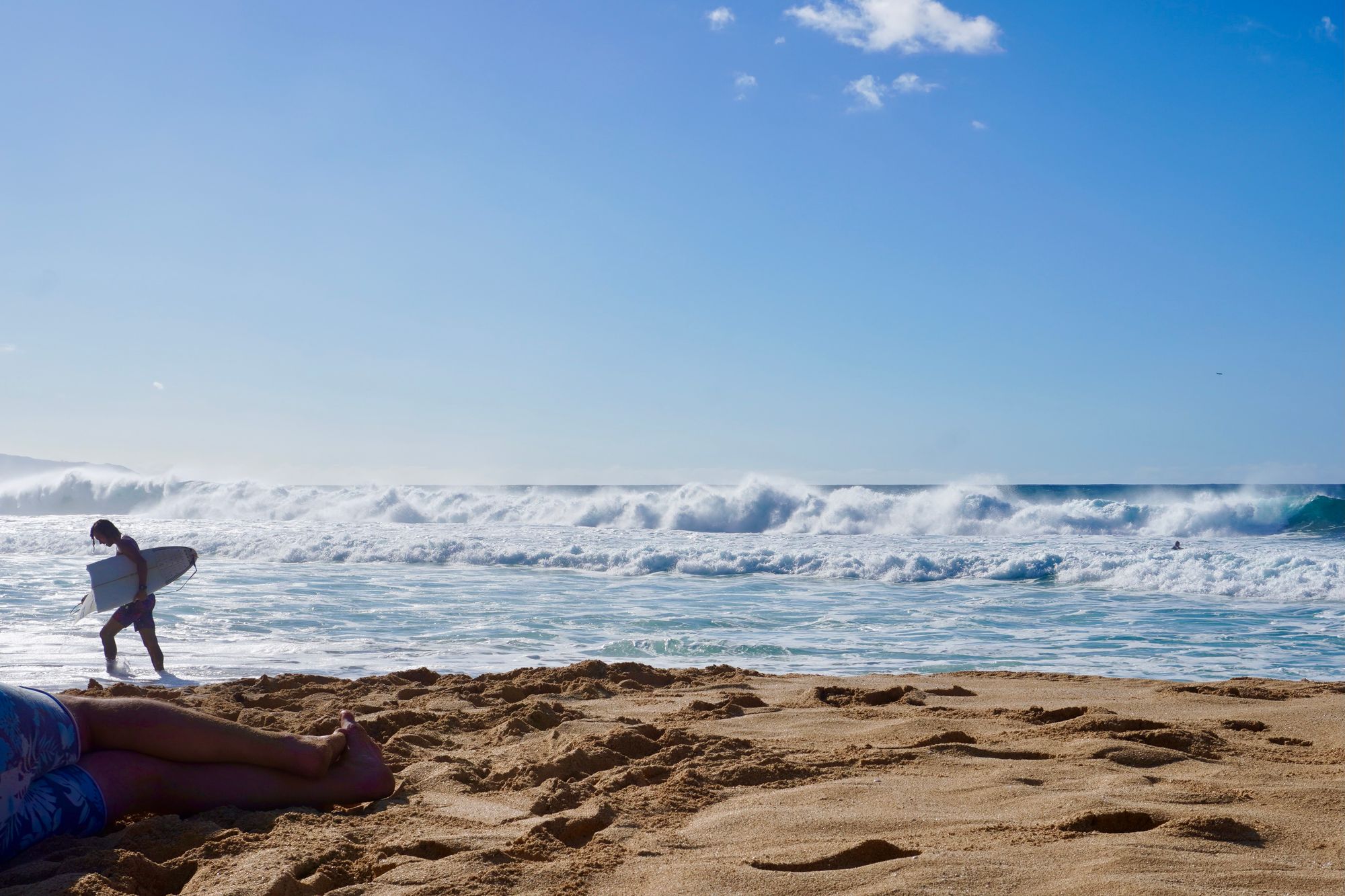 🔎 Word to define
Wiwo'ole: brave, bold, dauntless, fearless, adventurous, intrepid
Antonym: wiwo
Wiwo means fearful, bashful, modest, afraid, timid, obedient
Explanation of the difference between the two: The only difference is the 'ole. It is the same 'ole that appears in 'a'ole for "no". In other words, when you add the suffix 'ole, it negates the word.
Example
You don't have to be big or strong to have wiwi 'ole.
🌟 Quote to inspire
"Nothing in life is to be feared, it is only to be understood. Now is the time to understand more, so that we may fear less." -Marie Curie
❓ Question to think about
How can I face a fear this last month of the year to feel more courageous?
📷 Photos of the Week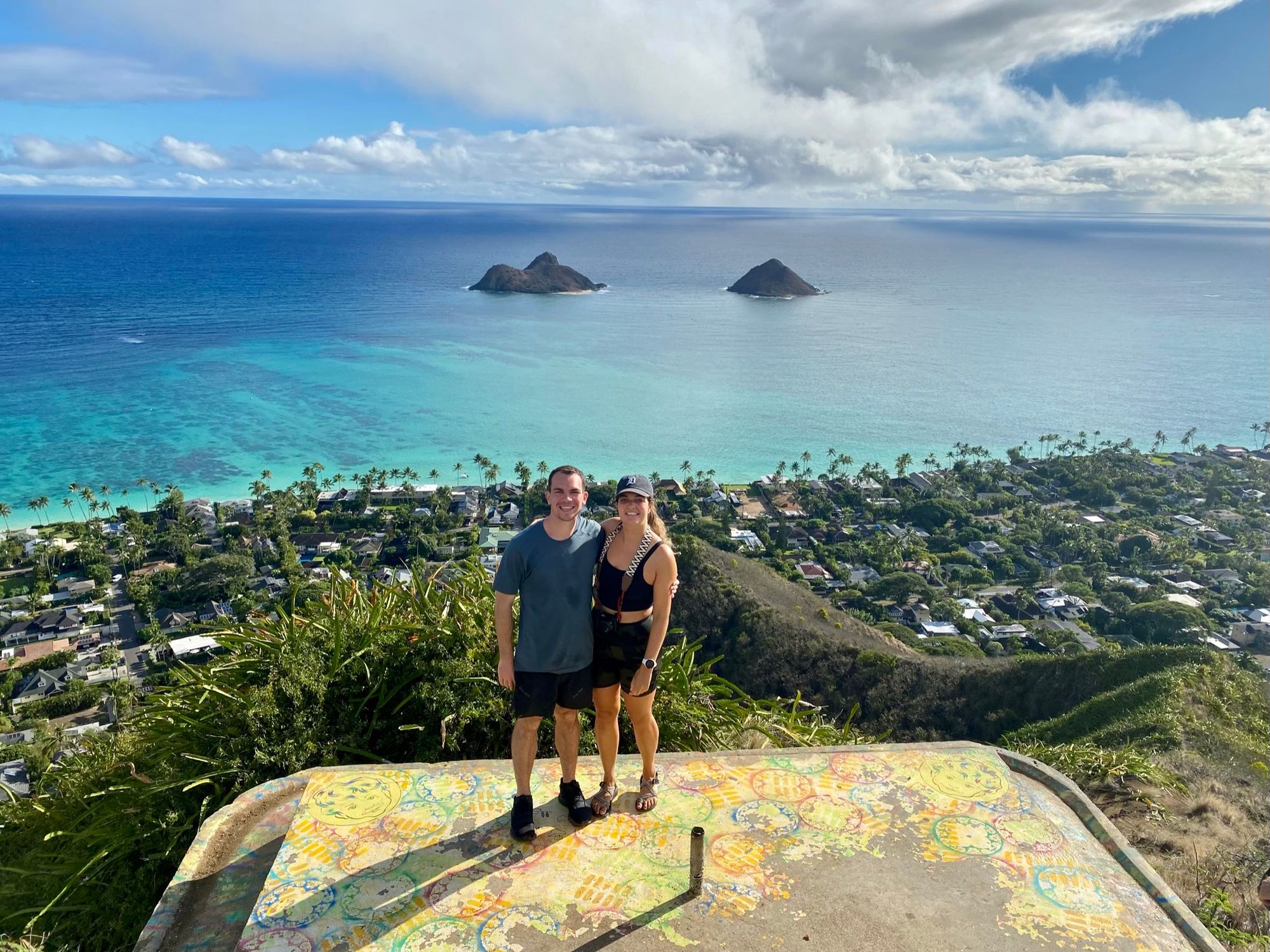 The Lanikai Pillbox hike was a fun hike. It's best to traverse at sunrise but it was just as beautiful after the rain stopped later in the morning after a cup of coffee and a flaky croissant along with the sun shining.
A pillbox is historically a defensive site such as a machine gun pillbox, but this isn't the case for this hike in Kailua on the windward side of Oahu. The two separate pillboxes were placed there while the land was privately owned as observation stations.
While sitting on the graffitied pillbox, I felt like a thinker of thoughts.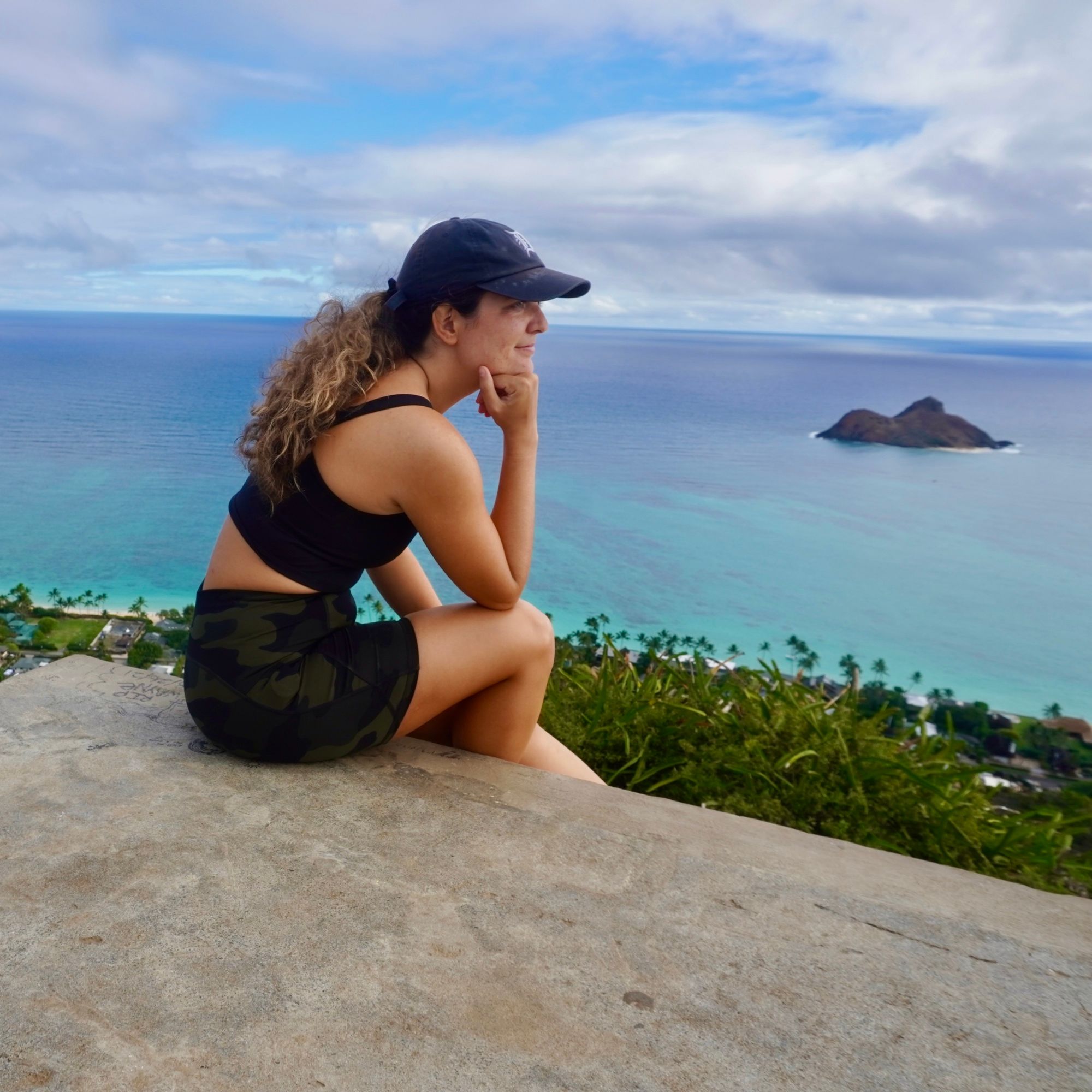 Pose inspiration: Musée Rodin of the Thinker (Le Penseur in French). My dad has a mock up on his desk in Michigan that I always enjoy looking at. The statue was cast in 1904, and he originally called this pondering figure 'The Poet'. Talk about some good timing with my current poetry experiment.
🙏 Shoutouts
To Ka Waiwai ma Nuʻuanu co-working space for having me when my water and power were out this week
To the Surfrider Foundation Oahu Chapter I became a member of this week and will be doing beach cleanups for to protect the ocean, waves and beaches
To my Dad sharing the quote to inspire with me that I later shared with my sister before she got her wisdom teeth removed
---
I appreciate you reading this! If certain ideas resonated or you have feedback to improve my future newsletters, I'd love you to leave a comment, reply to this email, or send me a message on Twitter @JenVermet. If you want to learn more about who I am, I welcome you to visit my online home.
Never stop learning 😁
Mahalo 🌺
Hang Ten Jen
👣 Footnotes
On the importance of word choice:

On effectiveness over efficiency in learning:

On intentionally creating friction for consumption or creation:

On why a meta lens of the stories you tell yourself are important:

On how I could've enjoyed reading more as a child:
If you're reading this because someone shared this newsletter with you or you clicked a link somewhere, welcome! I'd love it if you subscribed below to receive future updates: