Aloha fellow learn-it-all
Greetings from Diamond Head, Hawai'i 🌺
Happy Thanksgiving to those of you in America 🦃
To every reader opening this email, I appreciate and am beyond grateful to have your attention. It's such a great time to be alive. Thanks for hanging with me today.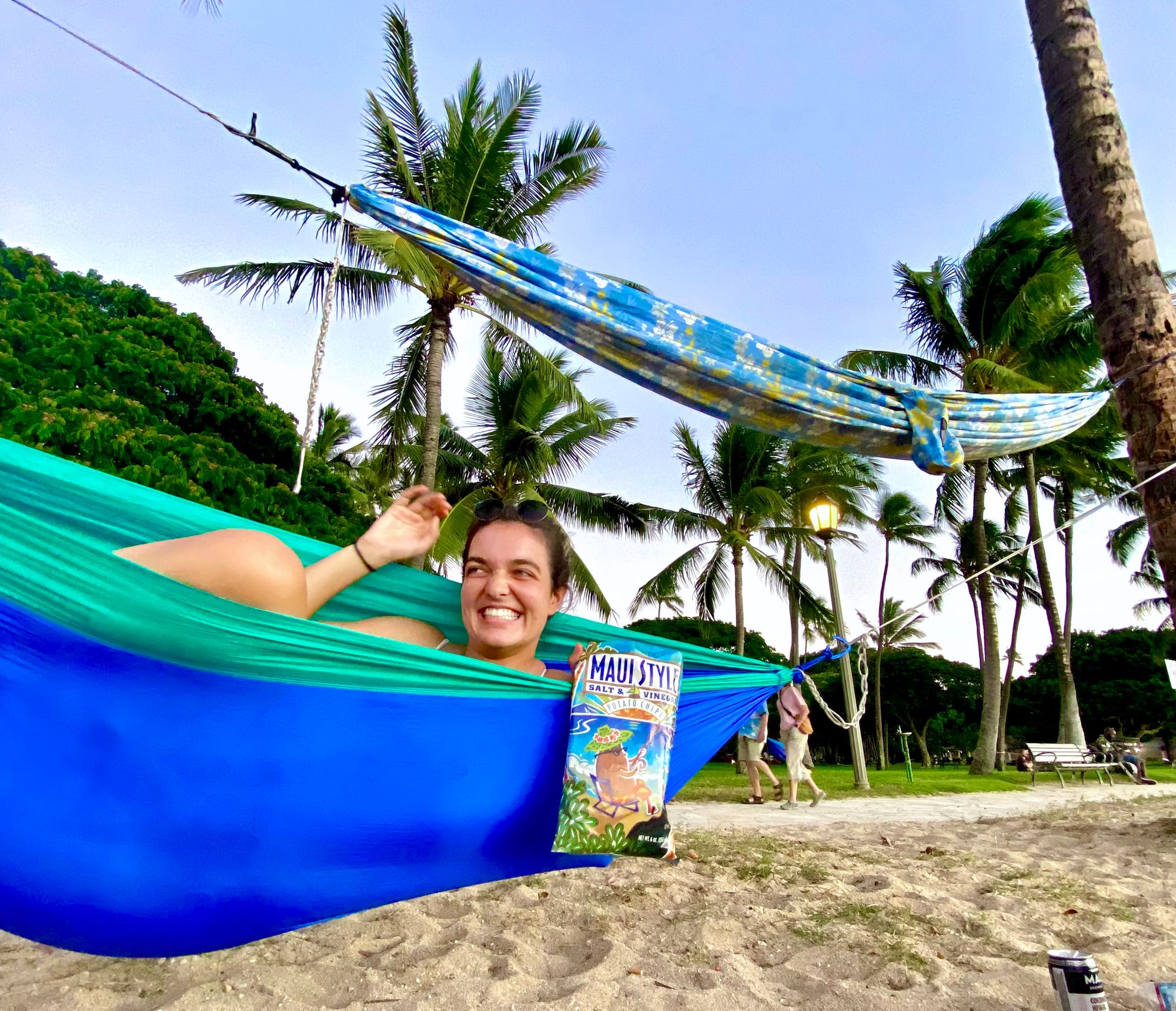 If you are one of the 22 new readers who found me from Matt D'Avella's newsletter or missed last week's edition, you can catch up on the past letters here. If you are reading this for the first time, I'd love you to sign up below to join the other 278 learn-it-alls:
Again, I cannot say this enough, thank you for choosing to opt in and be a part of my learning journey. I've got so many questions and curiosities to explore. Writing them down and sharing them has been my best attempt at making sense of life and having fun learning in the process.
Now, let's dive into letter 87 from a learn-it-all. Enjoy!
🖊 Writing
As a continuation that I mentioned in letter 82 of my essay on Doing Nothing, I have written The Art of Pausing in a Busy World.
In the spirit of sharing in public, below is my work in progress. I welcome any feedback, thoughts, or impressions that this writing sparks for you. It is on my website, and I will still be polishing it in the future. I've been thinking, researching and living out much of this concept, I need a fresh lens on it in the near future.
_____
As I drove my moped through the Palolo Valley through my new home in O'ahu, Hawaii on a brisk misty morning, I parked at a dead end road on the damp grass of the 13 acre Zen center.
Built in 1989, solely by volunteers, its humble appearance has a welcoming spirit. Not all of Hawai'i looks like this. Most of my drives through Waikiki go quite differently....
📝 Writing Studio
The Writing Studio is a four week course lead by Michael Dean. It is a continuum of David Perell's Write of Passage flagship course (that I have taken as many times as the fingers on my hand). It is intended to help students sharpen their craft through live exercises, structured assignments and visual feedback.
What does visual feedback look like you might be thinking?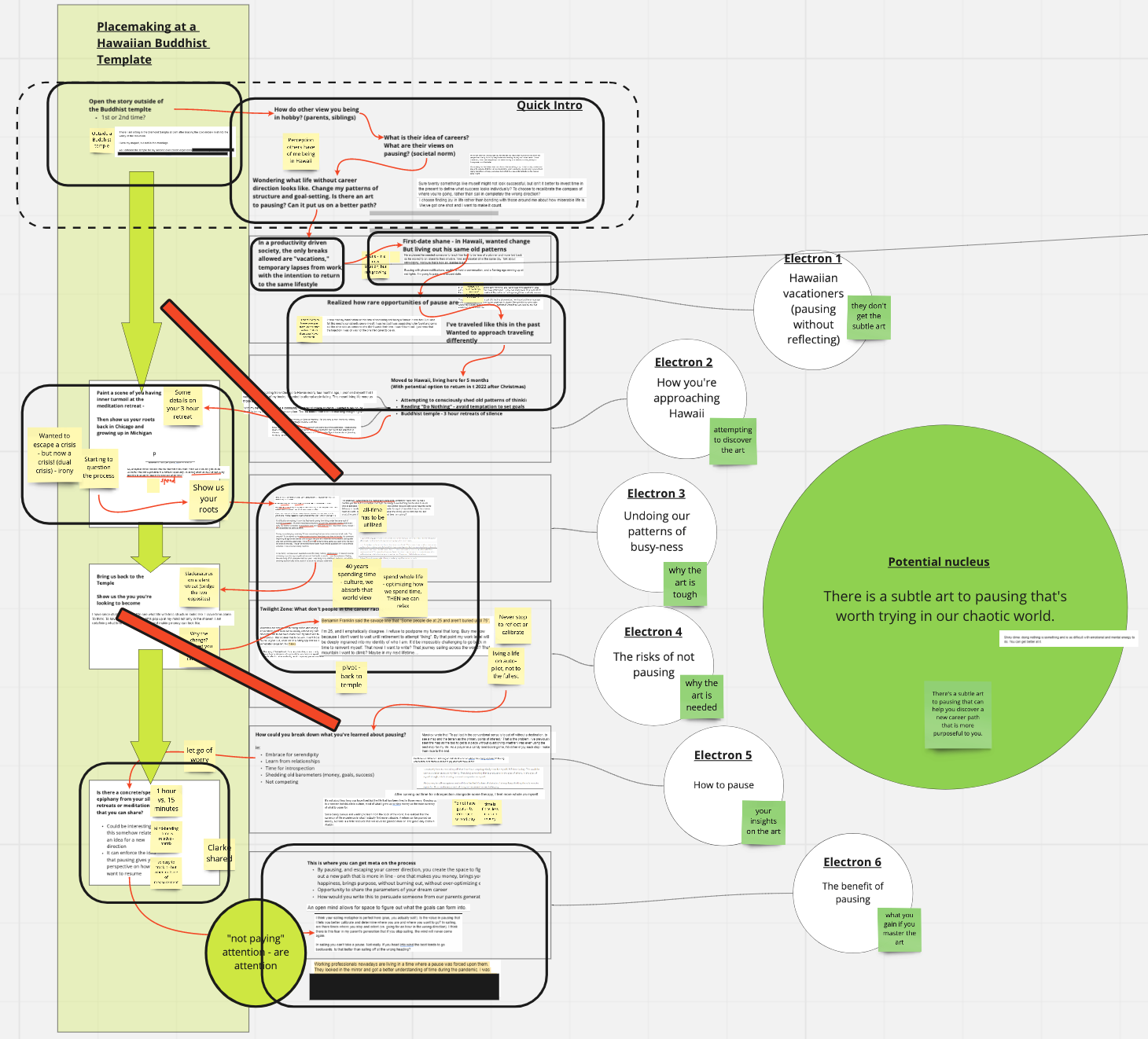 Michael's approach of using visual feedback is like nothing I've ever seen before using Miro as a tool. He was like an architect taking the bricks of  ideas I had and gluing them together in a way that makes more sense.
An idea that comforted me is knowing how growth in writing is cyclical. If I keep on reading my favorite writers and noticing why I enjoy their writing, my taste will improve and then create a standard for my ability.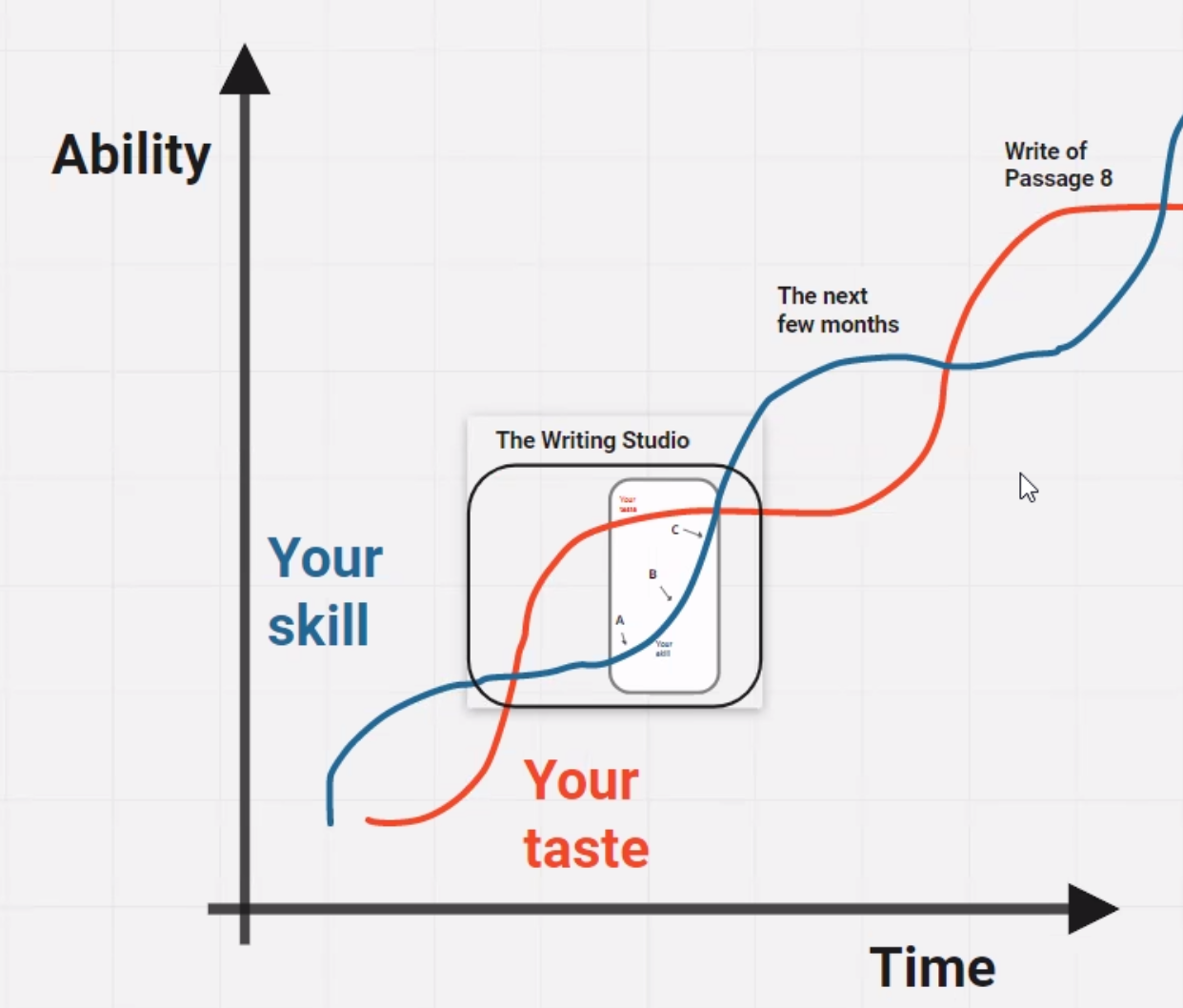 I'm only at the tip of an iceberg on implementing the new principles shared, and I'm really excited to explore the concepts even more through reflection. So much is jammed into a cohort and I know after years of taking a cohort based course that a long game perspective is most important.
I'm grateful to have patience for when more of my takeaway around rhythm, style and outlining click.
🏖 Hawai'i Update
I have some friends visiting me and my roommate Emily from the mainland for the holiday. This is my first year ever not being in Michigan for Thanksgiving. Talk about weirdness. I FaceTimed them but of course it wasn't the same.
The turkey I bought from Costco with pre-made stuffing had low expectations that were surprisingly surpassed. Though, I relied on my pescatarian pals to come through with the grilled salmon. That was the real MVP star that stole the show.
Holidays away from where I grew up
On a different note, I'm oddly not homesick. Sure, I miss the fall leaves and apple cider. Football games are a fun way to get festive.
I don't feel any inkling of fomo for missing the 6am Turkey Trot down Michigan Ave in Detroit. This is the first time since 2011 I'm not starting my day of running in cold weather bundled up with ear warmers and wool socks.
I missed the good ol' informal high school reunion. The very night my parents met at the local spot 'Rustic Cabins' under the moose head in my small hometown back 38 years ago or so.
I can't remember the last time I went to a bar. Is this what maturing is? I feel like I should feel nostalgia, but I feel relief. I love sleep and slow mornings and being able to feel my ears.
All in all, the people-watching during the Turkey Trot was always a hoot. This Thanksgiving, I spent my morning on dawn patrol at the Canoes break of Waikiki. I got to watch the sunrise behind Diamond Head at 6:12ish AM.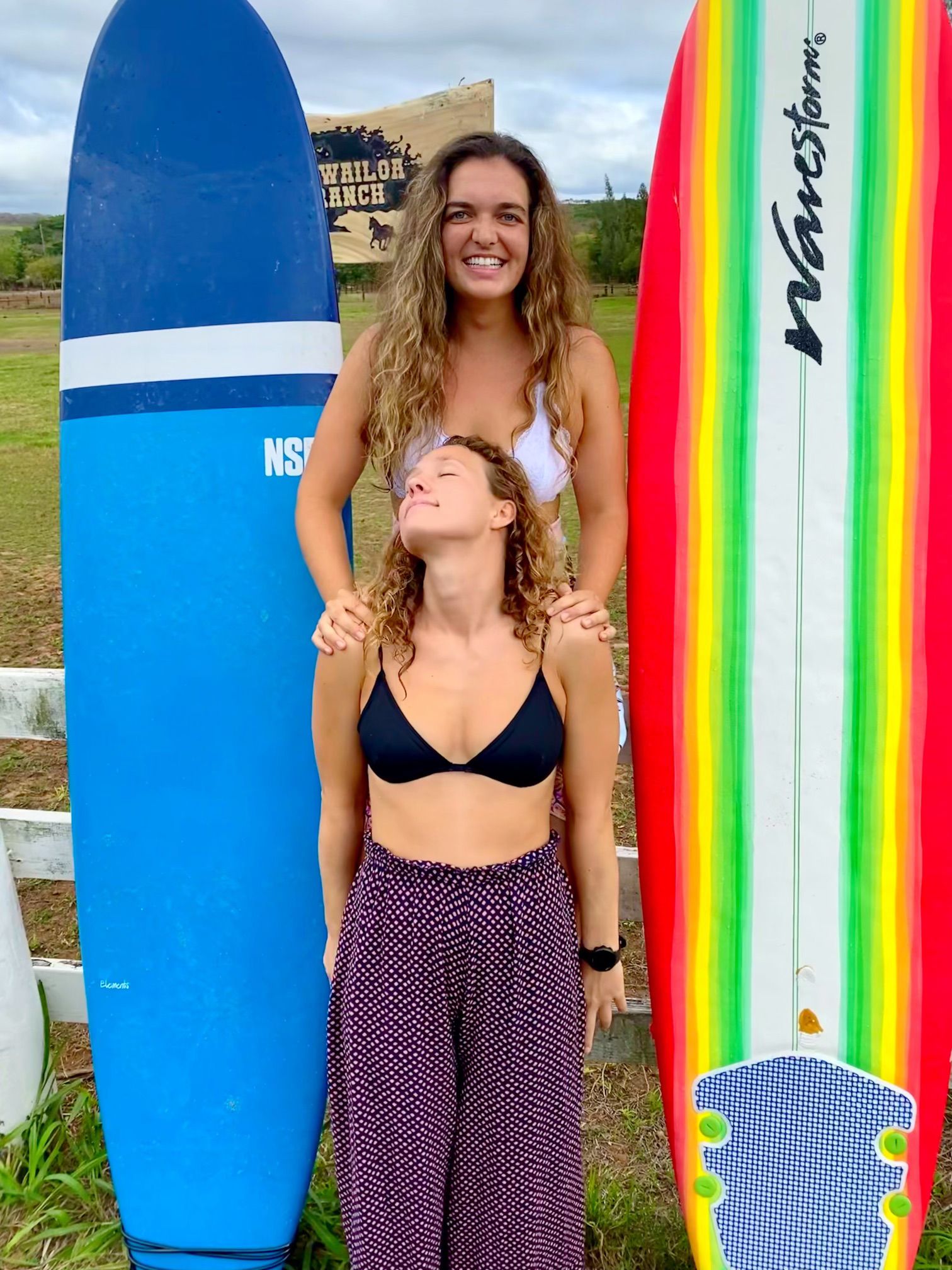 The break was slim pickings for powerful waves, so there were a lot of party waves. I tried my hand at hanging my ten toes over the front rail on the handful I caught. It  was jolly fun attempting that ended in face planting. I saw my friend Ben get up on a few after just starting this past week of visiting. Wow, how the young ones grow up so fast.
Everyone was smiling and radiating love. Mother nature surprised us with some waves and that was more than enough.
Sending you all so many aloha vibes 🤙
🍻A Slow Holiday Toast
Thank you to Victor Saad and the Ei team for sharing this toast that I read aloud a few times to friends. I am still reflecting what this toast brought and surfaced. It was a lovely way to bring forth engaging discussion around the dinner table.
To the parts of ourselves that crave connection,
may we feel satisfied.
To the people who have loved us,
may we reciprocate and share their love.
To those whose land we stand upon,
may we honor their story and their ancestors.
To the experiences that have shaped us,
may we remember their lessons.

To the families who raised us,
may we continue their generosity.

To the teachers who've taught us,
may we heed their advice.

And to the days and moments ahead,
may our gratitude ever increase.
🔎 Word to define
Ohana: Hawaiian term for family
Love and fellowship.
Refers to a person's extended family, which can include blood-related relatives, adoptive, friends or other intentional social groups.
Etymology
The term is cognate with Māori kōhanga, meaning "nest"
The word is related to the word whānau meaning the same, used by the Maori of New Zealand. It comes from the Hawaiian word ʻohā meaning the root of the taro plant, the most important plant in Hawaiian culture.
Keep in mind, Ohana means different things to different people. Every Hawaiian I ask has a varied interpretation of what it means to them. Much like anything in life, we define concepts differently and that is to be expected.
Example
I have felt less lonely here in Hawai'i thanks to the ohana I feel from everyone around me.
Stitch found ohana on planet Earth, and I believe we all can.
🌟 Quote to inspire
"If you are not willing to be a fool, you can't become a master." -Jordan Peterson
❓ Question to think about
At this time next year, what will you be thankful you spent time on during the next 12 months?
📷 Photos of the Week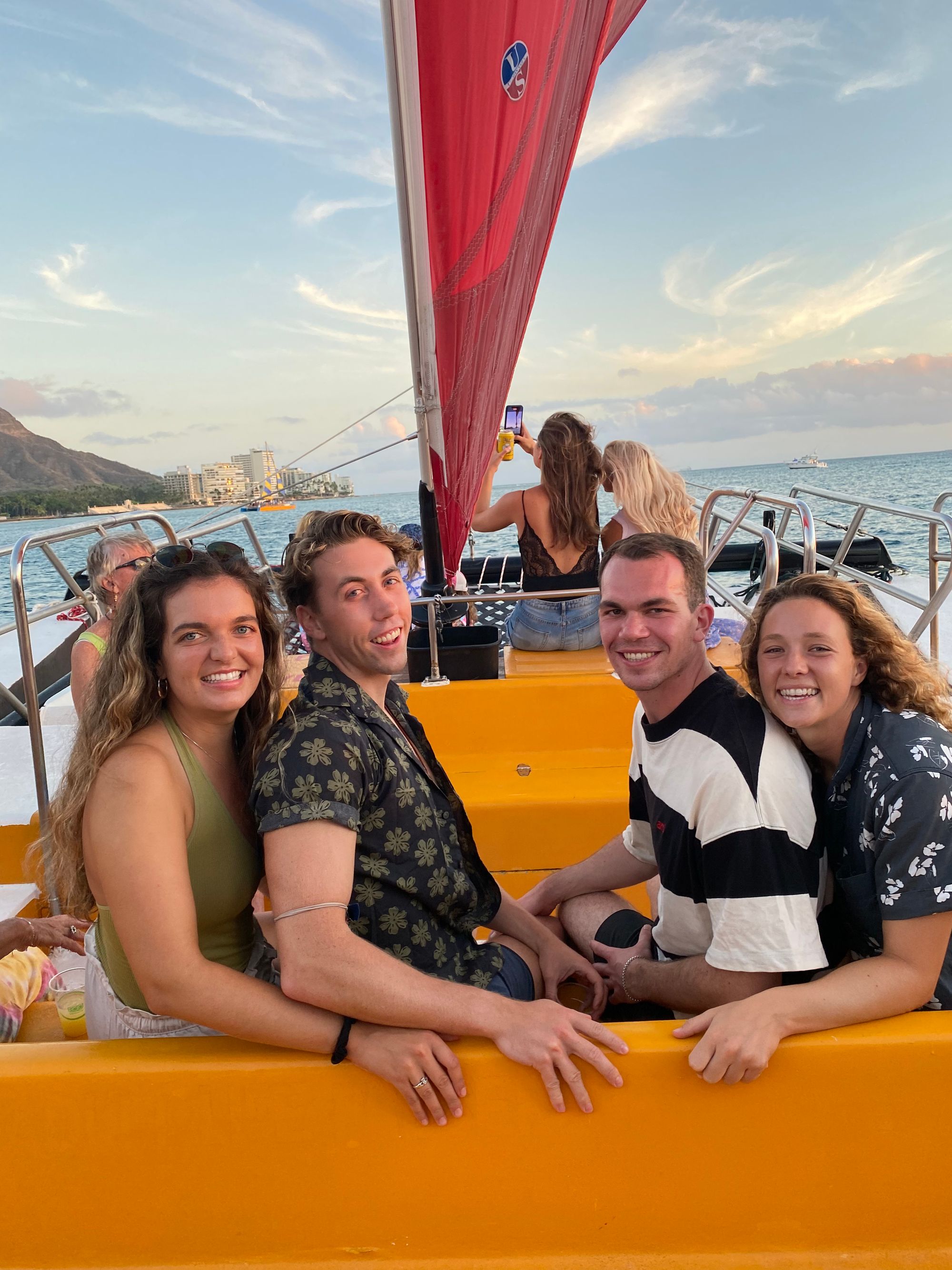 My mainland friends Ben and Shayne have been visiting, and it's been feeling like a 'full house'. I wouldn't have it any other way. After starting thanksgiving with the sunrise surf, we ended it with a sunset sail on the beautiful catamaran Na Hoku II. Every time I'm out of the water and see Honolulu, I can't help myself but drop my jaw.
I see skyscraper residential buildings with airplanes coming out for further west of them. The mountains and Diamond Head crater in the back drop further inland northward. Then the beautiful waves the touch the pastel colored sky.
We also put on our architect hats and designed this beauty: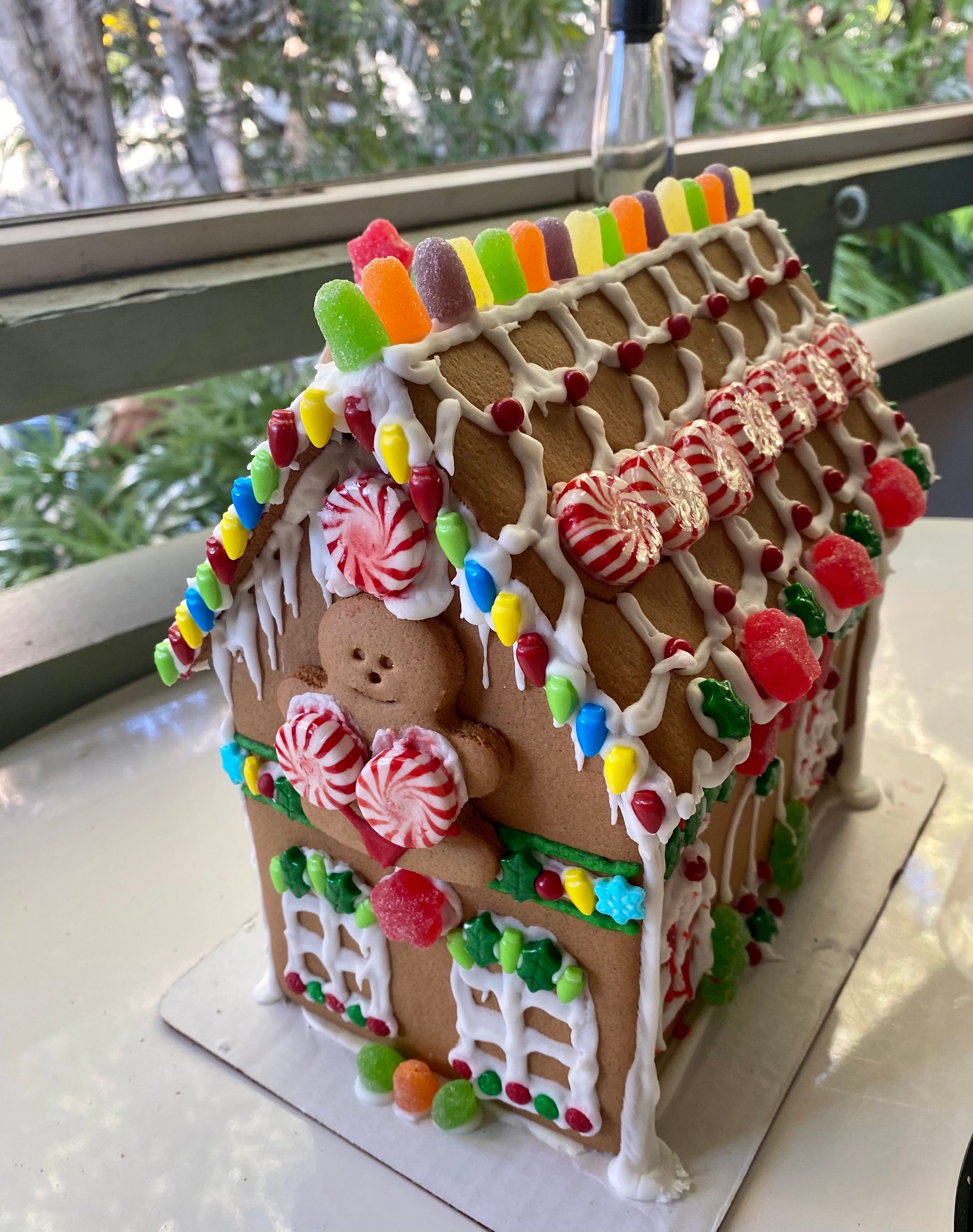 It was a team effort. I loved having all of our different minds come together to see what we could create.
It'd been so long that I forgot the gingerbread tasted like cardboard. If any of you are bound to buy a kit in the near future, learn from my mistake: don't eat it. I haven't decorated a gingerbread house since my grandma passed a couple years ago, so this was such a fun project to bring back into my life.
After, we played a competitive game of Catan. If you haven't played, I highly recommend. It is a blend of strategizing to get the most points, trading, and building to gain resources.  I became nominated as the queen of the Bricks, though, I lost for the first time. I was a little bit salty about that.
I'm grateful to have worthy opponents that challenge me.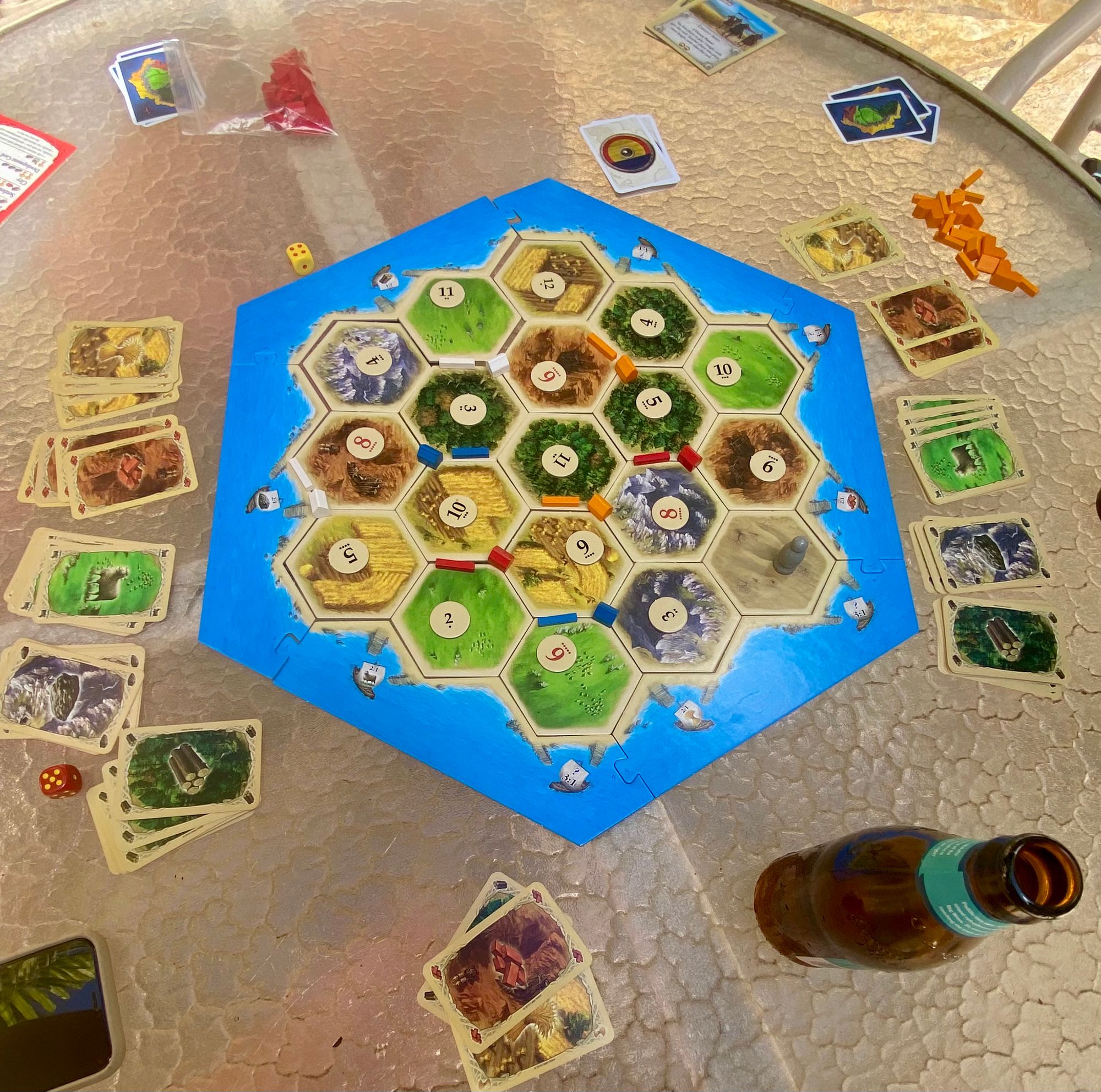 🙏 Shoutouts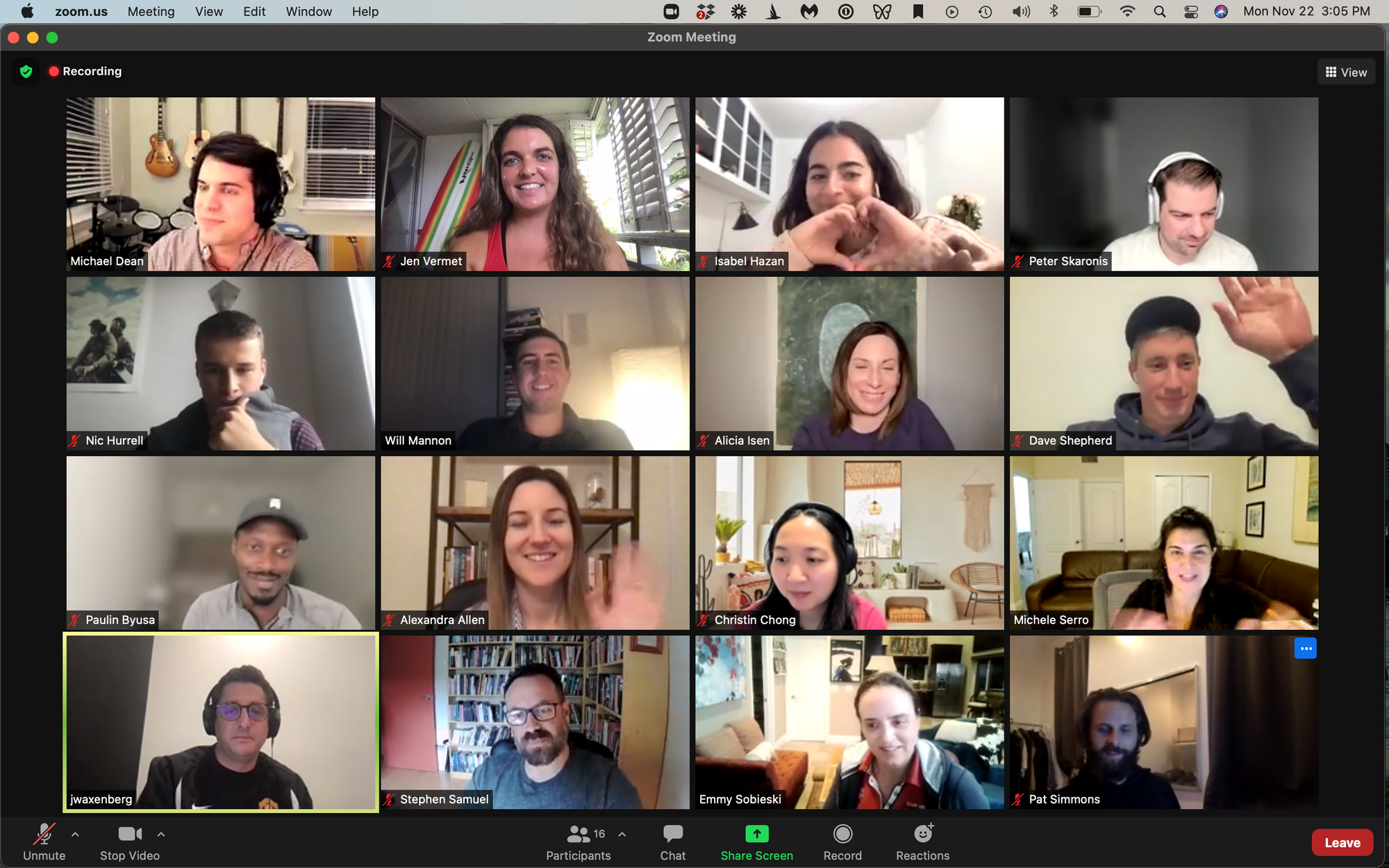 ---
I appreciate you reading this! If certain ideas resonated or you have feedback to improve my future newsletters, I'd love you to leave a comment, reply to this email, or send me a message on Twitter @JenVermet. If you want to learn more about who I am, I welcome you to visit my online home.
Never stop learning 😁
Signing off until next week,
Hang Ten Jen 🏄🏻‍♀️
👣 Footnotes
When in doubt, say thank you. Never enough gratitude expressed in this world:
On the type of wealth I value:
On the difference between sympathy, empathy, and compassion:
On the importance of patience and kindness to yourself:
On one of the main reasons that I write:
I've been listening to the Own Alone song by the Bahamas with two favorite lines: "I'm on my own, but I'm not alone."
"Men and women equal, but we're not the same."
Give it a listen:
If you're reading this because someone shared this newsletter with you or you clicked a link somewhere, welcome! I'd love it if you subscribed below to receive future updates: