Hello fellow learn-it-all,
Greetings from the snowy city of Chicago!
I've been taking my morning strolls lately and love how quiet it is. I can see the fluffy flakes slowly fall. I see sled marks of the kids from the day before. The snowmen droop down probably named Olaf. I spot a tiny mitten that accidentally got left behind and flew out of a pocket. It's as if I am people watching without there being any people at all.
The mornings are quite serene. Living in a city, it's not a site that I see often but few brave the cold in the early mornings before the snowplows come and disrupt the beauty that Mother Nature created.
If you are new here or missed last week's edition, you can catch up on the past letters here. If you are reading this for the first time, I'd love you to sign up below to join the other learn-it-alls:
So, what's in store for this issue?
An archived essay explaining why we are all students of life
Some exciting news about a new role
Revitalize your career course updates
A reflection from my month of January
Some highlights from my first curiosity conversation
Some ideas I've been pondering around identity, learning, and photography
A quote from a longtime television and radio host
A thought-provoking question to look reflect on how you identify yourself
A phrase that my dad describes me to have in abundance that makes me unique
A picture explaining why I was numb this weekend
Some shoutouts to some friends -- old and new
Now, let's dive into letter 45 from a learn-it-all. Enjoy!
🖊 Writing
Three years ago, I entered the classroom for my last first day of college courses at Miami University (in Oxford, Ohio).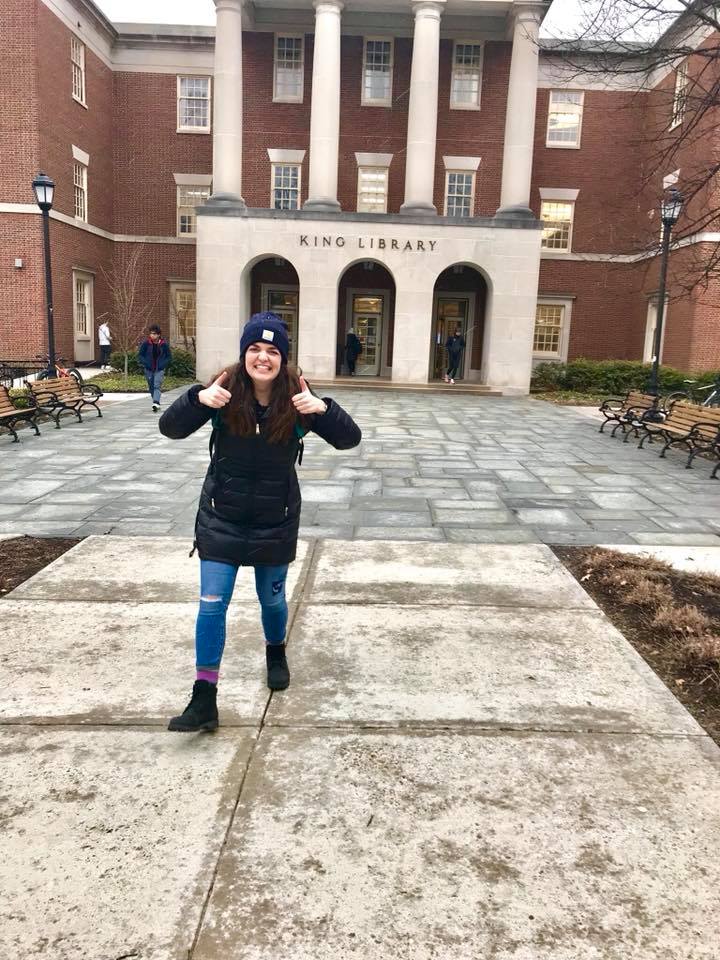 I remember feeling this pang of enthusiasm that I was soon to be complete and get through the courses I needed for my finance degree. It always feels good to check the boxes and be done. I was about to be crossing the finish line. I also carried much sadness that I'd never feel the serendipity of making friends with the random students next to me.

Little did I know at the time, the shedding of that identity of being a student wouldn't be successful. It was all I had known for my whole entire life. I quickly went back into the comfort of that identity after graduation. I discovered online education and alternative ways of learning that excited me and allowed my curiosity to still thrive.
Since leaving school, I've shifted my beliefs about what it means to be a student of life. To read the whole essay, click below:
Write of Passage Mentor Role
Write of Passage is an online course that I took in November 2019. It was after I took this course a second time in March 2020 that I finally published my first letter from a learn-it-all. This course is one of the core reasons that I believe in sharing my learning journey more publicly here with you all. It has equipped me with skills to explore and find my voice.

Over a year after the transformation happening, I cannot picture how drastically different my life would be without taking this course. The transformation is so prevalent because there is a "Pre-WOP Jen" and a "Post-WOP Jen" where those two versions are drastically different.

Write of Passage helped me start thinking more about my future path both personally and professionally much differently through a lens of writing. It helped me to carve out my little corner of an online home while taking my place as a citizen of the Internet. It's what ultimately gave me an outlet to make my learning matter more. Rather than hoard the value and knowledge I collect from life, I share and learn from. It empowered me to start an intentional learning journey for the fun of it:

I am beyond stoked to be a mentor for this program.

What exactly does it entail? I'll help shepherd other students in the course to ensure that they have a transformational experience to become an online writer as well.  It's starting at the end of February, and I'll be facilitating a weekly writing session. I'll be actively engaged in the community forum answering questions and offering guidance to students. I see it as being a fun hands-on teacher's assistant.

Being a mentor means I'll be taking this course for the fourth time. I've never taken a course that many times. It's always evolving and enrolls such interesting peers to learn from that I've never once had a dull moment in this course. It'll definitely be the most meaningful experience this time around taking on more of a support role to facilitate learning for others.
I'm also excited to be alongside many other previous classmates and friends who are mentors! What fun this will be 😎
🤔 Reflecting on January
Over the weekend, I did a review of the past month that flew by. It was extremely helpful to stop and pause. It's super simple and I highly recommend giving it a shot to recognize patterns in the actions that you take.
To follow the format of every 4th letter (like letters 41, 37, 32, 28, 23, and 19). Some highlights include:
What I loved:
Completing a full month sans alcohol
Technology: my new Ember mug keeps my sleepy tea hot as I sip on it throughout the hours of the night
Mailing hand-written notes to people I appreciate
Cooking tacos and making homemade guac for dinner with my brother
Starting therapy and catching the mind traps I fall into with how I talk to myself and starting to notice how my brain is programmed
Having the most fun I've ever had applying to the writing mentorship role where I added a silly story to my application that you can watch here
What I lacked:
Time to write for me
Consistent weight training --I'd get sore from a few pull-up attempts and then rest for a long time
Time to research and investigate new stocks to invest in (Gamestop was entertaining though)
A regular reading habit
What I learned:
How easy it is to say no when the boundary has been drawn of not drinking alcohol this past month
I will never really feel ready to teach something, but that act of doing it allows me to feel like I can
Since I wasn't drinking any wine on the weekends, it became replaced with consuming herbal teas or hot cocoa
I need to set clearer boundaries for myself so that there are fewer decisions to make. Example: Leaving my phone outside of my bedroom so I am not tempted to get distracted on it in the mornings.
Even a page counts in the morning or at night of reading to create momentum
Cold showers don't get easier as the month of them progresses. On days when I need the boost, I'll do them but otherwise, I'm going to stick to the warmth
Habit for February: at least 1 hour of writing or reading for myself each weekday through attending Momo (Morning motivation) accountability group. I need support with the discipline to make time for myself, otherwise, I think myself into needing more time to sleep. Maybe I do, maybe I don't. This group will be an experiment for the month.
👩‍🏫 Course Managing
The second week of the Revitalize your career course ended last week. The sessions centered around moving beyond the resume with online personal branding, having network agility, and creating a PRM (personal relationship management) system. The last session was all about the future work, upskilling, and predictions of what to prepare for while many roles are becoming obsolete.
This week we are having no slides with all discussions and guest speakers coming. This will be cool to experiment and allow the students to hear from other leaders in their supply chain and procurement field apart from the two lead guides, Aaron and Naseem.
💭 Pondering
If we are already perfect the way we are, then why do I feel so much need to have self-improvement and be productive all the time?
What would life be like without learning? Is too much of my identity invested in this mental model?
Lastly, if you have strong convictions about your camera choice please let me know as I am on the market for one. I would like to pursue photography again to bring some better pictures to these letters. I've been looking at the Sony a6400 vs. Canon M50.
💡 Curiosity Conversation
I had my first curiosity conversation with Cams Campbell from a Scottish island.
Note to future self: take a second picture in case one of us blinks 🙈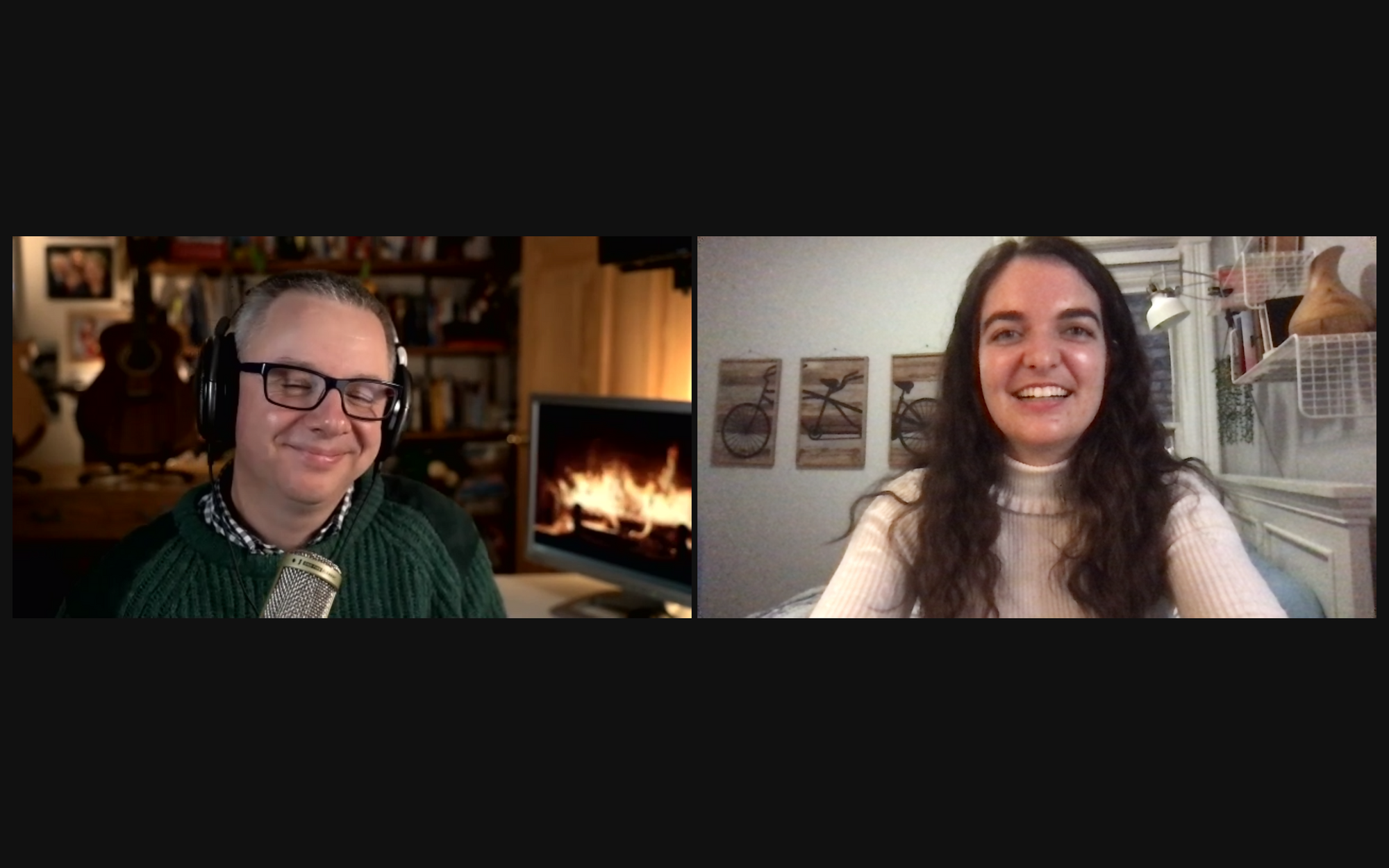 I originally met him through a breakout room during the Part-time Youtuber Academy course last year. It was a lot of fun to connect over our travels in Luxembourg, our love for musical instruments, and the struggles with managing too many priorities. (Cams is navigating how to homeschool his children).
🔎 Word to define
Chutzpah: the quality of audacity, for good or for bad; extreme self-confidence.
Etymology of the word: It derives from the Hebrew word ḥuṣpāh, meaning "insolence", "cheek" or "audacity". The original Yiddish word has a strongly negative connotation. It was used to describe someone who has overstepped the boundaries of accepted behavior. In traditional usage, the word expresses a strong sense of disapproval, condemnation, and outrage.
However, the form that entered English as a Yiddishism in American English has taken on a broader meaning. The vernacular was popularized through use in film, literature, and television. The word is sometimes interpreted—particularly in business—as meaning the amount of courage, mettle, or ardor that an individual has.
Example using the word: In the cartoon Tom and Jerry, you could say that the mouse Jerry always had quite the amount of chutzpah that he wouldn't be caught by the careless cat Tom. I admire Jerry for this quality.
🌟 Quote to inspire
"I remind myself every morning: Nothing I say this day will teach me anything. So if I'm going to learn, I must do it by listening." -Larry King
❓ Question to think about
Are you too attached to one identity in your life?
📷 Photo of the Week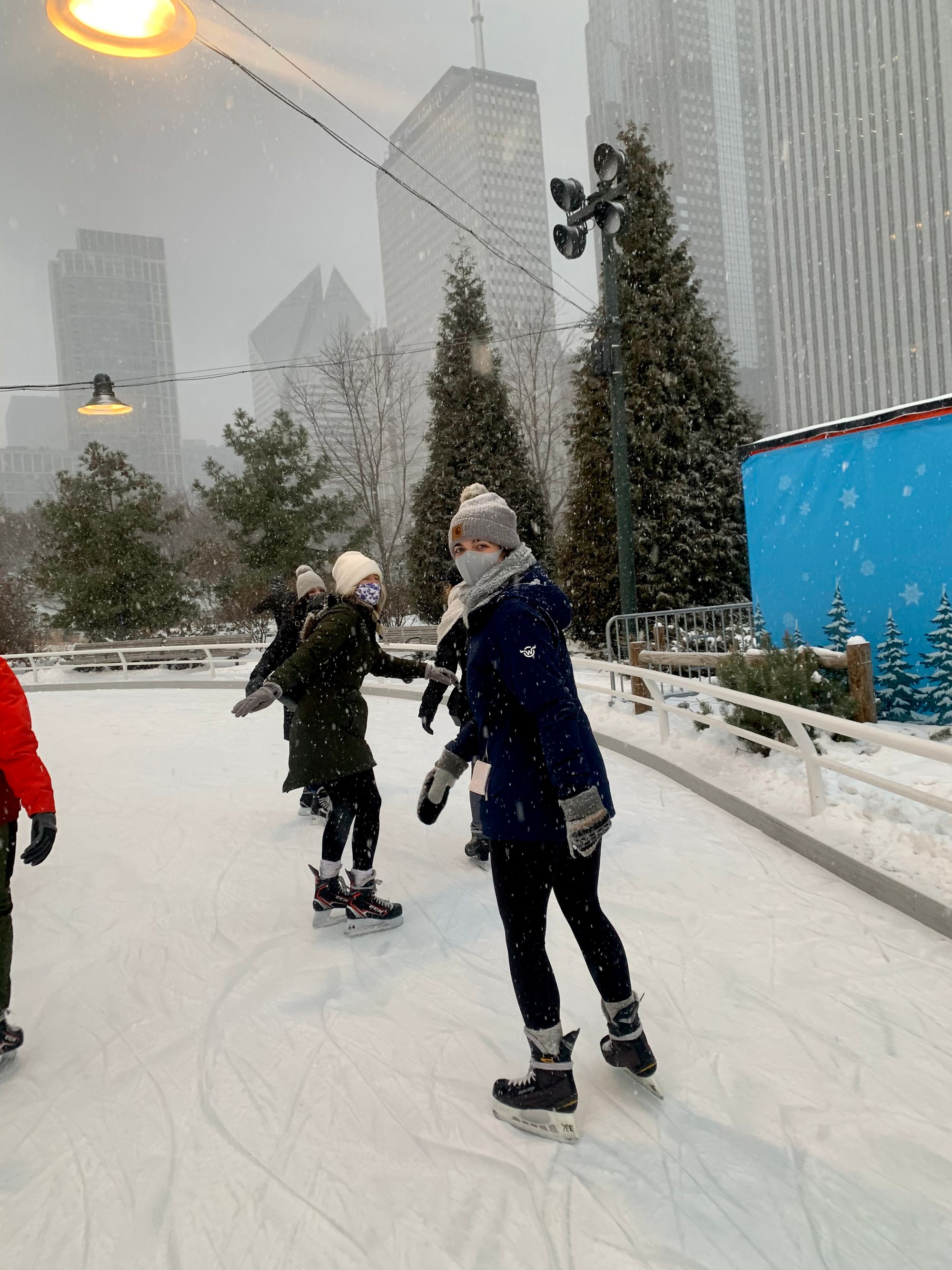 I ventured over to the Maggie Daley Park in downtown Chicago to get my skate on. I am absolutely awful at ice skating, which is pretty unconventional for living here in Midwest. On top of that is was snowing, so that made matters worse. My first time on an ice rink was at the Science Park in Amsterdam in 2017. I was horrified by the speed skaters that flew past me. I had completely lost control and felt like the least Dutch person there ever was trying out a new sport for the first time. When I came back to the states the following year, I took lessons in Ohio at the local community center, but I completely forgot everything that I was taught.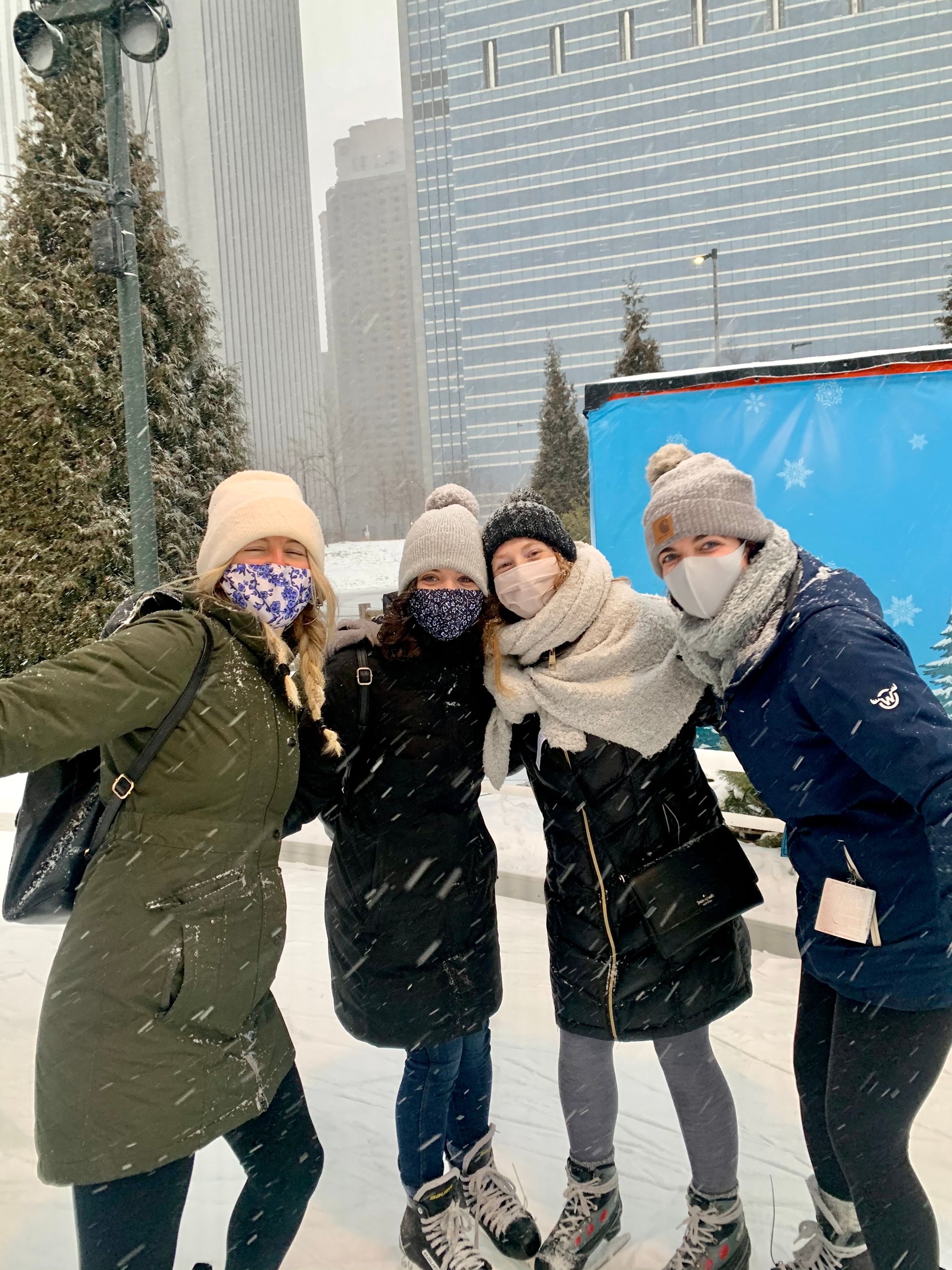 When you bring friends along it's not so bad.
🙏 Shoutouts
Caroline Cohen for helping me think about my life in a silly way like on monkey bars and for passing along the idea for joining Motivational Mornings.
Raheela Ahsan for having a lovely call last week about career exploration and her passion for financial literacy in women
To Floof for being a true inspiration and surviving despite the odds stacked against him:
---
I appreciate you reading this! If certain ideas resonated or you have feedback to improve my future newsletters, I'd love you to leave a comment, reply to this email, or send me a message on Twitter @JenVermet.

Never stop learning 🌟
Until next week,
Jen

If you're reading this because someone shared this newsletter with you or you clicked a link somewhere, welcome! I'd love it if you subscribed below to receive future updates: