If you are new here or missed last week's edition, you can catch up on the past letters here. If you are reading this for the first time, I'd love you to sign up below to join the other learn-it-alls:
---
Aloha fellow learn-it-all 👋
Greetings from Honolulu, Hawai'i 🌺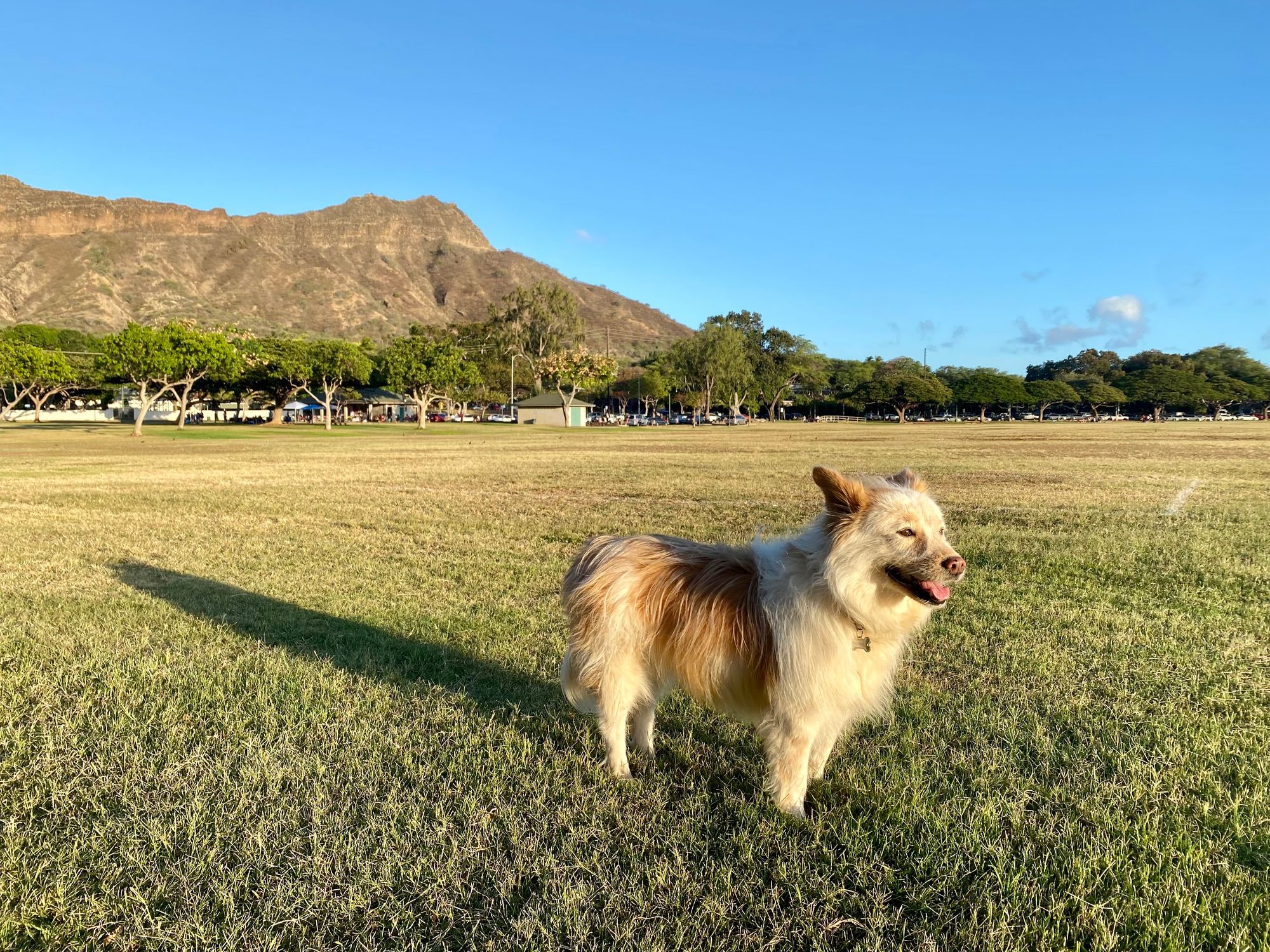 Isn't Winny so cute? Dogsitting is the best :)
Anyways, I've got my travels coming up. Since I am about to be writing to you from the Netherlands for the next three weeks on holiday, I am giving myself permission to change the format of these. It's an experiment. If you like the current structure of these letters, I might come back to it but for the next few, expect a surprise :)
Anywho, I finally got my mid-point reflection of the year to be good enough (albeit ~ a month late). Better late than never. ¯\_(ツ)_/¯
This is a lengthier letter, I've culled the most valuable reflections.
Now, let's dive into letter 119 from a learn-it-all. Enjoy!
❓ Question to think about
What happened the first half of this year? Where the heck do I want to go for the second half of it?
🖊 Writing
I look back to the first half of this year and feel so many things.
Gratitude is the main one.
Let's start with a reflection on coordinates I listed out in my 2021 Annual Review:
Landing a job that supports my lifestyle in Hawaii.
I told myself I'd find a full-time job by April. Otherwise, I promised that I'd leave the island because it was too expensive to say. I went into an urgency survival mode. This led me to creating a video resume that I am quite proud of for my storytelling, distillation, and video editing.
Upon reflection, I am proud to say that up even after paying off my credit card bills a couple of weeks ago with travel expenses, I have the most liquid money I've had in my bank account over the past year. It feels so gratifying to put my mind to something and to actually succeed.
Publishing 26 essays in 2022.
I'm on target for this. I've published 17 pieces on my website over the last seven months. One of these were poems. Most of them were around 1000 words. The number is honestly arbitrary. I set it by wanting to hold myself accountable to put something out every other week that I'd given substantial thought to.
The pieces that I am most proud of writing were the ones I felt personally most vulnerable in sharing. These were:
The pieces that I've received feedback for being the most popular were:
Prioritizing reading newer genres.
Welp I tried here. I don't do well when I try to force myself to read (hence no number attached to it). As a dyslexic reader, who didn't actually enjoy reading until I got a reading tutor four years ago, it's really easy for me to quit. I've found many other ways to spark ideas than from books. My relationship with books is such an odd one. It's a love/ hate relationship. I usually try to read at least one page a day.
My nightstand has consisted of various genres. From Adlerian psychology on the Courage to be Disliked, to poetry with Inward by Yung Poeblo and fiction with The Alchemist by Paulo Coelho and City of Girls by Liz Gilbert. If I'm not enjoying it, I drop it like a bad habit. I've resorted to audiobook with listening to Four Thousand Weeks by Oliver Burkeman. I wrote about it in last week's letter: Savoring the Little Moments.
I've been trying to find joy in reading but lately I feel like it strains my eyes. I even got a better night light but I would still rather write in my journal than read at night. I fancy my own ideas over others.
Travel.
It's bizarre. With so much travel that I completed in the first four months of this month being in Michigan and Florida with family, the more I wanted to shell up and stay grounded in one place. I felt overwhelmed from all this travel since Covid where it was null.
The difference is subtle but it feels overindulgent. I sat next to this photographer guy Bentley on a plane and we each wrote out a list of the states we've been to. I've been to only 26 states. He'd been to 47. He won. I don't give a damn. He said he lived in St. Louis Missouri but hadn't spent a full week living there in over 8 months… I don't know if I consider that living. That's paying rent.
A few other buckets I deem noteworthy to call out:
Social Community.
I can confidently say that I am socially thriving. The thing is I don't even have that many friends. I was going to throw a farewell party before I left the island for the two months, but then realized all who I really wanted to see was through quality one-on-one time with four individuals.
A lot of the reason I feel socially overflowing with only four close friends is that we have been intentional with deeply connecting about all the things I need support on sorting out in my life. I don't feel embarrassed or shame around any of them for who I am. These are quality friendships who I knew if I was in jail, they wouldn't flinch an eye to pay the bail to get me out.
Last year when I was lonely, I would go on a date with a new person. I was seeking belonging which would lead me to disappointment. I wished I could be happy alone. This is growth in my eyes that now I can knowing now I've revamped my emotional foundation.
Mental Wellbeing.
On March 4th I wrote about having depression in my journal. Here's how it went:
"Despite being chilled in my turquoise fishing shirt, I chose to go on a detour on my moped home around Diamond Head. I wanted to feel something. Anything. I felt goosebumps and dorky in my helmet. Another moped passed me by despite Ciao going 28 in the 25. I feel like that's the synthesis of my life right now– to feel like others always surpass me."
I was lonely without knowing how to self soothe. I had just left the sailboat Firefly that I placed second place on with a bunch of sailors. This sounds glorious on the surface but I felt like I failed to audition as the fun version of myself. It felt fake to do that so I remained observant and mute as they guzzled down they victory pitchers of dark n'stormy.
I used to fantacize about living a digital nomadic life. That means to constantly be in state of being my most engaging self. That's exhausting. I learned that first hand livingin a hostel for two months that auctioning for friendship every day does not make me feel accepted. The more I realize how fulfilling it is to have a community around me that lifts me up, the more I want to latch onto that to stay safe, secure and sane.
Physical Health.
As I mentioned I feel more financially replenished, but physically my body has gone to he wayside. It's hard for me to stop comparing myself to the version of myself who ran everyday on my sabbatical last fall training for my race. I'm currently trying to figure out how the numbers on the scale and in my bank can stop being at odds.
Idea Capturing.
I switched from Roam Reserach to Obsidian at the start of this month. I'm trying to futureproof my digital note-taking system.
Again and again, I still come back to my physical journal because it is 'elderly proof'. In other words, when I'm 80 years old and want to reminisce on my lovely days of living in Hawaii, I don't want to have to scramble through messy software archives that are probably obsolete.
I still end up capturing random lines from songs, movies, conversations, and thoughts by texting "future self" in my phone. Most of these ideas don't go anywhere. If one of them is a million-dollar idea, I have faith in it resurfacing and having 'ahonui'. In Hawaiian, this means having patience and wait for the right moment.
I see these texts as my format of culling ideas. Not all of them are needed in my second brain. It can lead to hoarding. A note-taking system honestly be the place where ideas go to die. Simplicity is key to having a shiny dime to write about. This is why I've moved my system to Obsidian. With how that has been feeling with growing pains, I'm considering to switch to Apple notes. TBD.
6️⃣ Lessons
Transience is everywhere. My dad jokingly calls me the tumbleweed of the family because of my lack of roots from living so far away from what I know. I've since realized that there is an impermanence of everything in life. Even if I were to buy a house, be a number at a large international corporation, have an MBA, and have some kiddos with a partner, I will still be a tumbleweed. I'm choosing to cast my seeds wide and if I were to live my life any other way, it would be a disservice to myself as it would be a boring life. I've got one shot at this life, so I sure as heck am going to live it to the max.

Create space with solitude. My preferred mode for this is floating in water and counting my breath. When you create space, it can be filled with what you never knew you needed. For me, this was something I realized from being intentionally silent for five days in the middle of nowhere in Hawaii Volcanoes National Park.

Give flexibility to how you want to achieve improved memory. In odd ways, I started to improve my memory. Each Wednesday, I would go to a Zen center to meditate, and then speak with my Zen teacher Michael about how the way is going for me. I would have no phone or notebook, yet still remember what we spoke about later. I've been using Google Maps less and allow more time to get lost. With Duolingo and learning Dutch, I've given myself permission to forget and relearn what I used to know.

Say No. Coffee. Drinking. Dating. Bars. Ukulele. Hiking. Many of the these things I said no to are still things that I desperately want to say yes to sometimes. Each time I say no it makes what I say 'yes' to that much more meaningful.
Apparently, from the wise words of Warren Buffet, he advised to write out your top 25 priorities and to choose only the top five and run away from the other 20 enticing ones because those are the most dangerous distractions.

You don't actually need to be 'good' at your hobbies. Have at least one thing to lean back on to be competent at. This has been sailing for me. Swimming historically but it's still a whole new world out there in the ocean versus in the pool. I think if I invested in some fins it'd be a lot more fun and I'd trust myself in the currents if there were some. I think I also want to get lifeguard certified to trust the ocean more.

Humility vs humiliation. There goes another overhand serve. Netted. Okay, I'll try out my underhand serve. Also netted. Let me try blocking. Okay, I blocked it but still bagged it and lost the team a point. Surfing. Face plant. Woohoo. Sure I love being a beginner but lately I've felt like I'm getting humiliated.
1️⃣ Surprise
Full moon manifestations aren't hogwash like I thought. I literally went and drank the moon water. I joined a group where we wrote out our deepest desires in life. Somehow. most of mine all came true. It's powerful to actually write out and read what you desire in your life.
🧭 Coordinates for Quarter Three
To create. I find myself gravitating to sharing my journaling obsession everywhere I go. I've got so much ambient research stored up. I want to create a guide that I can send folks with prompts if they are total noobs like I was when I start 16 years ago.
There are so many friends that I talk to about journaling that don't know how to get started. As I'll be 'on the road' the next two months
Experiment with Audio. It is more intimate than video where similar to a journal, it is not judged by appearance but what is said and how it is shared. It's something Jack Butcher is inspiring, that I'll reference further down.
More writing. I have a slew of ideas that I feel like I've been too close to reflect on and I'm excited for time away to give my mental space to refine my thinking.
❓Four questions that'll guide me:
How can I live with patience, Meraki, and/ or consonance in this situation?
What would this look like if it were easy? (from Tim Ferriss reminded to be via a call with Nate Kadlac)
How can I email more uniquely to make people smile? (The most successful email I ever wrote by Derek Sivers via Michele Canzi)
🎥 Recording
In the spirit of last week's letter and savoring the little moments of life, I want to share my video journal from a last week where I share a glimpse into my surfing progress, my love for cucumbers and what I sound like when I've been good livin'.
Upon further discussion with some shred lords, what I am mentioning above of seeing a wave before it turns into white water is a green wave. It was my first time catching one of those! This reminds me of the graphic mentioned above where progress feels flat most of the time.
📖 Reading
I've been reading and reflecting on my past writing. I specifically love this excerpt from Why Hawaii: How I Uprooted My Life:
I refuse to wait until retirement to learn how to surf or how to scuba dive or to do the hikes on AllTrails that are only for challengers. It's definitely not comfortable to live an adventurous life, but I know my future self will thank me for it.

Living by the expectations of society is suffocating. In order to uncover more of what I want in life, Hawaii has offered me the environment to focus on what it means to be human. Even though I feel lost some days, I wake up in paradise and I feel courageous for that.
🎧 Listening to Jack Butcher
I stumbled upon Jack Butcher's podcast Episode 4: Three Years Later.
It's more of an audio journal with four etnries over the last three years. They're raw reflections. I love it. The voice is such an intimate experience that share more than words though has less to judge than video. I find them so inspiring.  I want to do one like this. The other episodes are on Apple Podcasts here.
🌈 House of Pure Aloha Updates
🎬 Filming Instructional Videos
I've had my debut as a hand model! ✍️
It's for a project I've been leading for the community for the House of Pure Aloha. You can watch the videos here. The HOPA Journal pre-order campaign was recently launched and you can learn more about it here.
🎧 Listening to Lucie Lynch
In tandem with the above videos, for my role at the House of Pure Aloha, I've been leading the community alongside local projects and partnerships. One of these has been with the lovely Lucie Lynch who is a singer-songwriter originally from Hamburg, Germany.
This song is so catchy. I cannot listen to it without smiling and feel a sense of aloha entering the world. I'm honored to have offered some edits the lyrics that she is singing.
You all know what I'll be humming to myself these upcoming days :)
🌟 Quote to inspire
"My dad encouraged us to fail growing up. He would ask us what we failed at that week. If we didn't have something, he would be disappointed. It changed my mindset at an early age that failure is not the outcome--failure is not trying. Don't be afraid to fail." - Sara Blakely
📷 Photos of the Week
In the spirit of this being a review from the past half year, I've selected a couple of shots that have been my favorite.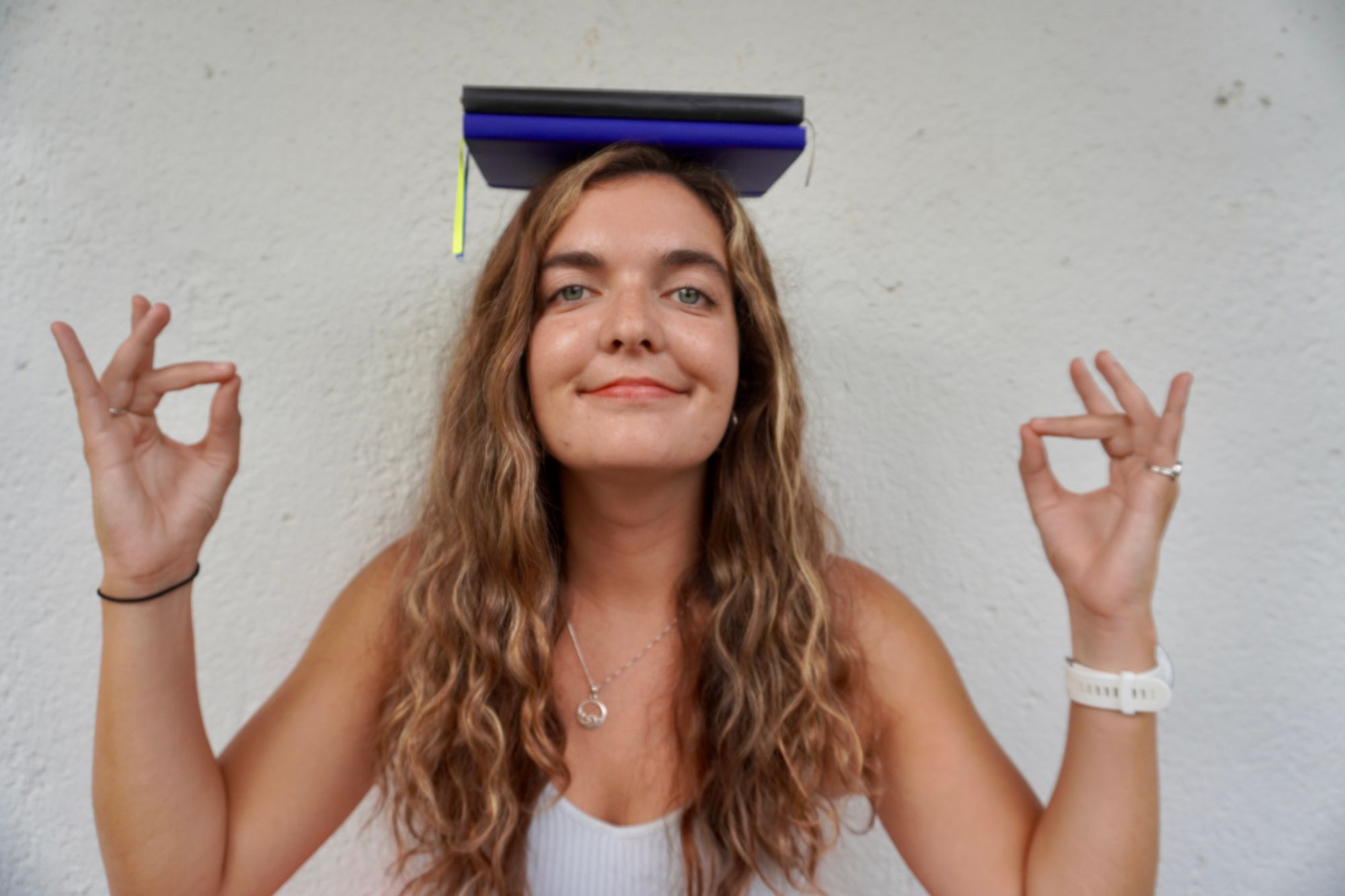 From a silly photoshoot I randomly decided to one day.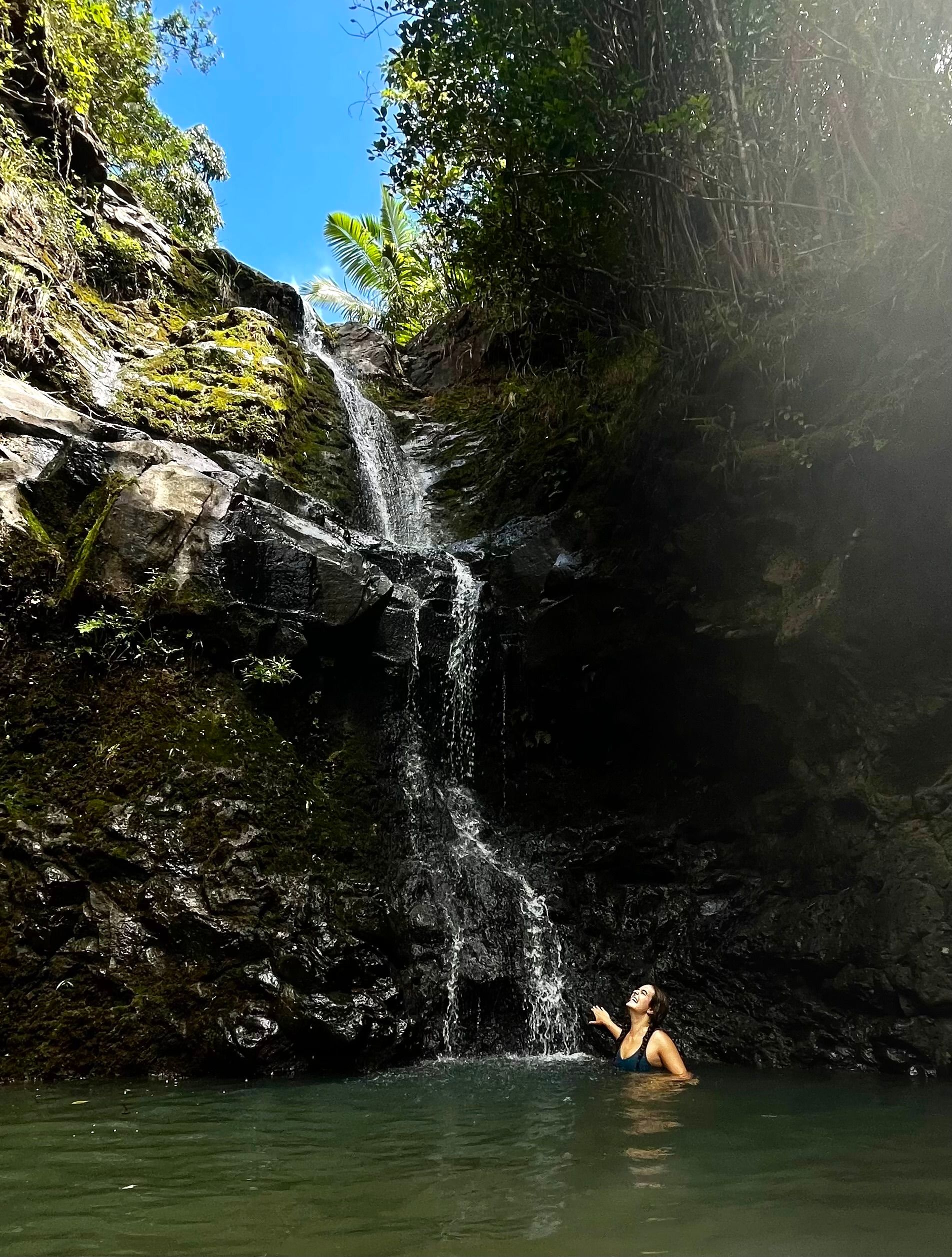 This was a waterfall that I randomly found taking a wrong turn on a hike. It captures so much joy that I want to find more of in my life.
🙏 Shoutouts
To everyone that has helped cure my physical and intellectual loneliness these past seven months of 2022. I'm so grateful for life.
---
I appreciate you reading this!
If ideas resonated, I'd love you to leave a comment, reply to this email, or send me a message on Twitter @JenVermet. If you forgot who I am, I welcome you to my online home.
Never stop learning 😁
Mahalo 🌺
Jen
If you're reading this because someone shared this newsletter with you, welcome! I'd love it if you subscribed:
👣 Footnotes
On self-care routines:
On being a yogini:
On the sunk cost of being too educated:
On advice to my younger self: