Hello fellow learner,
Greetings from Grosse Pointe, Michigan  👋👋
Yesterday, I wanted to embrace my inner kindergartener dreams of being a painter. With my younger sister and cousin, we made a day out of the idea to paint! Each time that I stroked my brush and it didn't look as I intended, my cousin kept telling me "it's a happy mistake" as Bob Ross would say. I tried to plan out my painting but found it rewarding to improvise. There's no such thing as perfection in creativity, so it takes the pressure off with trying to be a control freak about each detail.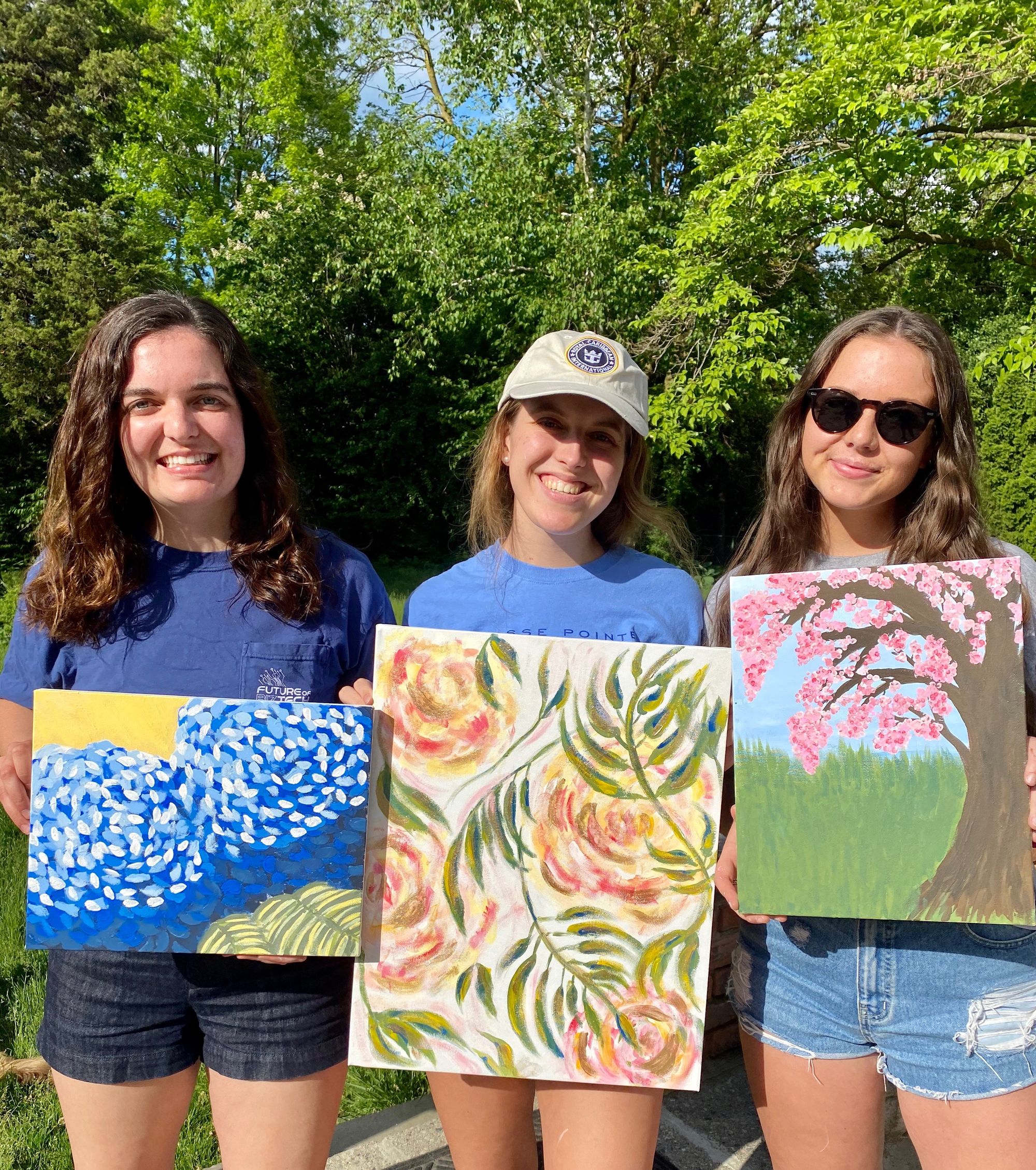 I am featured on the left with my blue hydrangea flowers. Painting is a refreshing reminder to be in the present and not try to plan ahead. I highly recommend it!
Here is letter #10 from a learn-it-all, enjoy!
---
Some things I've learned through…
Doing
It is now the end of May and I want to stay true and followup with you on how the month went. I tried out this productivity tracker that I mentioned in Letter #6 at the beginning of May.
It looks like a failure because I didn't achieve all of my goals (and didn't even fill out the weekly goals). I still feel accomplished though from the habits I pursued. You can see that I tended to do chains of the habits in a row. I've realized that the more intrinsically I enjoy something the more likely I am to do it, which is why I exercised almost every day.
WINS:
Professional: I landed my first contracting gig from a past-colleague for her friend. I'll be producing a virtual wedding and reception next weekend on Zoom. I'm really excited and honored to be a part of their experience.
Personal: On the piano, I mastered playing the "Girl On Fire" by Alicia Keys, but I still don't have it memorized yet. This song is on Intermediate Level two of my Simply Piano App that I have been using to learn. I memorized playing "Over the Rainbow" by Judy Garland but this song was only Essential Level two. I still consider this a win because the energy I get after playing rolls positivity throughout my day.
DEVELOPMENT AREAS:
Relationships: I never intentionally acted on this goal of writing up my family's heritage story. I need to make my goals more SMART (specific, timely, attainable, realistic, and timely) with an emphasis on making them specific. I never formally interviewed anyone in my family. Rather we talked casually about the stories of my grandparents and our different upbringings over dinner. I didn't have a system where I would store these memories. This was a great idea I had of wanting to have all these stories documented for the future, but it is something I will be doing overtime by capturing notes. This will be a marathon project, not a sprint.
For the month of June, I am going to stick to one or two habits on a daily basis as opposed to juggling seven different ones.
Reading
I read The Obstacle is the Way by Ryan Holiday. The main idea behind it is that adversity can be turned into opportunities for advantages.
Some of my favorite takeaways are:
Learning about the Greek word apatheia. It is a kind of calm equanimity that comes with the absence of irrational or extreme emotions. Not the loss of feeling altogether, just of the harmful, unhelpful kind. Say: No thank you, I cannot afford to panic. This allows us to solve problems rather than spend energy focusing on a reaction.
We are never completely powerless even if it feels like the odds are against us. Rubin "Hurricane" Carter unjustly had a prison sentence of 19 years. He turned this period into a workshop to transform because he still was in control of his beliefs, thoughts, and reactions to the situation.
We hold the power of our perceptions. Our perspectives are made up of the context and framing which leads us to the actions we take. George Clooney had to reframe his blame after countless rejections at Hollywood auditions. He realized the auditions were a chance to solve the producer's problem of finding somebody; they weren't trying to fix his problem.
Amelia Earhart had to get moving and create her own momentum to pursue her dream of being an aviator. The opportunity that came her way, in the beginning, was unpaid, with two chaperones, and risky with her life on the line. The reason for her success was that she pushed ahead anyway.
Listening
I listened to the Knowledge Project episode on Creating Routine in Chaos with Jennifer Garvey Berger.
They talked about claiming sacred spaces for yourself to pursue activities to lose yourself in that you love. For Jennifer, this is baking and writing, and for Shane, this is cooking dinner and reading to his children at night.
When listening to people there are hidden purposes of how we are listening. There are three different types:
Listening to win: to convince the person of something. That in this case they don't need to be so sad or anxious. It's not really that bad. It's all going to be temporary and to try and make the problem go away.
Listening to fix: the problem-solving nature of us. Have you tried this supplement? Have you tried this journaling practice? Have you tried this meditation practice? How can I see your problem and use some of my expertise to make it go away?
Listening to learn: I don't have the solution here and accepting that I can't make this go away. Ask: how can I know you better? How can I understand the world that you live in or the problem that you're seeing in some deeper, richer way?
I'm never worried about productivity on a daily basis. I'm worried about the aggregation of days. Any given day, I'm super fortunate I don't have to be productive, but if I'm not productive for a series of days, that's a much different problem. — Shane Parrish
Writing
I wrote about one of my favorite jobs. It was when I was a sailing coach five summers ago. I learned leadership skills that are still with me today and whether leaders were born or created. Thank you to Kristen Pavle for inspiring me to write this piece.
There are many pre-determined assumptions about how a leader is defined. Leaders are not born. Historically, a leader has to be seen on a hierarchical ladder as someone who is managing others. Rather, they are shaped by their life and their relationships. Their skills have to be learned. They are manifested over the sum of their experiences.
In July of 2015, I was a sailing coach on Lake St. Clare between the Detroit River and Lake Huron. It wasn't a large staff for the program. There were four different coaches working together to organize a sailing program with about 20 sailors ranging from ages 6 to 16.
I was assigned to the "learn to sail" students. The gap in the range of skills was enormous. It was challenging juggling the backgrounds of everyone. Gwen and Julia were speed demons, while Mary preferred to sail slowly in control. Juan cried for attention every chance he got, and Jaylin only wanted to sit in the corner playing Clash of Clans. Isaac didn't know how to swim, and Benjamin had to go to the almost bathroom every hour. CJ was afraid of clouds thinking they would cause a tornado. Needless to say, close bonds were formed. I got to know what they were afraid of and who they were at their core. I was their support and there to guide them while they were lost. As a coach, I learned how to have the kids take action and sail even when they didn't feel like it. I strived to help them find joy in the sport out of spite of their attitude or fears.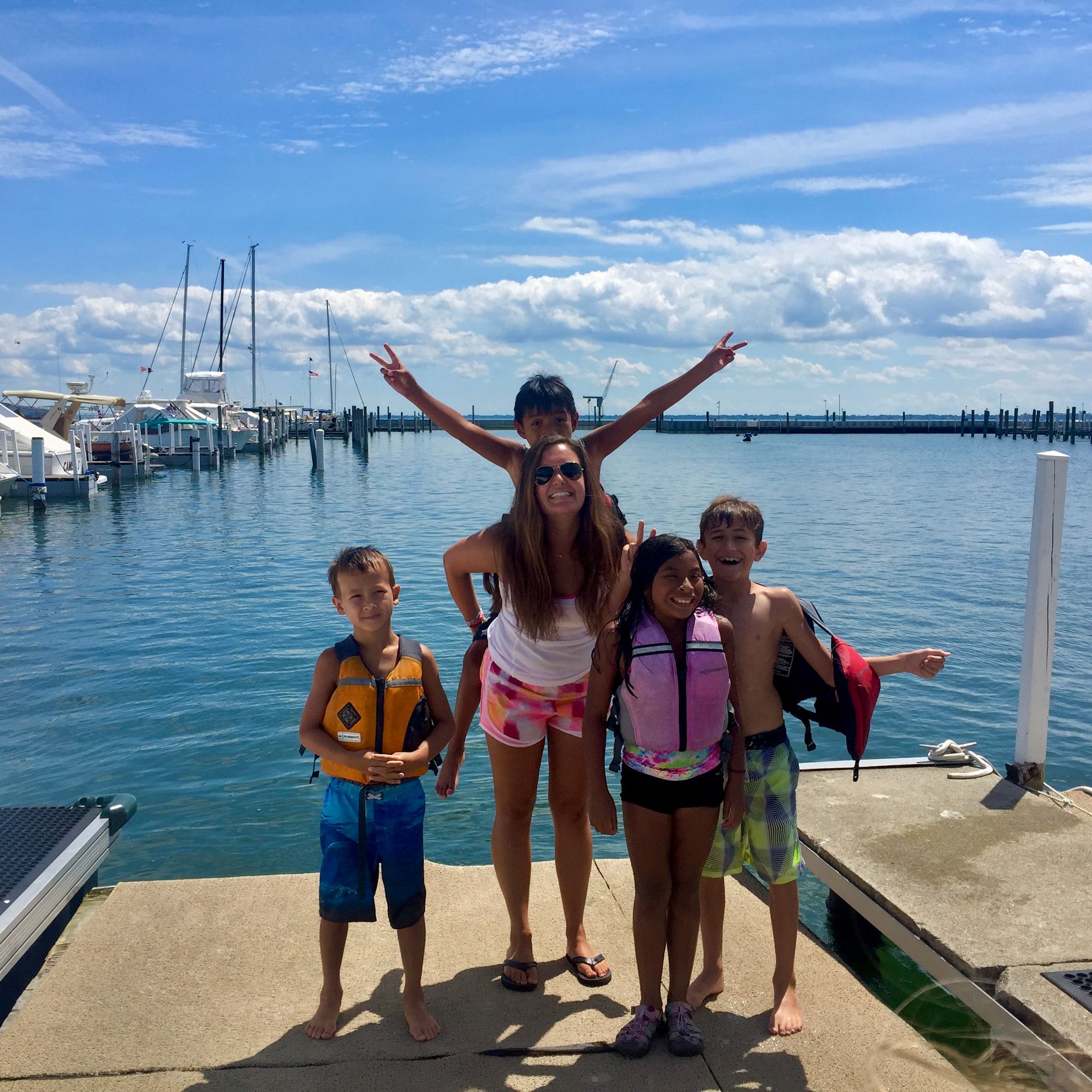 The learning was progressing smoothly as the sailors accelerated up the curve with their different skillsets until one-night half-way through the season. It was a Wednesday evening and I received a text from the head coach saying he wouldn't be coming in tomorrow and was quitting. I called him to explain. He and his brother were out for the remainder of the season. They received a gig on the East Coast for better money. They left in less than a day.
You can read the rest of this post on my blog ➡️

Word to define
Invent: to produce (something, such as a useful device or process) for the first time through the use of the imagination or of ingenious thinking and experiment. Albert Einstein explained that the first step is intuition— and it comes with a burst— then difficulties arise.
What invention in your life would significantly alter how you live? What invention do you aspire for in the future?
Quote to inspire
"Business opportunities are like buses; there's always another coming around." — Richard Branson
Question to ponder
What are you going to take control of this week?
---
I appreciate you reading this! If any of the ideas resonated or you have comments to improve your experience, feel free to reach out to me at vermetjl@gmail.com or on Twitter @JenVermet.
Never stop learning 😃
Until next week,
Jen
P.S. If you would like to jam to what I've had on repeat for my runs, listen here.
If you are new to reading this and liked what you read, I would love you to subscribe!