Hello fellow learn-it-all,
Greetings from Grosse Pointe, Michigan
Before driving 6 hours back to Michigan, I took a lovely stroll along with this nice paved path that had a lovely view of the skyline. I used to work on the 7th floor of the tallest building to the right call the "Willis Tower". Though, anyone who is from Chicago calls this building the "Sears Tower" since it was its original name. I try to be a cool cat sometimes and call it that too even though I've only lived here for a year and a half.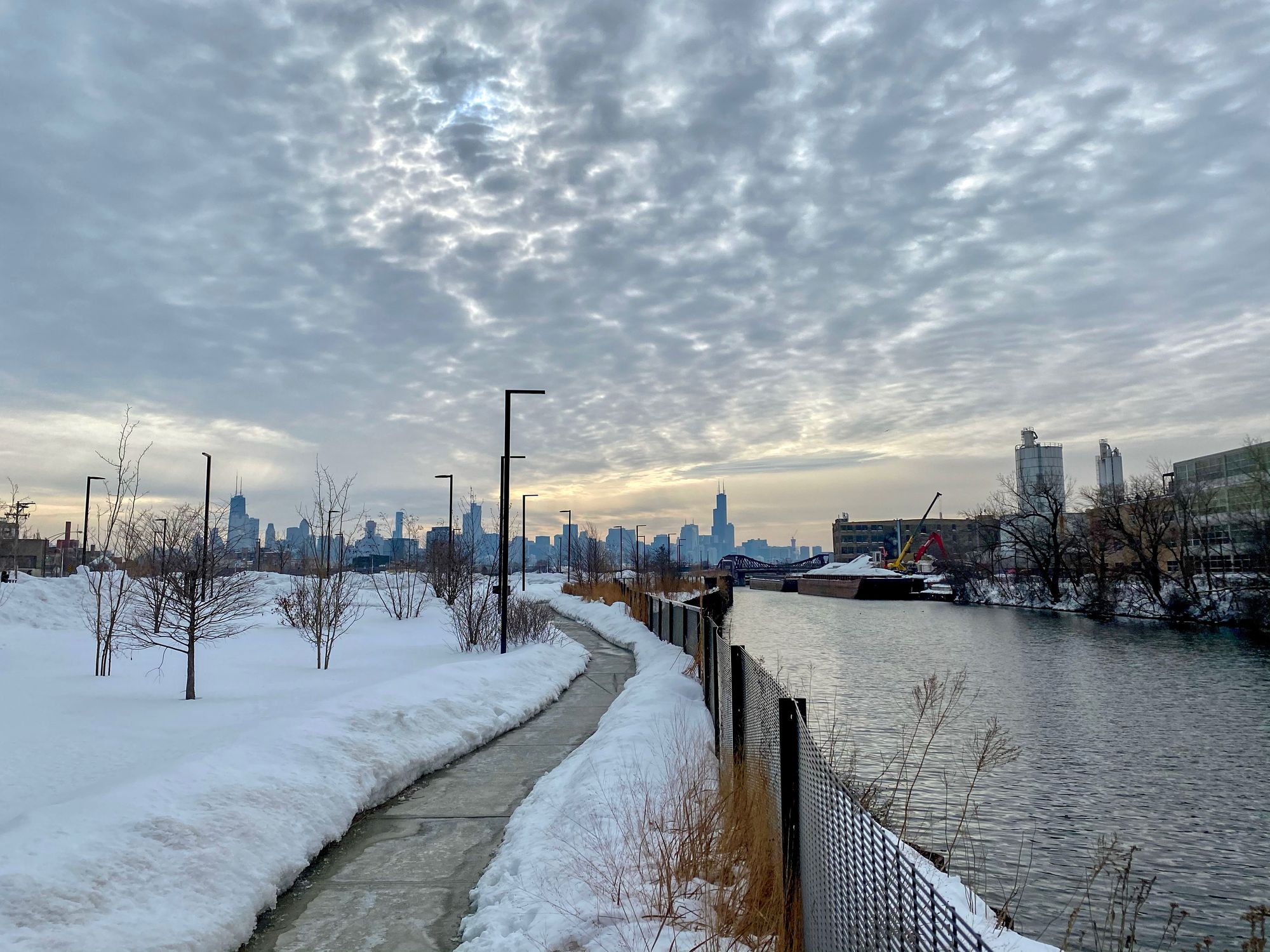 If you are new here or missed last week's edition, you can catch up on the past letters here. If you are reading this for the first time, I'd love you to sign up below to join the other learn-it-alls:
Now, what's in store for this issue?
An exploration of Impressionism and my experience at the Chicago Institute of Art
Some ideas on creating a newsletter from the master of personal knowledge management who taught me how to build my second brain in 2019
Three thoughts I pondered on knowledge consumption tactics, artist dates, and questions you'd ask your parents on a podcast
A word that sparked a movement
A quote about time and humanity
A question to get you thinking about your own consumption habits
A selfie with me, a 192 square foot painting, and some fun facts about an inspiring badass woman
A few shoutouts to friends
Now, let's dive into letter 48 from a learn-it-all. Enjoy!
Some things I've learned through…
🧑‍🎨 Admiring Claude Monet at a Museum
I ventured over to the Chicago Institute of Art over the weekend. It's been eons since I'd been to a museum. I forgot about my love/ hate relationship with them. I got kicked out after a few hours and barely made it through a single exhibit. Every time I enter, I instantly feel inspired then overwhelmed then stressed for time, then I zone out while zooming in.
There are so many different rooms to choose from that you feel this sense of opportunity cost of choosing one over the other. It's kind of like a textbook maze where you glance through the pictures knowing that understanding the whole book is near impossible, so settle for less. Less is more. Consuming everything isn't an enjoyable feat. I chose to learn about impressionism and Claude Monet.
To start things off about Claude Monet: "I've always worked better alone and after my own impressions."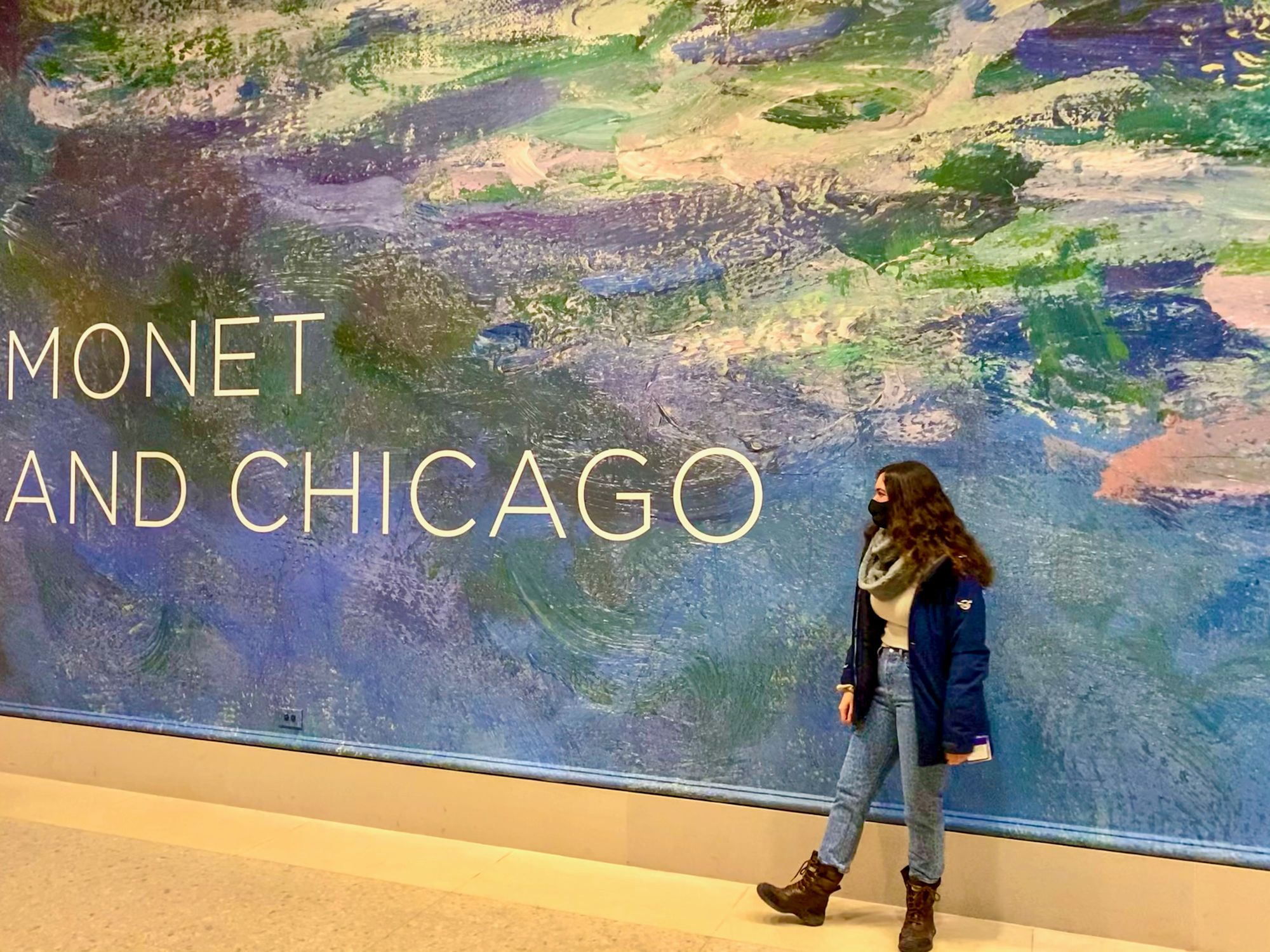 The Impressionists began in the 1870s. They were a group of rebellious French men including Monet, Renoir, Pissarro, Manet, Degas, Morisot, Cassatt (whose names are vaguely familiar from my kindergarten art class with Mrs. Triano). They rejected the Renaissance perspective with balanced composition and idealized figures. Instead, they chose a path never traveled before: concentration on the immediate visual impression produced by unmixed primary colors and small strokes for reflected light.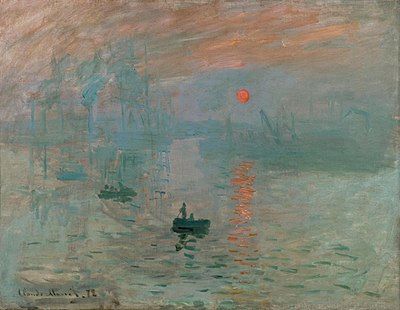 This piece above was called Impression, Soleil Levant, which translates to Sunrise. It was created by Monet in his hometown Le Havre. Its appearance began the snowball effect of impressionism after April 1874 inspiring the movement. Despite critics believing that Impressionists settled on globs of paint with being too incompetent to draw while using "vulgar" colors, their legacy lived on and persevered.
Note to self: critics are necessary and helpful because they show that you going against the grain creating something unique.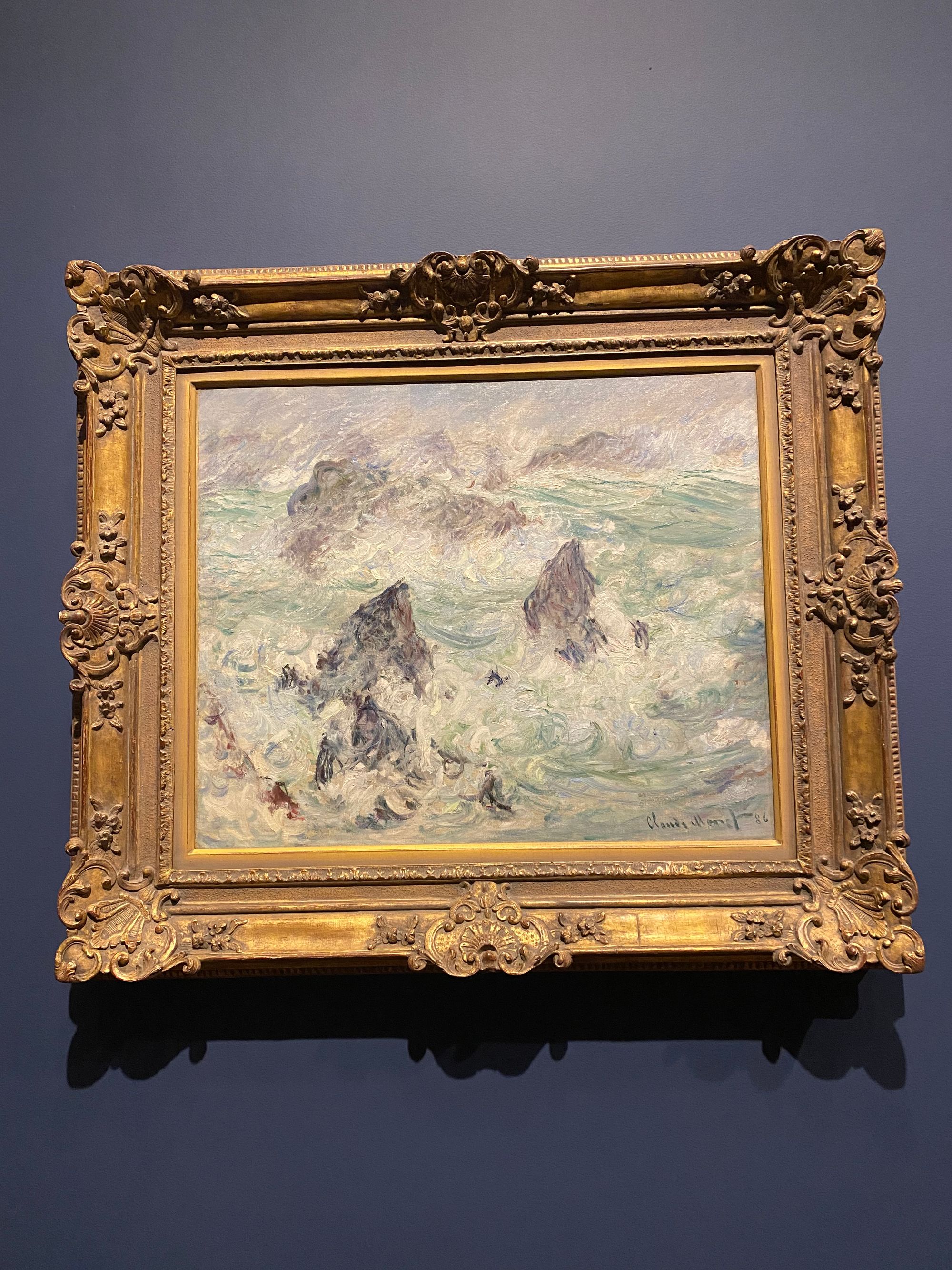 As I moseyed around all the beautifully vibrant paintings, I found myself in an odd situation.
I'd admire the painting, but then want to jump to the description to know what the behind-the-scenes context was. It felt like a cheat code. Sometimes I even found myself only reading the description without even admiring the painting.
Each painting already has so much color to it, but the context added even more color. Like this storm, for instance, I got to learn about Monet's perseverance to hire an ex-lobsterman to help him create the painting against the strong winds. From knowing that, I valued the work that much more empathizing that he went through a bit of hell to create what I was admiring. Furthermore, a small uninhabited island near my hometown in Grosse Pointe is called Belle-Île. I've spent my summers sailing around it. I now link the two in association and have a far better ability to link the painting to recall it in the future.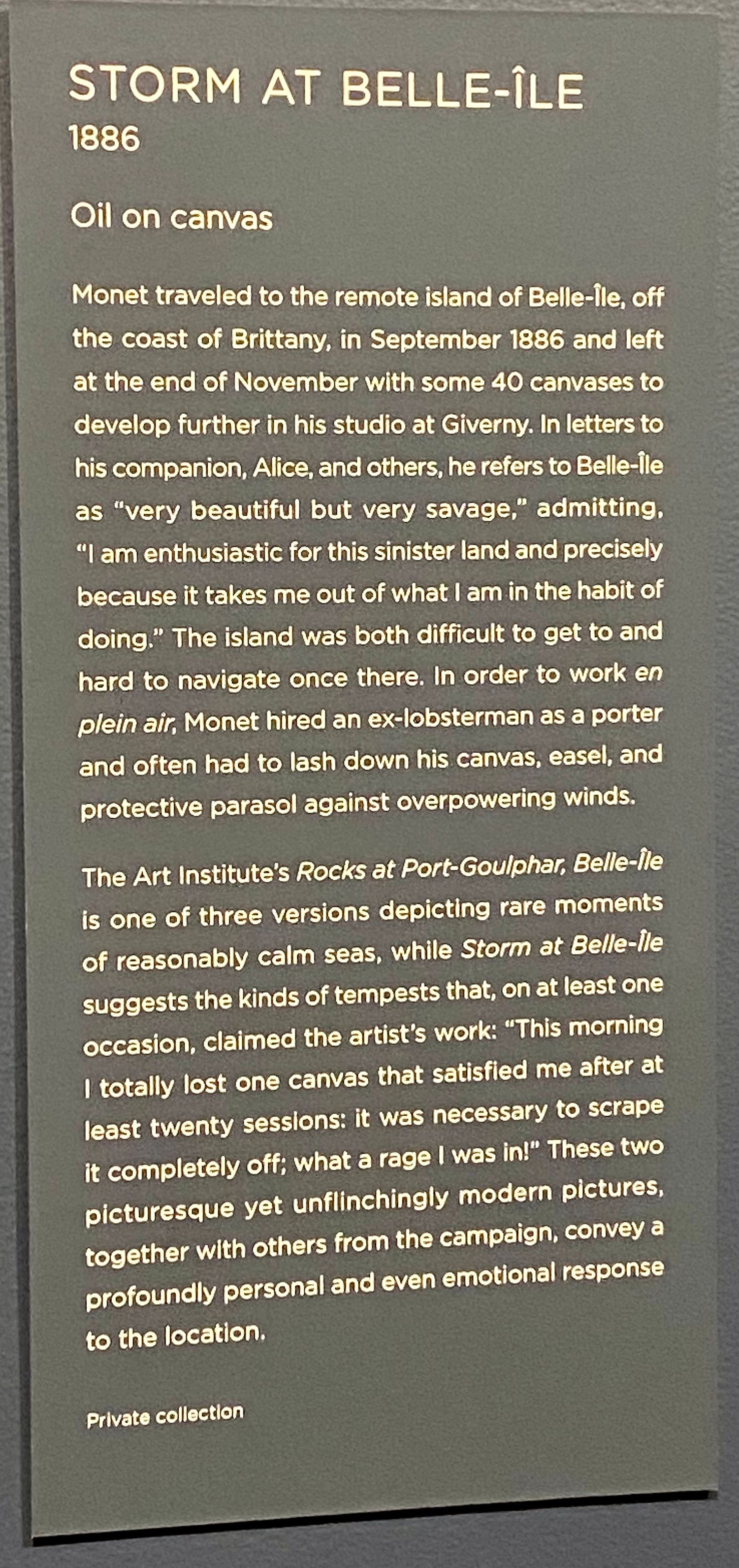 This phenomenon causes me to question whether the curator of the museum was intentional to not have any descriptions for some of the paintings. It leaves more up to my imagination without knowing the context, but I also like to know the answers to create a story in my head of the basic 5 W's: who, what, when, where, why (and how).
🎧 Listening
I listened to Nathan Barry interview Tiago Forte on his newsletter tactics and making a million dollars last year.
Tiago Forte's top three pieces of advice for starting a newsletter are to:
Search for quality readers over quantity. To the 196 of you subscribed to this newsletter and the who consistently engage with it, I cannot thank you enough.
Send it out consistently at a certain time and day of the week. This is something I want to do again. I fell off a bit after my think weekend and switching from Mondays to Tuesdays. I plan on this being released at 8 AM EST on Tuesdays moving forward.
Share about your whole life and not just a piece of your self. I try my best here as I started this newsletter at the beginning of the pandemic last March where all I had to talk about was my personal life with pet bunnies and making tropical salsa. I am definitely open to sharing other parts of my life. Holler any questions my way. This email is a springboard that is like an open door policy where you can always ask me anything.
They spoke about how a cohort-based course is like a peer pressure cooker with accountability. You are paying money to meet people that are along the same path with a baked-in community. It's like a paying for a world-class college course, rather than a textbook version with videos. The latter is something you'd rather just find online for free.
I LOVED how they spoke at the end about this shift from the digital world of the Internet to a more physical business model in tandem. Tiago has been starting a business venture with his brother of Creator Cabins and his wife's dance studio, while Nathan bought a farm and has been teaching his three children business lessons from renting it out as an Airbnb.
💭 Pondering
Do I want to consume something to be merely productive or can I slow down and think about it more? For instance, the podcast above I listened to while driving was 80 minutes long. It took me three hours to listen to it because I took a 45 minute Otter to capture my thoughts while driving. I thought more about how what they were speaking about applied to my life along with other fleeting ideas. I didn't force myself to listen to it from start to finish.

I wanted to be transparent about my capture method for my notes above. A link to the relevant information of reflections I took while driving home using the tool is here. I highly recommend trying out Otter.ai. It has given me such an absolutely incredible way to document my ideas in the moment if I don't feel like typing them out, or literally cannot while driving a car. It makes me think about what other tools can I use that are low-hanging fruit to optimize my system?
I'm on to week three of Julia Cameron's The Artist's Way. Each week I have an Artist date. Or more put more in a hip way, a designated time when I take my artist self out. I've been trying to think about some more fun ways I can do this course assignment. Open to any and all suggestions. So far these have been long drives and attempting to choreograph a dance.
I just opened my birthday present of a Sony camera from my family. Thank you to my Mom, Dad, Aunt Linda, and other gift cards to Best Buy for affording me this investment in my future self. I am beyond stoked to lean into this hobby again as I spend the next month or so down south in St. Thomas and Florida. I'm thinking of interviewing my parents (if I can convince them). As they both approach their 60th birthdays, I want to capture some wisdom as a memento to look back on down the road. What questions come to mind that you'd love to capture of your parents' lives?
🔎 Word to define
Impression: an idea, feeling, or opinion about something or someone, especially one formed without conscious thought or on the basis of little evidence; an effect produced on someone; a difference made by the action or presence of someone or something;
Influence or effect on the senses or the intellect hence, interest, concern.
Etymology: late Middle English from Old French from the Latin impressio, from impress- 'pressed in', from the verb imprimere. One of the early impressions taken from an engraving, before the plate or block is worn.
Example: My Tweet might've gained a lot of impressions but did people leave after and feel compelled to think differently or was a new idea seedling of an idea planted? Those are the impressions I'm after.
🌟 Quote to inspire
"Time is an artificial concept that we ourselves have created to make the limitlessness of eternity and the universe more bearable, more human." -Robert Greene
❓ Question to think about
What are you consuming too much of, where you can use the model that less = more?
📷 Photo of the Week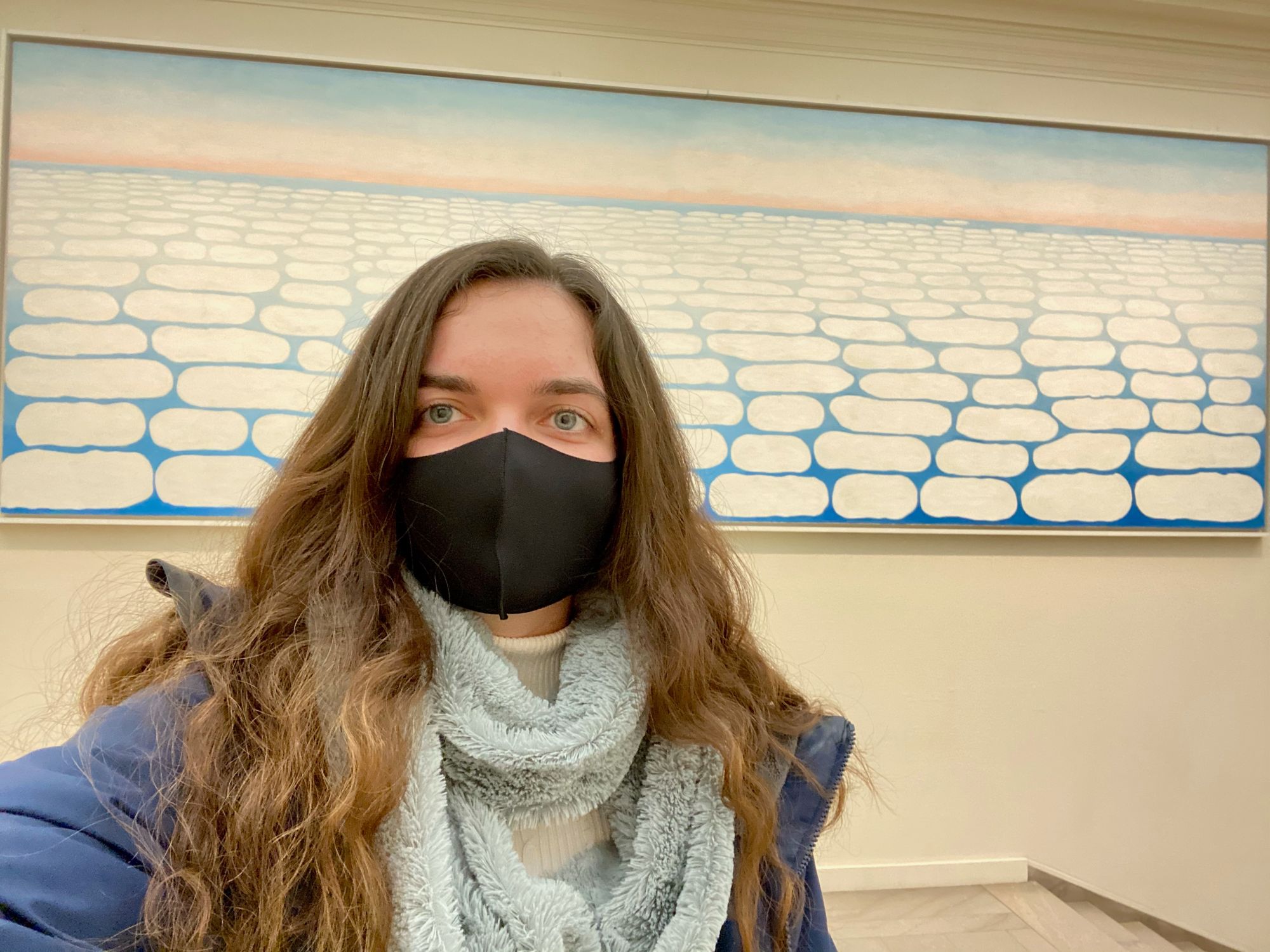 Behind me is a long painting, 8 ft high by 24 ft long to be exact. It is called "Sky above Clouds IV" painted by Georgia O'Keeffe in 1965 at the age of 77 years old. This is a piece of her series observing clouds out of the planes during the 50s while she traveled the world.
What inspired me about her work is that she enrolled in 1905 at the School of the Art Institute in Chicago at age 17. She sporadically took breaks from art after falling ill with measles in 1910 and the flu during the 1918 pandemic. Despite this, she continued to create modernist work up until her death at age 98 in 1986. Talk about a lifelong learner.
She's quite the inspiration being the first woman to have her own exhibit at the museum of modern art (MoMA). This made history in 1946, the first solo female subject, who went on to have an entire museum in Santa Fe, New Mexico established in her name.
This piece behind me was supposed to go to the San Francisco Museum of Art but was too large to enter the doors. Their loss. It worked out fabulously for me to admire.
It immediately spoke to me. As I walked by it, it made me feel understood before I ever knew anything about it. It has my favorite shades of blue and shimmers of pink. I feel like each of the clouds is one of my ideas floating on a deep blue sea of curiosity waiting to evaporate and be surfaced in an alternative form of creativity.
🙏 Shoutouts
To Nate Kadlac for surfacing the quote to inspire above this week from his newsletter Plan Your Next
To Sagar Devkate for a lovely curiosity conversation about all things writing online and Naval Ravikant's tweetstorm on becoming rich that he regularly reviews as a reminder to apply into his own life.
To Paul Millerd for inspiring me with asking challenging questions in his last Boundless edition and sharing my newsletter and gaining 14 new readers. Welcome all! So happy to have you here 🌟
---
I appreciate you reading this! If certain ideas resonated or you have feedback to improve my future newsletters, I'd love you to leave a comment, reply to this email, or send me a message on Twitter @JenVermet.
I'm beyond excited to be writing to you from St. Thomas for a little family vacation for the first time in two years. I'm a little anxious about getting on a plane for the first time in a year. Wish me luck.
Never stop learning 😁
Until next week,
Jen
P.S. if you're interested in watching a marvelously choreographed tap video with her eight-year-old son

If you're reading this because someone shared this newsletter with you or you clicked a link somewhere, welcome! I'd love it if you subscribed below to receive future updates: