If you are new here or missed last week's edition, you can catch up on the past letters here. This letter will focus on what I learned about loving myself. If you are reading this for the first time, I'd love you to sign up below to join the other learn-it-alls:
---
Aloha fellow learn-it-all!
Greetings from Diamond Head, O'ahu 🌺
Guys!
I finally had the best day of surfing yet this year. Something finally clicked in my body.
I've been in the dip with unlearning. In the past I always used my knee to get up. I think it might've been the extra yoga I've been doing to become more limber and strengthening my core. Also trusting myself even when I had no data to go off that I could.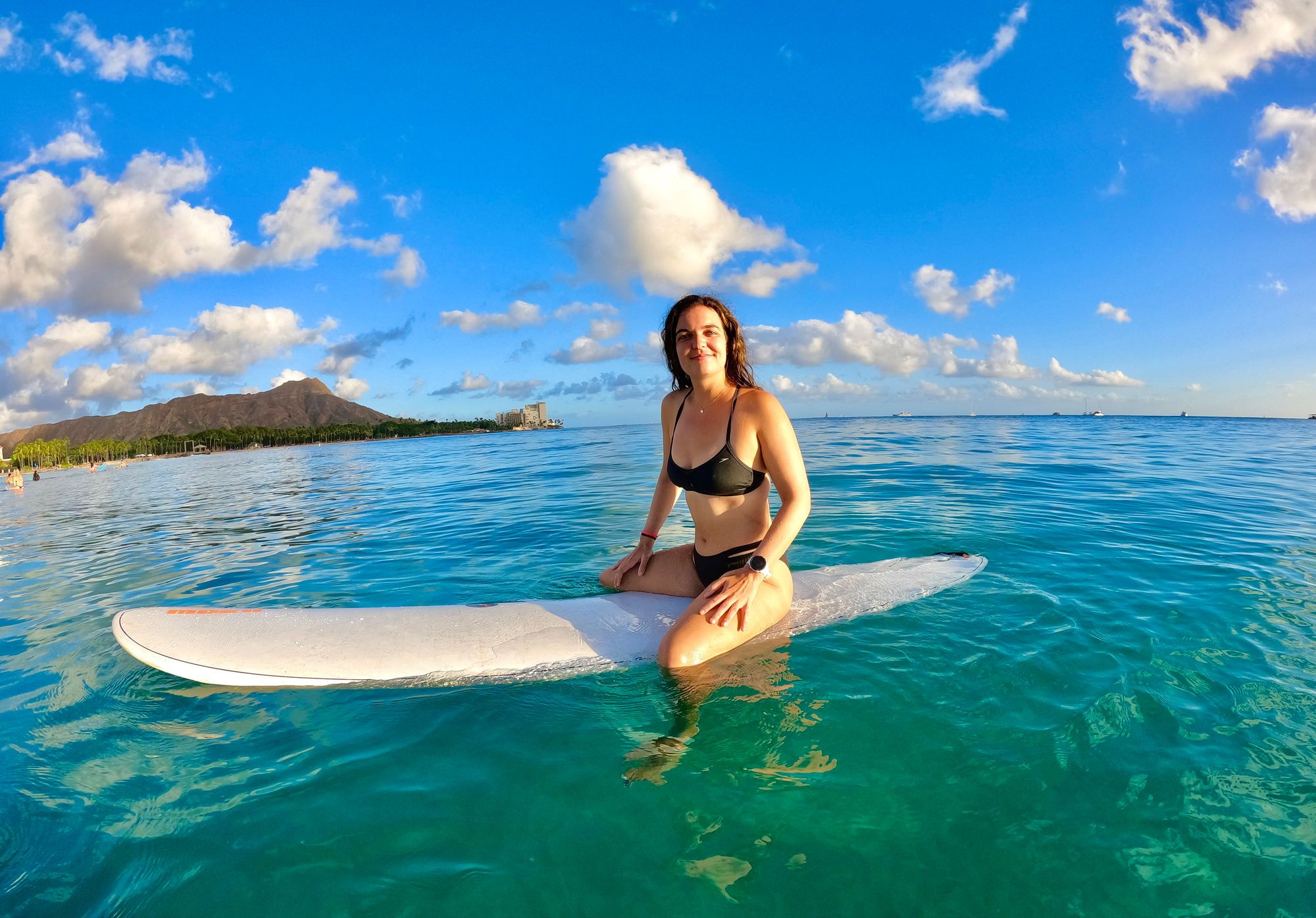 I've finally relearned how to do a popup. Last night, I caught six waves! Sure some were whitewash, but I still popped up. The wait was well worth it. Talk about adrenaline pumping through me and spilling out of my smile.
I realized two things I was doing wrong. That I need to:
Lean forward with all my weight on my shoulders rather than my hips and when I get into a short lunge to have my legs stay bent
Start out laying on the board a lot further forward than I intuiviely feel as necessary or comfortable. If the wave is overtaking me I can shift further back but it'll catch easier with erroring on weight forward.
Now, let's dive into letter 106 from a learn-it-all. Enjoy!
❓ Question to think about
How do you show yourself love?
🖊 Writing
The pool looked more glorious than it ever had. The poolman Choo-Choo had just cleaned it. The blue tile was iridescent like I'd turn into a mermaid if I jumped in.
I decided to float. The clouds drifted left to right above me.
Closing my eyes allowed the external world to go silent as my ears submerged below the surface. The birds were still chirping, but I didn't hear them. The leaf blower vanished. I focused on listening to the breaths fill my belly. I rocked my head from one ear to the next and felt my hair glide under the water.
I can't recall doing this since my scuba exam last fall. Why don't I do this more often? It feels meditative to float. The contrast to feeling the hot cement against my chilled wet skin. I decided to lay there like a shriveling up starfish. The toddler walking by was confused but I had clarity.
I was floating and laying to have quality time with myself.
Who am I to write about self-love? I struggle with it every day.
I wrote last year in my 25 Lessons from 25 Years that:
Love yourself. If you don't, it's not setting an example for others to love you.
But that platitude was just the tip of the iceberg. I still had such a long way to go with this.
A bully has been unconsciously living rent-free in my mind most of my life. As a recovering perfectionist and people-pleaser who's driven by improvement, it's easy to fall into the trap of never feeling good enough. Why am I actually worthy of love?
Don't I need to earn it by doing hard work, grinding away? From what I learned about motivation theory, I need to jump at taking the risks to deserve any reward.
I've found that this is a life lacking compassion and joy though. Sure it helped me learn self-discipline, but why suspend some of my favorite feelings?
A couple of days ago I was pretty down on myself.
Seven sentence vent sesh
I was zero for six for my serves over the volleyball net. I've been playing for eight months now. I've NEVER missed a Tuesday. This drunk guy playing against me made all his serves. I was fuming, needless to say. I've also been getting my ducks in a row for my expired passport and ran into a negative Nancy at the UPS store who said my JPG photo needed to be a PDF to print(?). On top of that, it was my time of the month. If you're not familiar, it's like getting stabbed in the gut the whole bloody damn day.
Then I stumbled upon the letter. I'd written it to myself exactly one month earlier. I read exactly what I needed to hear.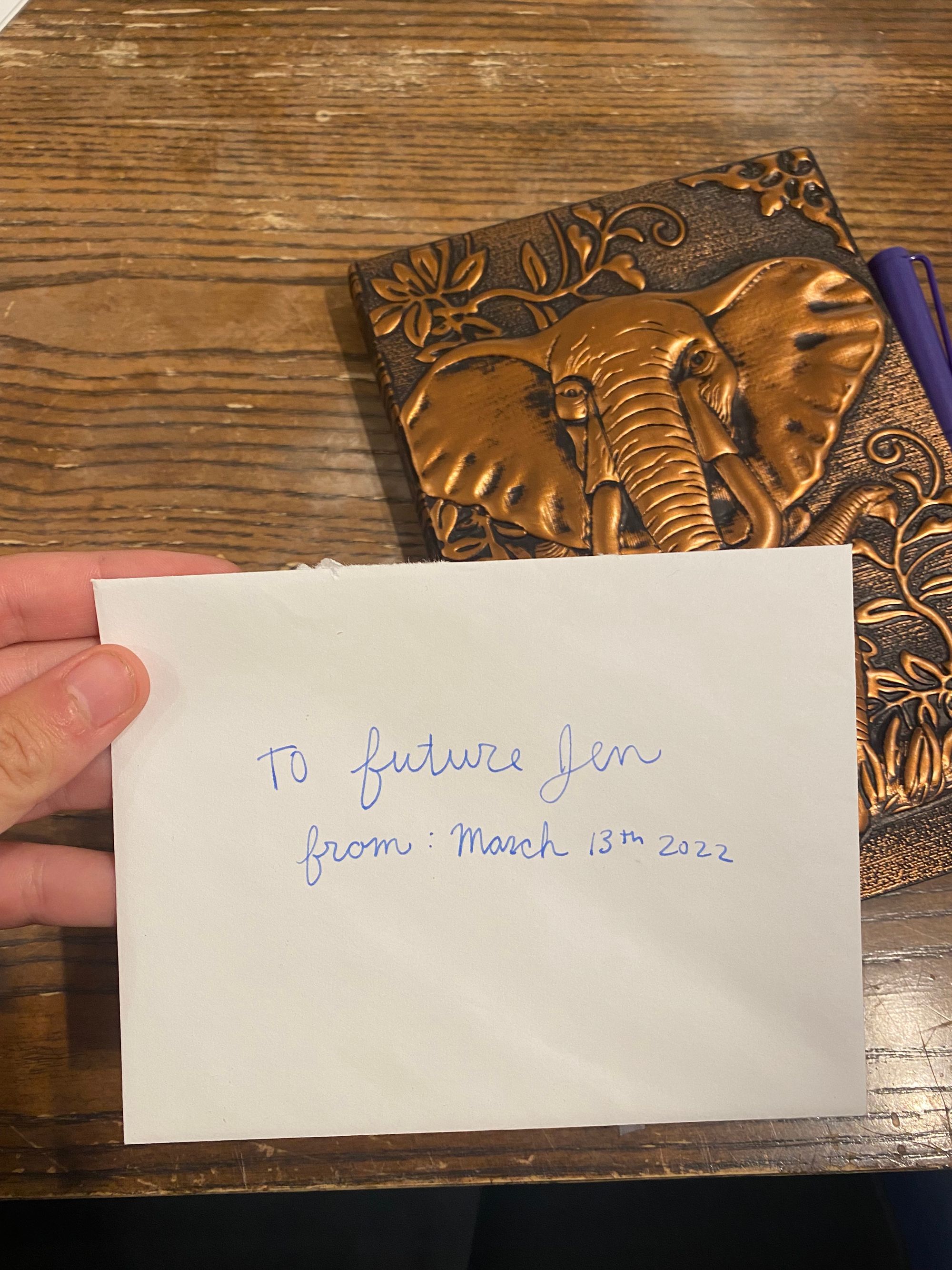 This practice started out as writing my future self letters at the end of the quarter or on my birthday. I started a ritual to write over 52 gratitude letters last year. Then I started writing them for the heck of it for fun to myself. I tend to write them when I am in a cheerful mood. I want to be able to lift myself up.
This lines up with The 5 Love Languages, a popular book by Dr. Gary Chapman on a simple and effective way to strengthen connections. There's an accompanying assessment for it here.
I don't believe that we fit into certain boxes at all, though we do have preferences. Again and again, my results come out being words of affirmation and quality time.
The letters affirm in words what I love about myself. As for quality time, I realize I need intentional alone time. I lean more extroverted, though I still need quality time by myself to feel loved. I've found ways to show myself love are by doing things I love without permission. It sounds self-explanatory, but it's easy to forget.
For me, nine examples are:
Hammocking and people watching
Yoga
Long walks with my camera
Journaling about anything and everything
Disney movies
Dancing in the kitchen
Listening to albums front-to-back: Keep Going by Mike Posner, Heard It In A Past Life by Maggie Rogers, Goodpain by Yoke Lore
Drives around the volcano on my moped singing aloud with my hair flying crazy
Swimming or floating in water
Do more things you love. We don't need to earn love. We are worthy of it every day.
I encourage you to begin your intentional journey. It's not too late. I began my last year.
📓 Journaling
Here's a journal entry I wrote to myself as a reminder whenever I feel selfish for focusing on putting on my own oxygen mask before helping anyone sitting next to me: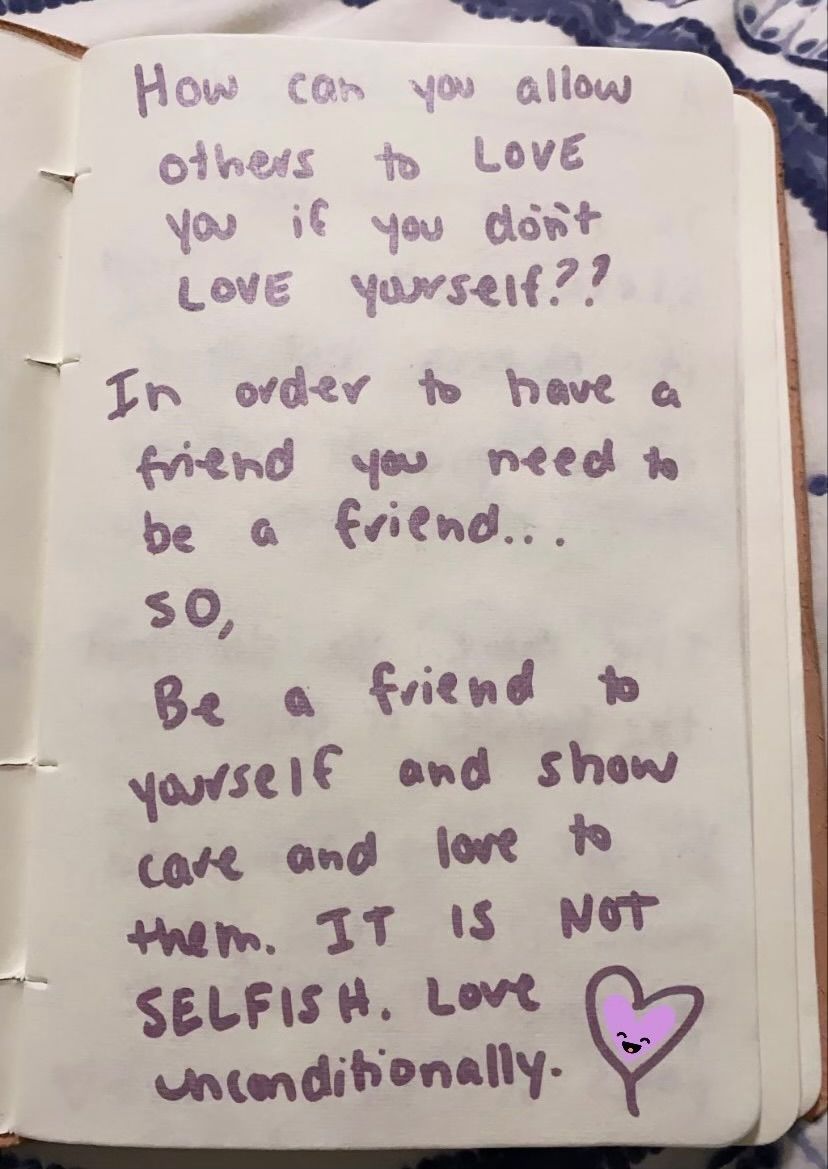 📖 Reading
Writer Yung Pueblo published a book of poems called Inward.
A whole entire chapter is dedicated to the concept of self-love. The line that stands out to me most is "loving who we currently are and simulatenously transforming into teh ideal version of ourselves."
Here is the whole poem: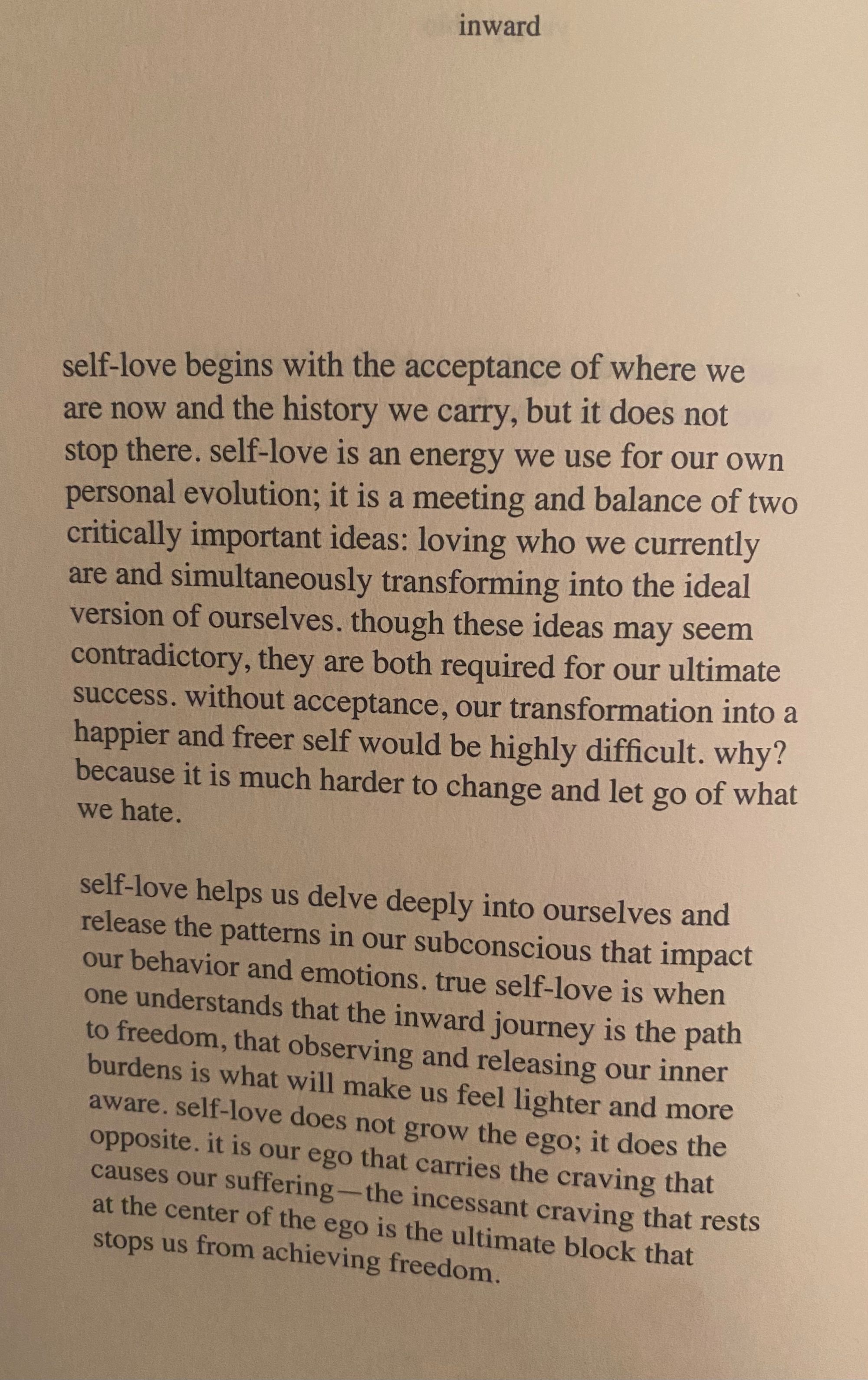 🎬 Watching
I watched Caitlyn Roux give a TEDx Talk on being intentional with Self-Love.
Here are my five top takeaways:
Become the person that you want to be rather than the person you are told to be.
The more likable I am as a person does not get me further in life by being popular. I will be living life through the opinions of others.
Overcoming people pleaser syndrome: Think about those people in your life like your family, friends, elders. It is morbid, thought they will die someday. Then who will there be to please or make happy? You are left alone to sort out your own happiness. Choose now instead.
Happiness is something created on your terms. You build the individual world that you experience. I am the only person that will define me and define my own happiness. I need to push past the negative self-talk. The relationship with myself is the most important
Putting yourself first does not mean you are selfish. You need self-love otherwise you are limiting your ability from inspiring other people to live their best versions of themself. How can you expect to give love to others if you do not give love to yourself?
🎧 Listening
One of my favorite musicians Mike Posner came out with a new song called 'Home'. I've found that when I love myself, that is when I feel most at home. Here's the song:
The lyrics here really stand out to me, especially the first line:
All these people think I'm crazy, I'm okay with that
Oh, I think it's time I went and found a way
I'm looking for something different to clear my mind
I'm headed to some place distant that I might not find
And I know that you're worried
I won't make it, but
No, don't worry
I'm gon' make it home
The concept of home I've been pondering
🎙 Recording
Last December, I wrote a poem called 'Vagabonds find home'.
I compare the difference between how clams are unlike oysters as they move around as vagabonds. I reflect on my own meaning of home. It's 52 seconds long if you like to listen to it:
🔎 Word to define
Love: A feeling of strong attachment induced by that which delights or commands admiration; preëminent kindness or devotion to another; affection; tenderness
Affection; kind feeling; friendship; strong liking or desire; fondness; goodwill
🌟 Quote to inspire
"Your task is not to seek for love, but merely to seek and find all the barriers within yourself that you have built against it." - Rumi
📷 Photo of the Week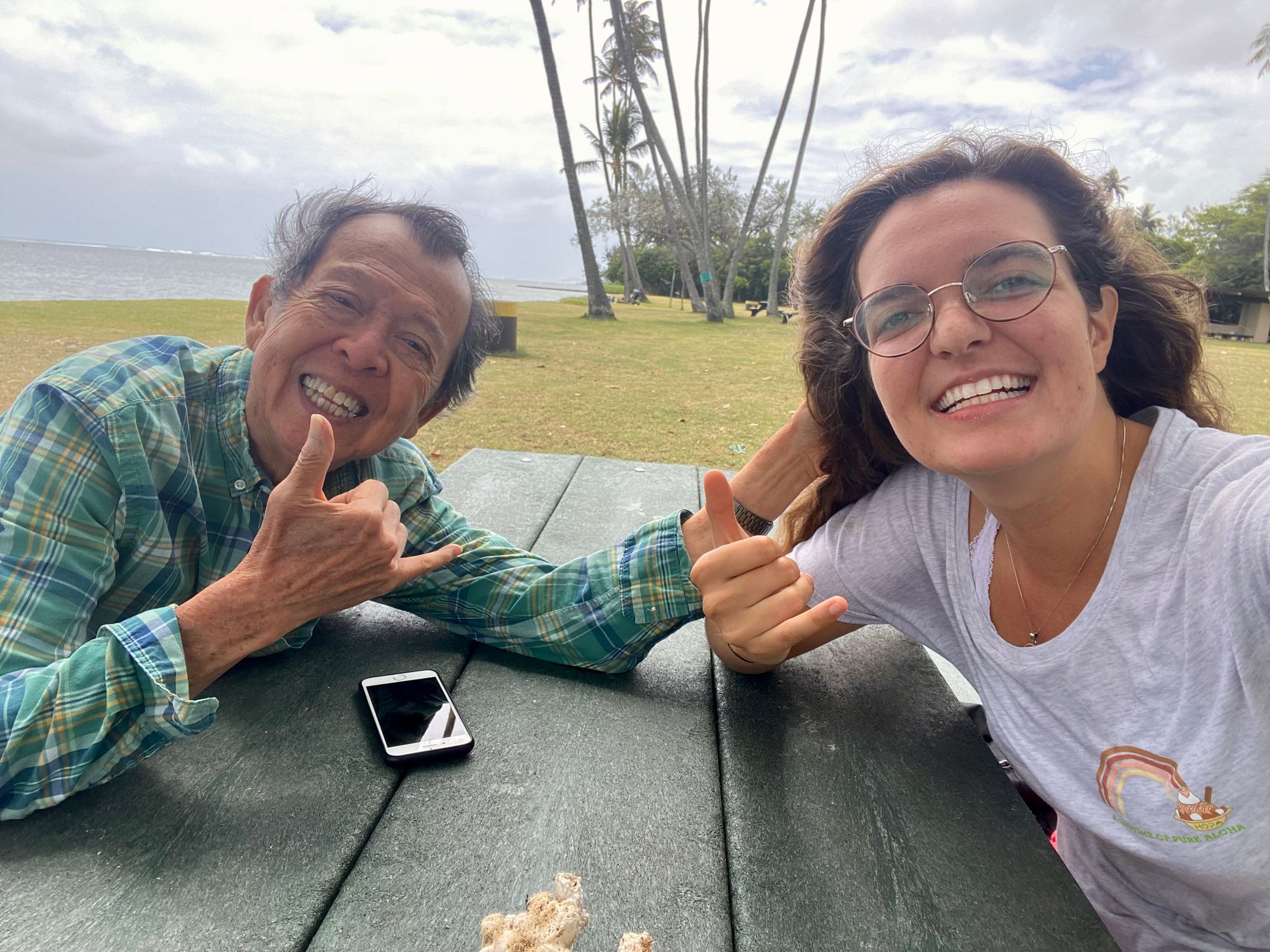 Part of my onboarding last week for my new job was meeting up with Uncle Clay, co-founder of the House of Pure Aloha. He is now my Hānai (informally adopted) uncle.  To be welcomed into the ohana, I got 'baptized' in Hawaiian candies with him for five hours. It's been the most memorable experience joining the team.
Clay is driven by connecting with people. Pursuing his childhood dream of a candy store, it later turned into the HOPA with shave ice today. The sweet treats are a mere vehicle that Uncle Clay used to connect with people. He defines 'pure aloha' to mean unconditional love.
He speaks directly from the heart.  I found myself crying with him as he opened up the door to being vulnerable. We got onto the topic that I've been feeling selfish for recent choices in my life. Thank you for allowing me to feel seen Uncle Clay. ❤️
🙏 Shoutouts
To myself. It is courageous to love even when it doesn't feel granted.
---
I appreciate you reading this! If ideas resonated, I'd love you to leave a comment, reply to this email, or send me a message on Twitter @JenVermet. Visit my online home if you forgot who I am. If you want to know what I'm up to right now, check my now page.
Never stop learning 😁
Mahalo 🌺
Jen
If you're reading this because someone shared this newsletter with you, welcome! I'd love it if you subscribed:
---
👣 Footnotes
My counter-intuitive cheat code for expediting problem-solving:

On when I do anything with the government I get stressed out:

On how curiosity sparks consumption which leads to output and creation:

On why I think sometimes going backward is necessary:

On the importance of externalizing thoughts:
I encourage you to share this if you enjoyed reading it and want to share the love with a friend: