"What is something I pretend to know about, and why?"
The "actually curious" card, deceptively comforting in its whiteness, stared at me expecting an answer.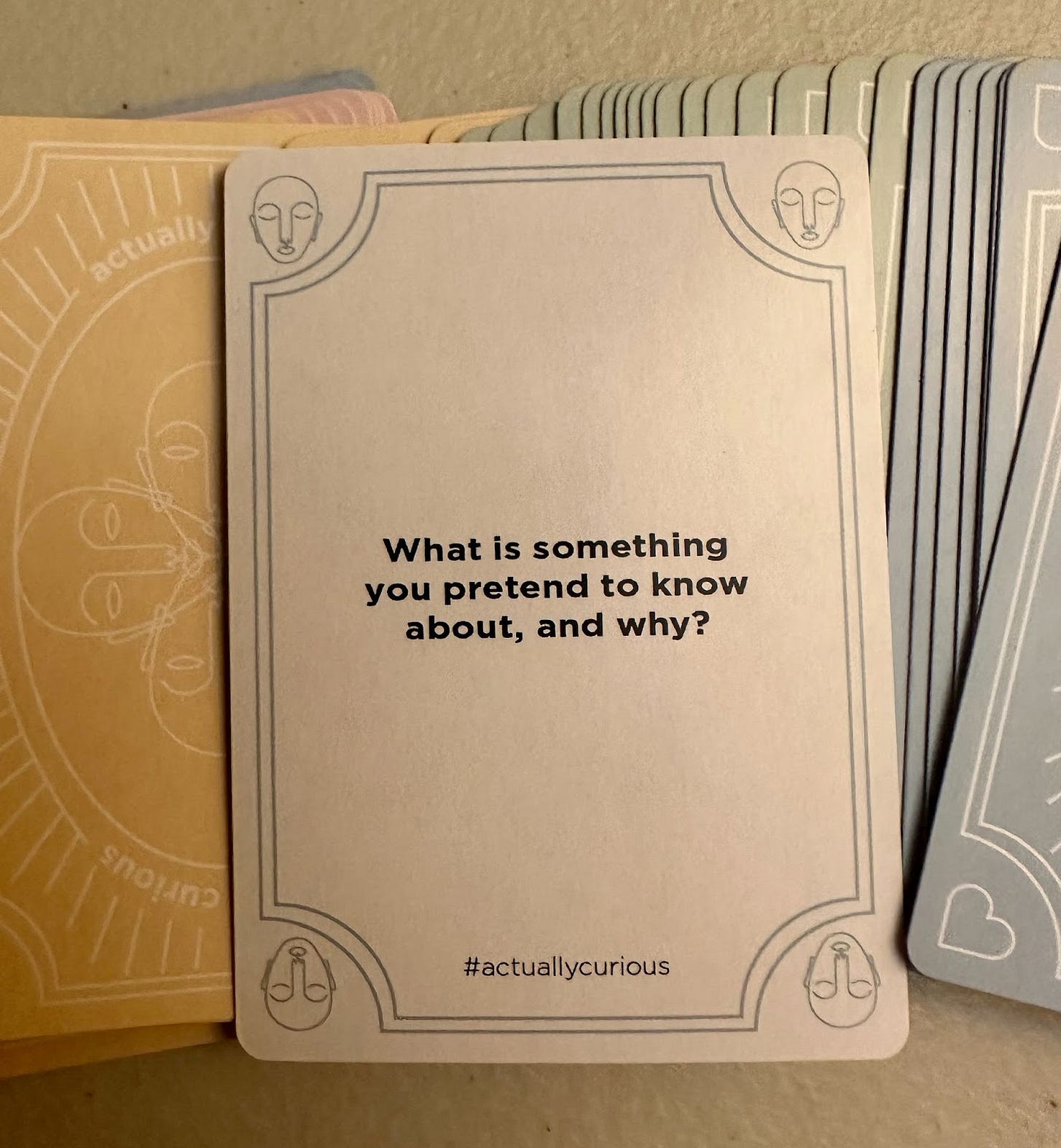 It had all begun as a funny impulse. There I was sipping "white mischief" tea out of a gold-rimmed teacup with three of my closest friends that feel like sisters to me celebrating life.
Tea Party Time
For my birthday I wanted a high tea like I did when I was ten years old, minus the American Girl Dolls. I convinced them to get gussied up in dresses worn only once in a blue moon that needed to get steamed. After the tea sandwiches and cakes were served, I excitedly whipped out my recently purchased deck of "actually curious" cards. This led to diving into an enriching intellectual conversation to connect more deeply and openly question our truths.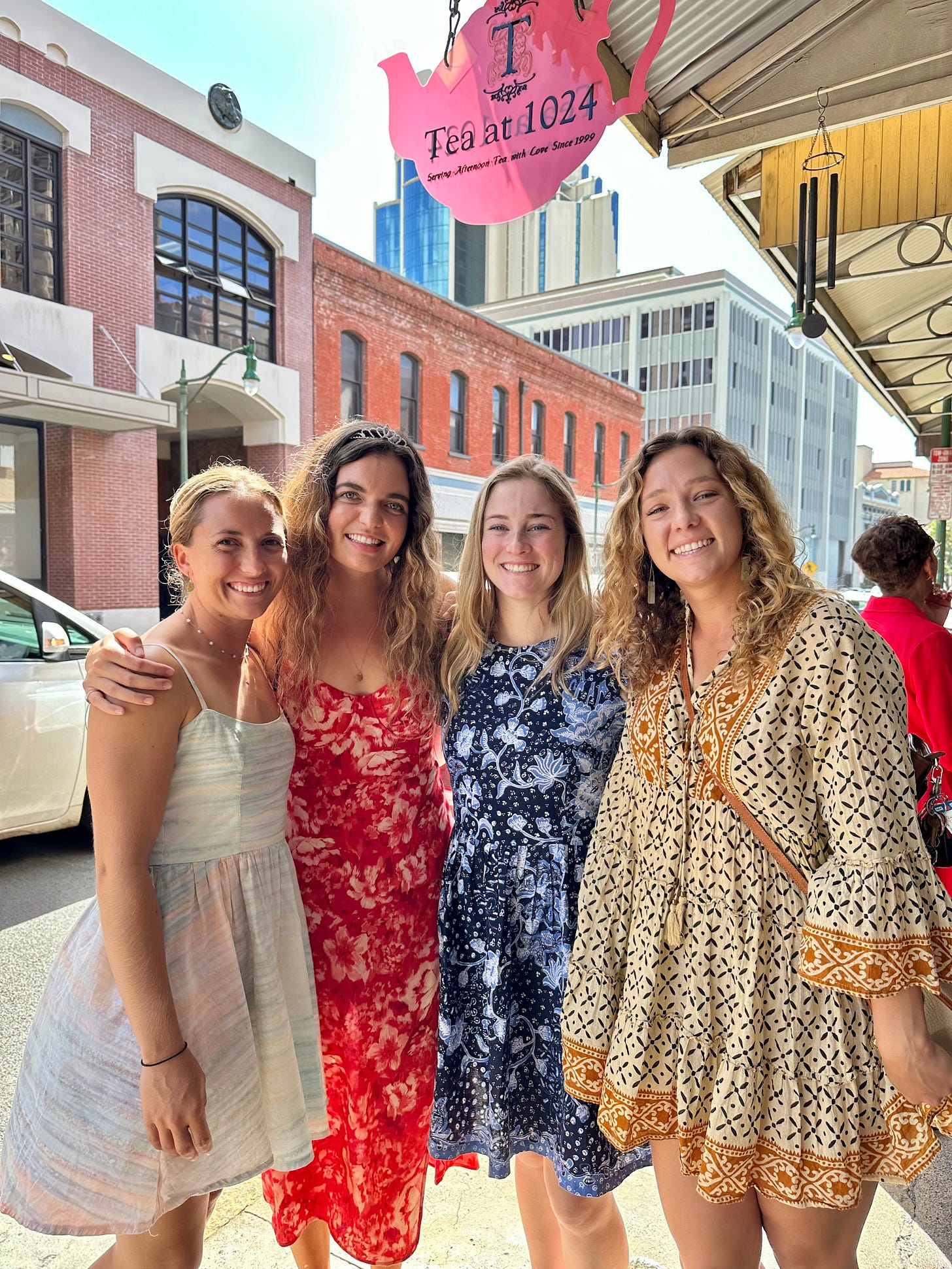 The second card that was pulled prompted the question "what is something you pretend to know about, and why?"
I was met with the comfort that everyone confessed to feeling a sense of pretending at numerous things in their lives. Even wearing a dress and attempting to delicately sip tea out of a dainty porcelain tulip-painted tea cup made one friend feel like a poser.
For me, it felt like a northern Michigan snow flurry of answers flooded me with this question.
I have many passions in my life of things that I like to explore and the more I dive deeper into them, the more I realize that I'm not even scratching the surface of what there is to know on that topic. It all feels like a facade where I am stumped.
I felt at that moment like I was a phony.
I call myself a writer, yet most days I still feel hugely unqualified to call myself one. I say I am an athlete, yet last weekend I barely even walked half of my steps. I say I am a caring daughter, yet I barely even get weekly calls in with my parents. I work at a Hawaiian company, I still am only on level two of learning Hawaiian on Duolingo. I call myself a sailor, yet I still get scared of the thought of sailing in the sea alone. I call myself a surfer, yet I still inevitably faceplant at least a handful of times every time. I call myself a mindfulness practitioner, yet I still sometimes find myself scrolling past the limit timers on Instagram under the covers of my bed.
Deep down, I know I'm far from being alone feeling like this. Such sentiments are so embedded in our cultures that our media reflects them vividly.
Take the social science fiction movie Divergent, for instance, and the main character, Tris. I deeply resonate with her. The film takes place in Chicago where I used to live. She struggles to find belonging and choose which of the five factions to select once she becomes an adult because she is a blend of multiple rather than only one thing. I empathize — being only one facet of a human seems like suffocation — losing the air I breathe. She impulsively decides to take a leap of faith from where she is today with her family in the selfless abnegation faction. Tris chooses the faction called "dauntless" because it feels the craziest to become a daring risk-taker who jumps onto the moving L train. Becoming more dauntless helped Tris become better equipped for the uncertainty of life.
There will always be uncertainty in life. Phil Stutz, Jonah Hill's therapist, states that there are three guarantees in life: pain, uncertainty, and hard work. I understand these are all a part of the journey and I cannot run away from them.
I don't want to fake anything or put up some mask that I know what the heck I am doing or naively believe I can fit into one mold.
I feel a semi-identity crisis coming on as I move into this age as a 27-year-old.
Confession time from my silly younger self
My younger self is naive. My life is not figured out. I've stopped expecting it to be.
There is no elaborate grand plan for my career that will drop out of thin air. My life partner isn't going to come knocking on my door. My definition of success is continually going to shift. My favorite beverage to sip in the morning will continue to vary. My favorite form of cardio will teeter back and forth between numerous activities that make me sweaty. I still am unsure of what I want my legacy to be left and celebrated at my funeral. With all that, I want to live in a place of acceptance, love, and appreciation rather than fear.
I want to be free from the pressure of having to have the answers. Living life with this mindset has enabled me to live in the unknown and start to ask better questions.
I want to pretend like I am assured of where I am going, and I do more than ever, in comparison to any other time in my life. But that still doesn't feel authentically true to share. Even when I express this truth I feel like it can only be mostly true. All the skepticism and questions and exploration are still there. I don't expect this to ever go away. I invite and welcome it to be here along for the ride.
German Poet Rainer Maria Rilke expressed this best:
Be patient toward all that is unsolved in your heart and try to love the questions themselves, like locked rooms and like books that are now written in a very foreign tongue. Do not now seek the answers, which cannot be given you because you would not be able to live them. And the point is, to live everything. Live the questions now. Perhaps you will then gradually, without noticing it, live along some distant day into the answer.
Sometimes the volume on those questions is blasting. It feels like I'm at a high school rager with the bass vibrating and my ears ringing. Then there are moments like while steering the boat, where the wind shifts directions so the sail starts bluffing and forces me to head further away from where I originally wanted to. These questions are what caused me to move to Hawaii and redesign my life in the first place. While other times, the volume is mere whispers, as reminders to never be on cruise control.
Pretending versus an authentic and intentional life
Living a life with intention calls for a constant recalibration of the course so I don't expect this part of myself to change. Even if it means that I lose some sleep, play my "feeling soft" sappy sad song playlist more often, or feel lonely sometimes, that's what this human experience is all about, right? Feeling all the feelings? Do I really want to rob myself of sharing the truth?
My truth is that I say I am these things, but I simultaneously still feel fully ignorant of these things.
I try my best to set up routines and people in my environment who help me become my best self every day. I feel most happy and content and full this way. I try my best to live with intention in my tiny sliver of life amidst all of the chaos that exists in the world.
Most of us on this blue and green spinning dot get onto a cruise control, but I'd rather look at what I've built in my life and take stock. Yes, I want to plant my flags in the ground, but it's also scary because that assumes I know the territory around where the flag is. As an explorer, I know that the more I discover, the more I find that I am vastly ignorant. I want to keep staring at my fears right in the eyes and run toward them, not away.
I embrace the unknown and trust in the intentions I set for myself. I reflect on the experiences I've lived that equip me with support for rejection, confusion, or failure on the horizon. I never regret exploring what I'm curious about, sparking connections, exploring passions, or taking risks, so I am going to continue doing that in this 27th year while savoring the beauty of the present in hopes of finding a sense of peace.
My life is "figured out" by letting go of "figuring it out".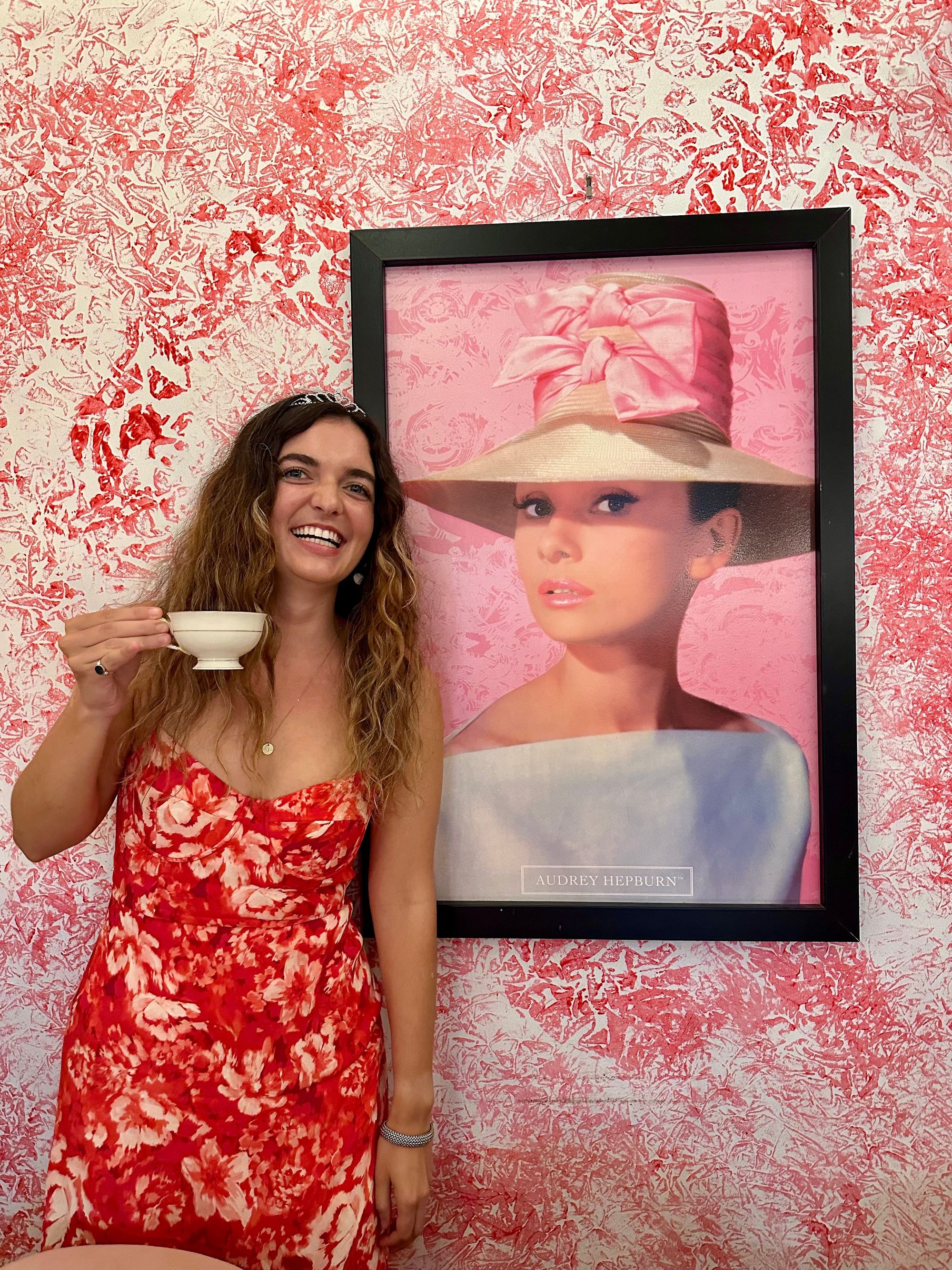 Originally published in Letter 146: 🎈Truth Time: Figuring Out Life at 27